Ben Higgins Has A Meaningful Tattoo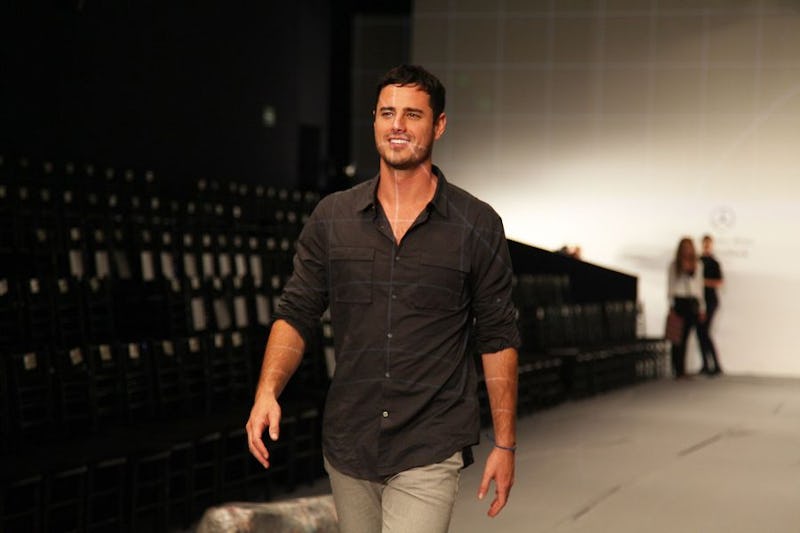 There are a lot of reasons to freak out when Ben Higgins takes off his shirt. I mean, he's The Bachelor. And he's shirtless. Isn't that reason enough? But, something else that happens when he strips down for the show? Fans get to see his tattoo. At first glimpse, it just looks like a wall of text, and it's hard to tell exactly what it means. So, what does Ben's tattoo say? Fortunately, there's good news: He's always been pretty open about his body ink, so wonder no more!
In case you haven't been able to read it, OK Here Is The Situation first reported that Ben's tattoo is a Bible verse that's very important to him — no surprise, since he's talked about his faith all season long on The Bachelor— and it comes from Proverbs 16:3. It says, "Commit to the Lord whatever you do, and your plans will succeed." His tattoo even comes with a pretty funny story. As he explained in an interview with Podcast 33, it was originally printed with a mistake when it said Proverbs 16:34 instead, but he went back and had the 4 covered with a cross, so, fortunately, what could have been a total nightmare just makes the experience that much more memorable.
Here it is, in all its glory:
And you can kinda see the placement of it here:
I'm not always a fan of tattoos, but either this one looks good on Ben or I'm too in love with him to know any differently. Either way, the mystery is now solved. Wonder if he and his final pick will get matching ink to celebrate their engagement? I think a rose design would be just cheesy enough to work.
For more Bachelor Nation gossip, check out Bustle's latest podcast:
Image: Eniac Martinez/ABC