The One Thing To Get Rid Of Blackheads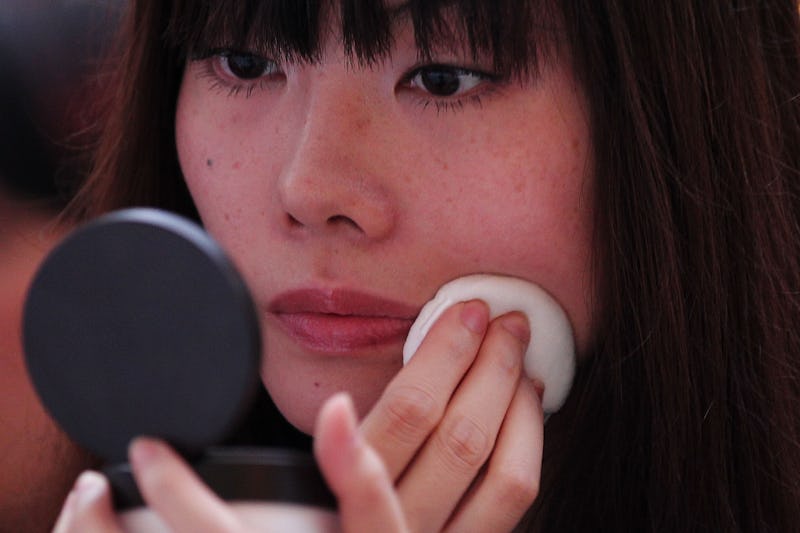 Chris McGrath/Getty Images Entertainment/Getty Images
Clear skin isn't always the easiest thing to achieve, and blackheads can be especially challenging to remove. If you're struggling, you'll definitely want to check out the one thing to get rid of blackheads. Before you try to pop them and end up turning your nose and forehead into war zones, save yourself the pain and struggles with the blackhead treatment hack below.
To properly tackle a blackhead, you've got to know what you're dealing with first. Dr. Zoe Draelos, a dermatologist in Durham, North Carolina, told Cosmopolitan, "a blackhead is a wax plug in a pore made up of dead skin cells, debris, and bacteria. What causes them is a blockage in the pore that prevents the gland from secreting and shedding what it needs to. Then, as the wax plug slowly gets pushed toward the skin's surface, it comes in contact with the air, which oxidizes it and turns black." Uhm, gross.
Doris J. Day, MD, a New York City-based dermatologist, shared the secret to getting rid of blackheads is finding treatments that can sit on your face for as long as possible. Washing your face and exfoliating are crucial to keeping pores unclogged, but Day added, "When it comes to blackhead removal, salicylic acid is your best friend [and] the longer this stuff sits on your face, the more time it has to work."
While everything should be used in moderation so you don't dry out your skin, below are spot treatments and creams that you don't have to wash off.
1. Clear Complexion BB Cream
Aveeno Clear Complexion BB Cream, $10.69, Amazon
Aveeno's BB Cream is 100 percent oil-free and has added skin clearing benefits of the brand's trademark Total Soy Complex.
2. Blackhead Steam Balm
Tony Moly Egg Pore Blackhead Steam Balm Set, $22.98, Amazon
This self-heating balm turns into a gel that digs in deep to get after dirt and oils that turn into blackheads.
3. Acne Solutions Clearing Concealer
Clinique Acne Solutions Clearing Concealer, $25.99, Amazon
Clinique's concealer not only hides your unwanted blackheads, but sinks down into your pores to get to the root of the problem.
4. Acne Spot Treatment
Clean & Clear Acne Spot Treatment, $6, Amazon
For a straightforward affordable spot treatment, you can't beat Clean And Clear.
5. Skin Perfect CC Cream
Skin Perfect CC Cream, $11, Sephora
Sephora's CC cream is specially formulated to even out your skin tone and shrink pores.
Try Lumene CC Cream, $11.99, Amazon
Want more style tips? Check out the video below, and be sure to subscribe to Bustle's YouTube page for more hacks and tricks!
Images: Chris McGrath/Getty Images; Courtesy of Brands