The 'Deadpool' Post-Credits Scene Is So Self-Aware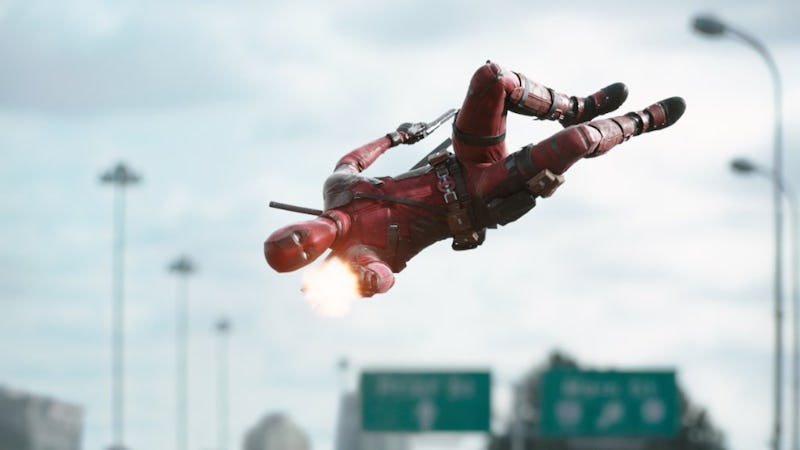 From Guardians of the Galaxy to Terminator: Genisys, the post-credits scene has become a staple of the franchise-ready science fiction production. But Deadpool, Marvel's latest spin-off film and its most self-referential yet, makes fun of the various formulas implemented by those very franchise-ready science fiction films — right down to the tradition of the post-credits scene. The Deadpool post-credits scene is the closest filmmakers can get to an anti-credits scene without scrapping the whole process entirely, and even the first look that many reviewers have already seen might not be the end of the post-credits Deadpool saga.
I'm going to try to keep this light on the spoilers, because the first post-credits scene has literally no bearing on the film's narrative. Here's what we've seen so far: After the credits role, Ryan Reynolds as Deadpool strolls back onto the screen in a robe (fluffy, pastel) and starts to chastise the audience for still being firmly in their seats. And how could they not be, when comic book adaptations have such a time-honored tradition of post-credits intrigue? There's no teaser for Deadpool 2, he promises us, the movie's over, and Samuel L. Jackson and his Nick Fury eye patch are not about to make a cameo, so there's nothing to stick around for.
Or is there? On Sunday, the film's screenwriter Rhett Reese tweeted that there might be more coming for audiences during the theatrical release. Cinema Blend reported that the post-credits scene that the press has seen so far will appear at the very end of the film, so the as-yet unseen scene will likely crop up mid-credits.
"They held back one particular, basically a second coda. They wanted to hold it back until February 11th," the date of the theatrical release, Reese told Cinema Blend, "So you can tease audiences that there's two codas and you haven't seen one of them."
There's a strong possibility that the mystery scene will tease Deadpool 2, contrary to what Deadpool tells us in the first scene. The sequel has already been mentioned in interviews with Reynolds and director Tim Miller, though it hasn't been locked down yet. And the movie is on track to have a pretty stellar opening weekend, considering its relatively low budget — tracking for $55 to $60 million, according to Forbes, on a budget of around $50 million (the exact number isn't available). So if it's successful, the studio will likely pounce on the opportunity to follow up with a sequel, especially given the failure of Fantastic Four. And with that potential, a post-credits scene might be in the cards to tease Deadpool 2.
But a sequel-teasing post-credits scene would be the classic assumption, and Deadpool sets itself apart with its relentless takedowns of audience expectations. So it could be a cameo or a tease for a sequel — precisely the things Deadpool says it isn't — or it could be neither. Or both. If there's anything this film has decisively accomplished, it's defying all audience expectations of superhero films while fulfilling all audience expectations of 14-year-old-boy humor.
Images: 20th Century Fox (3)