7 Easy Ways To Get Dog Hair Off Clothes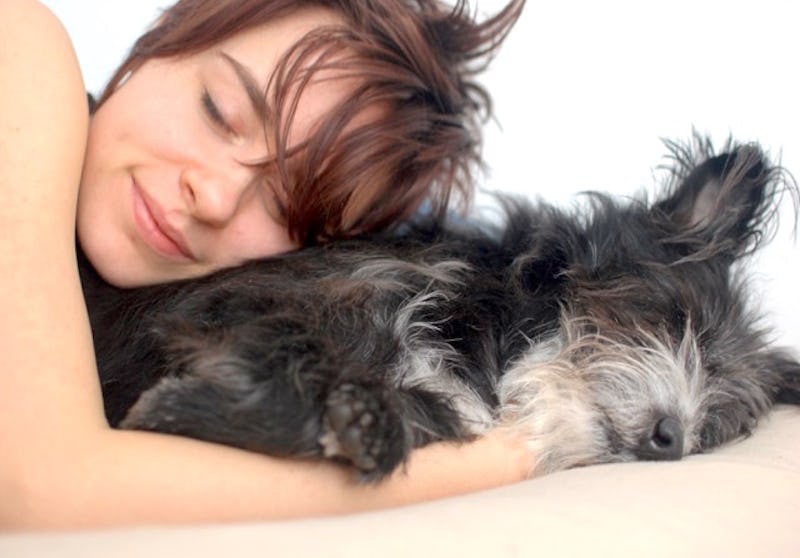 Even the most well-groomed dogs and cats can shed, leaving their hair all over your clothes, from your little black dress to your favorite sweater. Anyone who owns a pet knows that it can be near impossible to get their fur off once they're on. And when simply brushing off fur isn't cutting it, consider trying out all the best ways to get dog hair off clothes. Just because your best animal friend is covered in hair doesn't mean you should have to be, too!
This struggle has become especially real for me lately since I recently started dating someone who owns this ridiculously cute dog named SparklePants (OK, his name is actually Sparky, but how good is SparklePants?!). Sadly, as much as I love Sparkle, he's a total shedder and I've found more than one scruff muffin hair on some of my favorite not-so-cheap sweaters. Grr.
Since it's been a long time since I've had a pet, I had to consult the Internet to find the best ways to safely remove dog and cat hair from fragile clothing. I've tested all the strategies below, and happy to report back that they legit work 100 percent of the time. Some are better suited for rougher fabrics like denim, while others work on even the most delicate cashmere sweater. Find the best one for you and get to getting those hairs off!
Pet Hair Roller (2 Pack), $7, Amazon
An old classic, the sticky roller can get the job done.
Pick It Up Mitt, $10, Amazon
Unlike sticky rollers, these mitts don't pull on your clothes and are safe to use on more delicate fabrics.
Latex Gloves, $10, Amazon
Putting a little water on a standard pair of latex gloves and then rubbing your jeans will ball up hair surprisingly face and make it easy to pick off your jeans.
Cordless Vacuum, $20, Amazon
Using a vacuum with the hand nozzle is an easy way to get stubborn hairs off of more sturdy fabrics.
5. Balloon
Water Balloons, $4, Amazon
A balloon might sound like an unconventional tool to remove pet hair from your clothing, the static it creates when rubbed against fabric will pull the hairs off your clothes. Bam.
Fabric Softener Sheets, $9, Amazon
Giving your pants a quick rubdown with a fabric softener sheet will collect all those unwanted little pooch hairs.
Painters Tape, $4, Amazon
Of all tapes, I've found blue painting tape to be the most effective when it comes to getting stubborn hairs off of my sweaters before heading out the door.
Want more style tips? Check out the video below, and be sure to subscribe to Bustle's YouTube page for more hacks and tricks!
Images: Lindsey Rose Black; Courtesy of Brands