15 Organizing Tools To Rid Yourself Of Clutter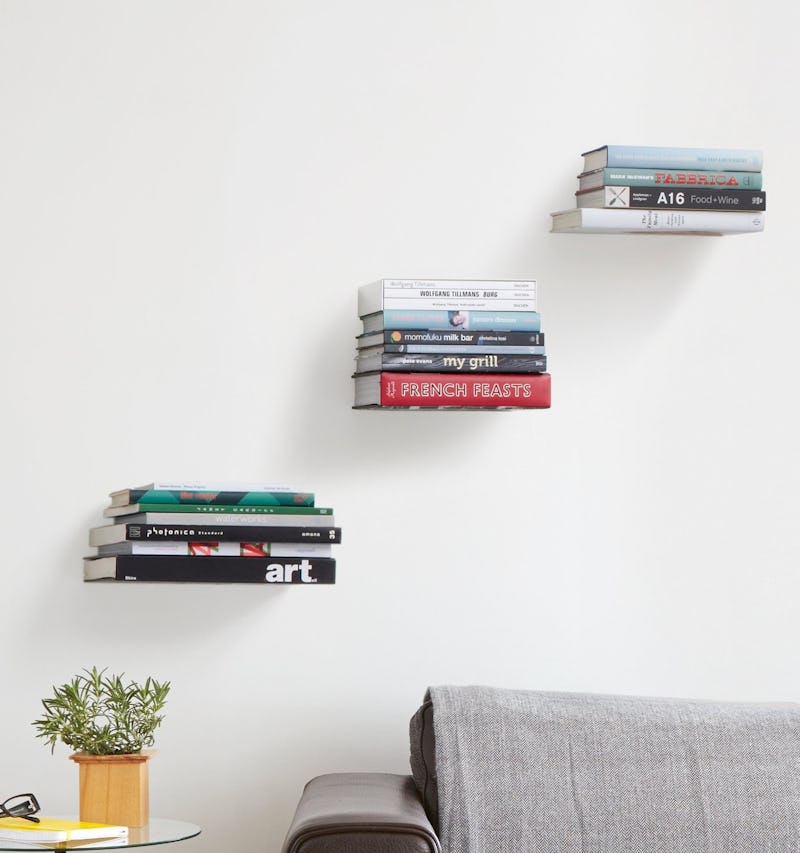 The rise in popularity of Marie Kondo's best-selling book The Life-Changing Magic of Tidying Up has made it all the more enticing to finally get on the decluttering bandwagon. And although it may seem a little counterintuitive at first, there are some helpful organizational tools that, once in your possession, will make it a whole lot easier to get rid of things that you don't need. Buy a little, declutter a lot.
Staying organized when you're busy can seem like a difficult feat, but Kondo's method (with practice) is easy to incorporate into your day-to-day life, so staying tidy becomes second nature. Her book is based on the premise that you should only keep belongings that spark some sort of joy, so it becomes emotionally easier to toss things that don't really mean anything to you. That philosophy, paired with more specific cleaning and organizational tips, explains how the KonMari method has changed people's lives. Being organized is, in a sense, a specific way of looking at material objects. But it also helps to have some tools that can help along the way.
These 15 tools can make even the smallest spaces more organized, so start decluttering and start putting your life together in the neatest way ever.
Neat storage boxes provide incentive for folding your clothes properly — even your socks. This box set works wonders to keep drawers organized.
Cocoon Organizer, $15, Amazon
It's time to declutter your work bag once and for all. This woven organizer fits an iPad mini, while also holding onto chargers, headphones, and any other gadgets that you might need at a moment's notice. Never rifle through a purse filled with old receipts to find some tangled cords again.
Copco Non-Skid Cabinet Turntable, $5, Amazon
Lazy Susans aren't just for keeping your kitchenwares organized. Try putting one in a bathroom cabinet to make nail polishes, hair products, and more easily accessible. You'll start to realize which products you use the most, so you can cut down on the extras.
Cord Organizer Set, $10, Urban Outfitters
There may be no mess as annoying as one comprised of jumbled-up cords. Keep everything straight with these subtle cable-managers.
5. TRONES Shoe Storage Cabinet
Storage Cabinet, $40, Ikea
Many tiny apartments don't come equipped with closets that can even handle an over-the-door shoe storage solution. But this shallow cabinet can be very easily tucked away virtually anywhere, so you can stop throwing your shoes under your bed and calling it a day.
Ohuhu Acrylic Makeup Organizer, $18, Amazon
If you have lipsticks that are years old, then it's time to throw 'em out. Not only are they likely to be filled with germs, they also take up a lot of real estate. An acrylic makeup organizer will make sure you can always see your beauty stash, so you can make the most of what you've got.
Under-Shelf Baskets, $8, Amazon
Leave countertops clean by making the most of the space you've got. Under-shelf baskets work wonders in areas with a lot of vertical space.
Travel Wallet, $58, Etsy
Keep everything from your passport to your itinerary all in one place. Adopting the KonMari method to your home also means adopting it when you're on the go.
Metal Canisters (3 PK), $14, Amazon
These tiny tins don't just have to be used to make spices look neat and tidy. Add a magnetic strip to the inside of a drawer or cabinet to keep track of bobby pins, hair ties, and anything else that seems to always get lost.
Ikea Magazine File (2 PK), $12, Amazon
Magazine racks don't have to be reserved for, well, magazines. Use these storage solutions as a way of packing rolls of aluminum foil and plastic wrap, along with cleaning materials, into tighter spaces.
Umbra Hide 'n' Sink Under Sink Caddy, $20, The Container Store
If you use a blow dryer, flat iron, or plenty of hair products fairly often, you know that it can be a major hassle getting your tools out. A caddy makes good use of unused space, while also keeping cords tangle-free.
Ticket Stub Diary, $11, Amazon
Paper is probably the most common clutter culprit. If you can't bring yourself to part with your growing heaps of ticket stubs, it's best to at least save them in a spot where they'll be perfectly organized.
Casabella Rectangular Storage Caddy, $7, Amazon
When you keep all of your cleaning supplies in one portable location, scrubbing messes in room to room gets a whole lot easier. It becomes easier to clean, so you're more likely to clean — nice and simple.
Umbra Conceal Floating Bookshelf, $39, Amazon
If you don't quite have the room for floor-to-ceiling bookshelves but still have a considerable library that you'd like to keep, there is an alternative to stacking volumes on the floor. Floating bookshelves allow your books to be seen and in-reach, without looking messy.
Droppar Jar With Lid, $10, Ikea
Kondo suggests decanting foods and liquids to strip away branding and give off a clean, aesthetically-pleasing look. Jars are probably the easiest upgrade you can make in your home to make it look more put-together — just don't get too mason jar-crazy.
Images: Amazon (5); IKEA (5); Urban Outfitters; The Container Store (3); Etsy; Uncommon Goods