15 Things You Totally Owned From Hot Topic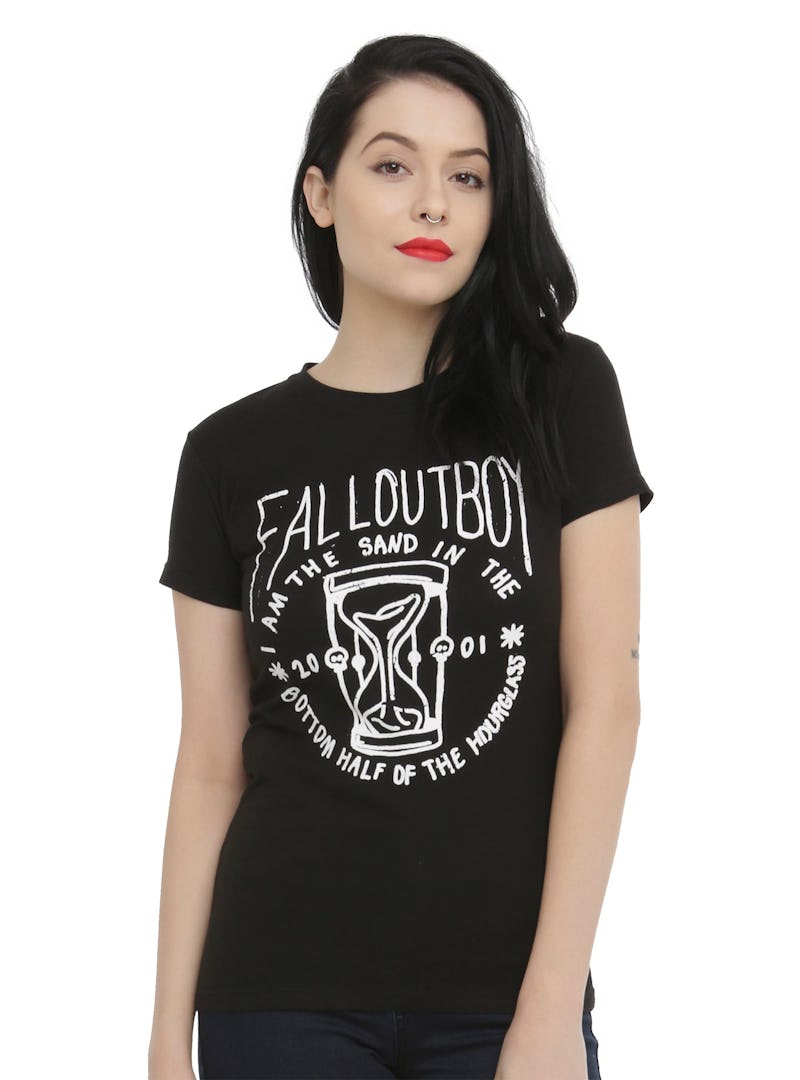 There are certain stores that define the tween and teen years of '90s and '00s kids, and Hot Topic was definitely one of them. In honor of this edgy alternative to Limited Too, I scouted out all the things you totally owned from Hot Topic when you were younger. And heck, I won't judge you if you still shop there because they still have some awesome accessories!
I grew up in a really conservative household in Texas and remember Hot Topic being the store in the mall I wasn't allowed to walk into. Of course, that rule totally went out the window when I was hanging out with my cool, "edgy" friends at the mall and my parents were nowhere in sight. I know. So deviant.
There was something about Hot Topic that just made you feel like a grown-up, and it was unlike any other store in the mall. Maybe it was the fact that they had all your favorite things in one place, and on every kind of merch possible, whether it was t-shirts or shoelaces. Or perhaps it was the fact that it was affordable enough that you could buy things for yourself on your own. Whatever it was, no matter what you were into, you can't deny that the store held a very special place in your pre-adulthood.
If you're missing the days of Hot Topic, scroll on for all the nostalgia feels for everything you had in your closet.
1. Band T-Shirts
Fallout Boy T-Shirt, $22.50, Hot Topic
For real, did anyone not own at least one band tee from Hot Topic?!
2. Silly PJ Pants
Pikachu Pants, $15.60, Hot Topic
They were so soft (and you sometimes wore them to school).
3. Graphic T-Shirts
Graphic T-Shirt, $14.99, Hot Topic
So witty.
4. Punky Dresses
Nail In Heart Dress (Plus Size), $54.80, Hot Topic
We were all so tough.
5. Random Disney Merch
Lilo And Stitch Tank (Plus Size), $22.80 Hot Topic
Like, what was Mickey doing there? Who knows, but you liked it.
6. Platform Shoes
Suede Platform Boots, $112, Hot Topic
I always wanted a pair of these.
7. Unconventional Socks
Lace Knee-High Socks, $6.80, Hot Topic
I mean, these were totally practical...
8. Biker Vests
Biker Vests, $27.60, Hot Topic
So edgy.
9. Military Jackets
Military Jacket (Plus Size), $65.99, Hot Topic
All those buttons.
10. All The Chokers
Choker Pack, $6.80, Hot Topic
I think I had, oh I don't know, 200 chokers?
11. Plugs
Plugs, $14, Hot Topic
OK, maybe you weren't allowed to own these, but you know you eyed them.
12. Faux Septum Ring
Faux Septum Ring, $5.20, Hot Topic
I was super into these.
13. Cosplay Items
Aladdin Cosplay Hair Bow, $6.80, Hot Topic
For those of you into all that cosplay awesomeness, Hot Topic was the place to be.
14. Studded Belts
Studded Belt, $15.20, Hot Topic
Who didn't want to channel Avril?!
15. Chain Pants
Chain Pants, $68, Hot Topic
I never owned these, but admit I secretly wanted them.
Want more style tips? Check out the video below, and be sure to subscribe to Bustle's YouTube page for more hacks and tricks!
Images: Hot Topic