"Make Me Like You" Could Be About Blake Shelton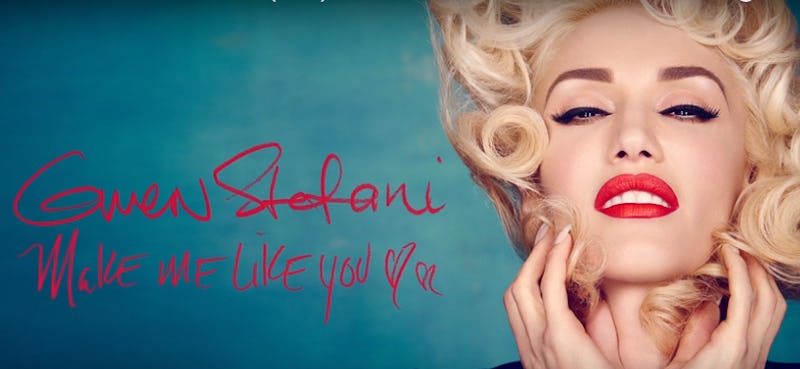 Gwen Stefani's 2016 has been off to a fairly good start. With a new love interest and a new album on the way, the singer's career is on a roll, and she is using that momentum to propel her career to new heights. The release of her single "Make Me Like You" marks the second single to her newest album This Is What the Truth Feels Like, out March 18. Her first single "Used to Love You" was very clearly about her breakup with husband of 13 years, Gavin Rossdale, and, following the personal theme, "Make Me Like You" seems to be about Blake Shelton.
Who else could it be about? Shelton and Stefani have been going strong since they were announced as a couple late last year. They have even been spotted on a few family outings with Stefani's children. It seems only natural that, as an artist, she would write a song about her new found love. This is Stefani's first album in 10 years, so it could be a culmination of songs based on the last decade of her life. I think there are some pretty poignant lyrical and other clues that lead me to believe this song is about her relationship with Shelton.
Let's Start With The Lyrics...
1. "I Was Fine Before I Met You. I Was Broken But Fine."
This is very clearly about the situation she was in before Shelton came into the picture. Their relationship did happen organically, at a time when neither of them were looking to get back into a relationship.
2. "All Alone In The Clear View, But Now You Are All I See."
This lyric pretty much speaks for itself. It's actually interesting because it describes how fast their relationship seemed to go. One minute she was newly single Gwen Stefani, the next she was dating Blake Shelton.
3. "How Good It Could Be."
I'm not going to lie, I think this lyric is a little bit of shade thrown at Rossdale. She didn't know how good love could be until she met Shelton. That's a burn if I've ever heard one.
4."Thank God That I Found You."
This is the lyric she used on her Instagram post, which I'm pretty sure was probably a little nod to Shelton.
5. "Didn't Wanna Believe it, But Now You Are All I See."
I think this is more shade thrown at Rossdale. She might as well have just said, "I'm sorry, Gavin Rossdale who?" Well played, Stefani.
6. "I Really Like You, But I'm So Scared."
She is obviously pretty set on avoiding the word "love" on this track. There is a reason she goes for the much more tame "like" instead of dropping the L-bomb on the world.
The Other Clues...
7. The Promo Art
That picture for the track is insanely cute. She is channeling some old school Marilyn Monroe and looking fierce, letting Shelton know that she's still got it, and Rossdale know that he's lost it.
8. The Song Title
Like I said, very intentional effort to avoid saying love. I think she wants the world, and Shelton, to know that's she's all in, but not too crazy.
9. The Album Title
The album is titled This Is What the Truth Feels Like, so obviously she is going to tell the truth. Nothing is more true than her feelings for Shelton, so of course this song is a testament to that.
10. The Live Music Video Taping At The Grammys
I have a sneaking suspicion that we may get a look at their relationship up close and personal during the Grammys. Stefani is doing a collaboration with Target and filming the video for the single live. With Shelton being nominated for an award, I am hoping for a cameo in the video.
11. Because She Is A True Artist
True artists write what they know. Stefani is an artist, and part of that process is using her life as fuel for her work. So, if she is writing about love, or life, it's probably coming from a real place in her life.
In typical celebrity style, we may never know the truth behind the song. However, as long as her life keeps inspiring her to make new music, I'm totally fine with it. Check out her latest single below.
Images: Gwen Stefani Vevo/YouTube (2); Giphy (7)