'Daredevil' Season 2 Introduces The Punisher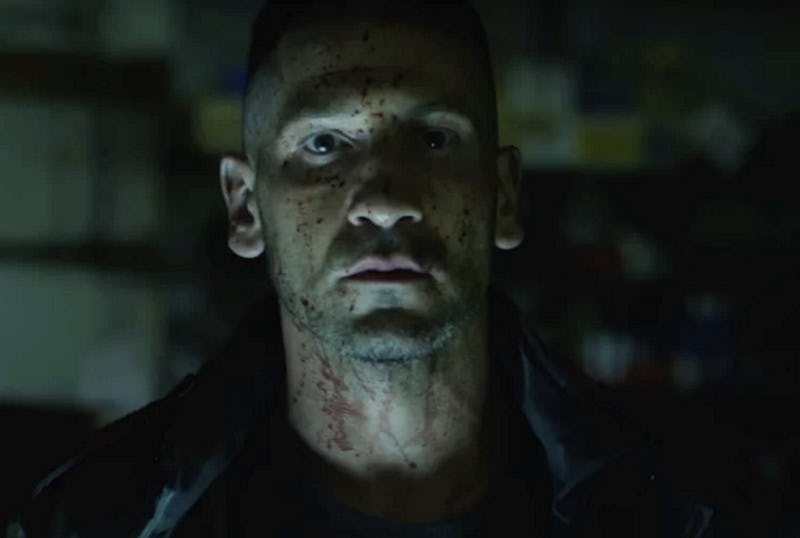 After diving into the story of Hell's Kitchen's Jessica Jones, Marvel fans can finally check back in to see what's going on with Matt Murdock, Foggy Nelson, and the rest of those fighting for their city with the release of the Daredevil Season 2 trailer. But is it possible that the Nelson and Murdock Law Office — along with Matt's own pursuits as the Daredevil — is actually bringing more harm to Hell's Kitchen than good? In our first look at the continuation of the hit Netflix show, Frank Castle — known as "The Punisher" — is putting his sights on blowing up the city and claims it is the people of the city that has led him to that point. Basically, I think it's safe to say that Season 2 is going to be nothing less than action-packed, edge-of-your-seat-worthy confusion, and, overall, nail-biting dramatic intensity. The second season of Daredevil looks darker than its first, and, no, I didn't think that was a possibility either.
But, aside from the introduction of The Punisher, the second season's trailer also shows us a few other heart-stopping things we can expect when it premiere on Netflix this March 18. The trailer also continues to show us Matt's personal struggles between right and wrong and even introduces us to another bad-ass female character on the scene — Elektra Natchios. Seriously, to understand how intense this new trailer is you're just going to have to watch it for yourself.
Do you have chills yet? Because, not going to lie, that trailer brought me right back into where the first season left off (even if the storyline is heading in a different direction). But, what were some of the trailer's best moments? Let me just break these down a bit.
The Punisher's Eerie Childlike Introduction
Honestly, between the children's book, the picture of his daughter, the carousel, and the creepy music, Marvel sure knows how to intrigue the Daredevil audience. There's already something about this villain that has me eager to watch more.
Matt's Priest
There's something different about this interaction between Matt and Father Lathom. Everything is just a little more out in the open, and let's just say that what needs to be done needs to be done at this point.
Karen's Fear
There's something about the way Matt shut's down Karen's idea that they could be the cause that tells me there's more to this story than what the trailer is showing us. What does Matt know? Could the Daredevil really be the one to blame?
A Possible Romance?
Can Karen and Matt ever be something more? Or will his work as the Daredevil tear them apart? And, most of all, what will Foggy think about this?
A Battle With Foggy
We all know that Matt and Foggy have different ideas of what it means to help the general public. But now it seems like things might be getting to a point past repair. And, if Foggy doesn't watch out, things may not work in his favor.
Claire's Support
It seems like if anyone understand's Matt's perspective on defending the city, it's Claire. But will their friendship blossom into something more? And how is she going to join in on the fight? Because this nurse is not going to just sit back and watch. She even stepped in to protect the city in an episode of Jessica Jones.
The Costume Is Officially In Play
The first season ended with the introduction of the costume and now it's finally in play. Anyone else geeking out over this? Because the Daredevil looks awesome.
This Image Recreation
Does this shot of the Daredevil fighting to get up look familiar? Once again he is knocked down, but the question remains: Can he get up stronger once again?
Elektra's Introduction
Elektra is a total badass and her introduction proves just that. But is she there to help out... or just bring more chaos?
So, can the Daredevil live up to his name and protect the city? Or is he really just a coward like The Punisher says he is? It looks like we're going to have to wait until February 25 for our second sneak peak and then Friday, March 18 for the show's official Season 2 release on Netflix. I am more than ready to see how this all goes down.
Images: Marvel Entertainment/Netflix (10)