10 Last Minute Super Bowl Party Ideas And Yes, That's This Weekend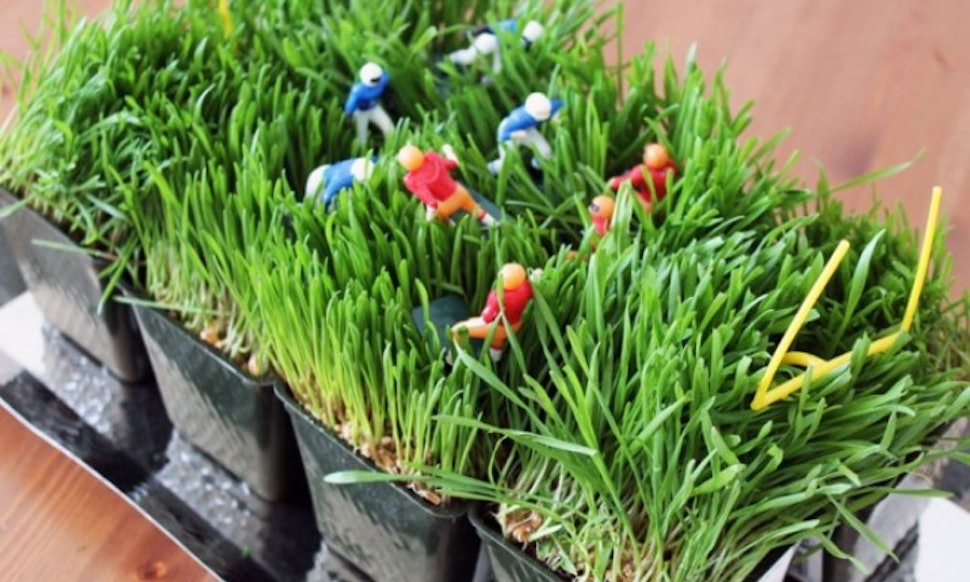 Wait — that's this weekend? Sound the party alarms, and then hurry (HURRY) to the chip aisle of your closest grocery store. Because you've got a lot of business to attend to there, friend. Here we've wrangled up 10 fun and fast last minute Super Bowl bash ideas, perfect for the procrastinating party planner in all of us. We have food, drinks, games, and — yes — even manicure ideas. Because we get you.
Image: Brit+Co
FOOD. OBVIOUSLY.
A party without food is a party without joy. Don't be That Person. Feed the people, and they will come. Here are 11 of our favorite recipes that support TEAM FOOD.
Image: Joy The Baker
Beer Tasting
You know what's fun? Not drinking Bud Light. Pick up craft brews local to Denver and Seattle — we suggest New Belgium Fat Tire for the Broncos fans and Widmer Hefeweizen for the Seahawks. Cheers!
Football Manicure
Do your friends care more about their nails than about football? Paint them as adorable little footballs. The eye rolls of Actual Sports Fans will be audible. We promise. (via Brit + Co)
Image: Brit+Co
Go Mega
Okay. You have food, beer, and cute nails. What else do you need? More food, yes? CRUNCH, CRUNCH. For more foods to crunch on anxiously, check out our Super Bowl nachos roundup here. CRUNCH.
Image: Climbing Grier Mountain
Go Mini
Hungry still? How about some teeny tiny little burgers? Because you like burgers, and because you're also adorable. For more delicious cuteness, check out our Super Bowl slider roundup here.
Image: Pass The Sushi
Super Bowl Ballot
Be sure that, by the end of the night, your party has clearly-defined winners and losers with this printable Super Bowl ballot. (via Brit+Co)
Image: Brit+Co
Puppy Bowl
Top tip for Super Bowl hosts: Do NAHT forget about Puppy Bowl — arguably the most important thing to happen to football since tight pants.
Football Centerpiece
With some wheatgrass and a few action figures, you've got quite the centerpiece. Which is a relief, because throwing a Super Bowl party without an appropriate centerpiece would be super embarrassing. (via Brit+Co)
Image: Brit+Co
Tailgate Toss
Tailgate toss, more affectionately known as cornhole, is a sure thing for any competitively-minded get-together. Kind of broke and kind of crafty? Go ahead and make your own with this how-to.
Tailgate toss, $119.99, sportsauthority.com
Football Field Flatbread
Football field pizza. Because football. And because pizza. (via Brit+Co)
Image: Brit+Co