The Woman Who Helps Women In An Very Crucial Way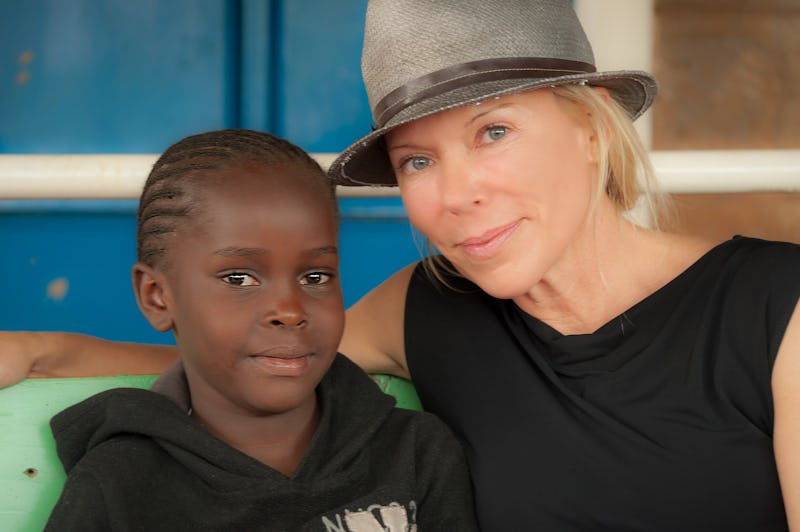 One woman has taken the term "female powerhouse" to another level. Outspoken, bold and fearless, Saundra Pelletier, CEO of WomanCare Global, is someone we need to look to when it comes to starting the hard conversations. As a CEO, mother, and author, this leading lady has done it all — but most importantly, the work she has done matters. With WCG's new education campaign, called "If You Don't Tell Them, Then Who Will?" women discuss every topic you might not be so comfortable talking about. From "loving your vagina" to abstinence and birth control, Pelletier has partnered with Jessica Biel to educate girls and women in a world where substantial sex education can be difficult to come by. No topic is off-limits, and it's about time.
The 46-year-old lives in San Diego, where WomanCare Global is based, which is far from where she spent her childhood in in Caribou, Maine. Her mother raised her to be a leader, purposefully teaching her no domestic skills because those skills, her mother said, wouldn't get her out of her hometown to a better life. Pelletier told The New York Times that her mother used to tell her, "When you graduate from high school, make sure you leave and don't ever come back. If you want me to visit you, I'll come visit you. Make enough money so that wherever that is, you can fly me there."
With the drive to be an independent leader, Pelletier attended Husson University in Maine. Though she aspired to be in television news, she actually landed her first job as a pharmaceutical sales representative at G.D. Searle, most notable for developing the first oral contraceptive, Enovid. And that one job opened up a world of opportunity.
During her time at G.D. Searle, Pelletier pushed herself to succeed. "I really thought anything was possible; someone had to be first, so why shouldn't it be me?" she says. "I was very ambitious, meaning I wanted to win every accolade and every award. I started as a sales rep, but I won rookie of the year."
Pelletier spent every waking moment working on getting the next promotion, and she says that she learned very early on that the highest person on the ladder gets to make the decisions they want to, regardless whether they are right or wrong, good or bad. Whether she was surrounded by a male-dominated industry or a young woman on the job, she says she had to hold her values close and constantly work toward the next goal. If you ask how she never ran out of steam, her answer will always go back to her mother's advice and how she was raised.
"When I worked [at G.D. Searle] I was considered an expert on women from puberty to menopause. When I left that world, I had a pretty good understanding of the mindset of women," she says. She ultimately understood the vital need for reproductive health products, which was pivotal in her work going forward. That unrelenting work ethic and tenacity helped Pelletier cultivate her deep understanding of what women in various stages of their lives would need. This led to the next step in her career: WomanCare Global.
Pelletier says that she once thought all women wanted to be leaders and just needed a little push, but she soon realized that the strengths of leadership, confidence, and independence she learned from her mother were not gifts given to all women. "What I realized is that women didn't think it was possible," Pelletier says. "Women thought that if you wanted to have something, you had to give something else up." After spending some time as an executive coach and speaker — as well as promoting her book Saddle Up Your Own White Horse: 5 Principles Every Woman Needs To Know, which aims to empower women to build their own lives, success, and ultimate happiness — Pelletier decided to take it a step further and launch WomanCare Global in 2009.
With no previous experience in the nonprofit world, Pelletier says that she assumed there were so many nonprofits that every need must already be met. However, she soon realized through her research that there was in fact an unmet need, but it wasn't glamorous. "Women were forgotten about when it comes to the supply chain," she says. "I thought it was my chance to use all these great skills from the pharmaceutical industry for the benefit of women."
WCG began its work in the international market due to the jarring statistic from the United Nations that more than 230 million women have a significant unmet need for contraception. The United States Agency for International Development (USAID) wanted to partner with a company that would do a product introduction platform in Zambia, Malawi, and India. And so WCG's biggest platform, Expanding Effective Contraceptive Options (EECO), took that role on. The majority of WCG's work takes place in Africa, providing woman-controlled contraceptive products such as Amphora (a contraceptive gel), a female condom, and a ring for lactating mothers.
With these products in her arsenal, Pelletier's goal was to create an environment in which women could choose if and when they want to have children. She and WCG have helped empower women by providing them access to quality, affordable, sustainable contraception. But then Pelletier took it even further.
After her success working with USAID (and with her 20 years of experience in the pharmaceutical industry), Pelletier spearheaded a strategic public/private partnership alliance between WCG and Evofem, a biotechnology company that develops products for women's health. This partnership has resulted in access to innovative technologies for both organizations, and has enabled product distribution in over 100 countries.
And if that wasn't enough, after taking the global contraception issue by storm, Pelletier and WomanCare Global decided to launch their first U.S.-based educational campaign, called "If You Don't Tell Them, Then Who Will?" Last year, Pelletier sat down with Jessica Biel to discuss Biel's desire to make a bigger social contribution for women and girls. "The 'a-ha!' moment was that when women are alone and really get into talking about the things that make us feel vulnerable, it all comes down to understanding our bodies," Pelletier says. "When women don't understand their bodies, there is a shame that is associated with this, and shame keeps you quiet."
There are 3.4 million unintended pregnancies each year in the United States of America, according to the Guttmacher Institute. Pelletier believes that sexual awareness must start with sex education at a young age. "I think there is a lack of sex education, and honestly, I think it's criminal," she says, pointing out that education can often focus on things that don't matter as much as women's health. "I can find out more about Bernese mountain dogs than I can about my vagina. From the school system standpoint, 23 states have sex education, but let's be honest — most of that is abstinence-only, and that's not real sex education."
But as her mother taught her, Pelletier isn't one to sit back and watch someone else take charge. She and WomanCare Global continue to break down barriers and start tough conversations, hoping to change a culture. Their educational video series — featuring Biel, Whitney Cummings, and Joy Bryant — highlights common misconceptions about women's health. In addition to bringing these topics to light, they work to destroy notions that these topics should be thought of as off-limits or uncomfortable.
From empowering women and girls all over the world with knowledge about their bodies, to providing them with contraceptives they can control, to offering necessary sex education in the United States through conversations with celebrities, Pelletier has found ways to grab the attention of people worldwide and use it for good. Whether it's in a community abroad that doesn't even have any contraceptive access or a seemingly sex-obsessed society that is too scared to discuss sex in the home or the classroom, Pelletier helps women everywhere breathe a sigh of relief.
Images: Courtesy of WomanCare Global & Jerry Riley (2)