Who Will Get The "Bad Blood" Grammy?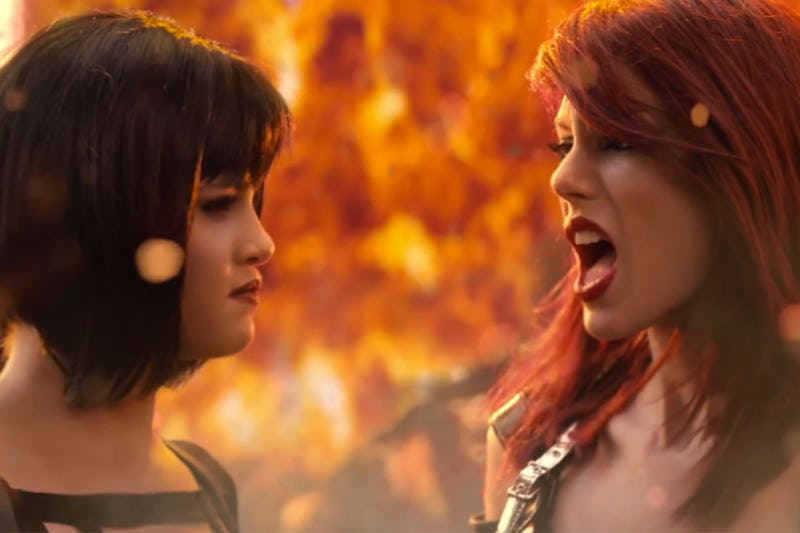 It's no secret that Taylor Swift's album 1989 exceeded expectations. Swift shed her country image to fully emerge as a reigning princess of pop when her album dropped in late 2014, and since then she's only given us more reasons that she deserves the title. Among them? Dropping several absolutely amazing music videos. Whether you are enamored with the haunting beauty of Swift's video for "Style" or prefer her tongue-in-cheek crazy girlfriend routine in "Blank Space," you have to admit that this woman is totally killing it in the music video game. Though Swift's new videos have blown most of us away, it's her video for "sorry not sorry" anthem "Bad Blood" that is nabbing awards this time around. In fact, "Bad Blood" just scored a Grammy for Best Music Video, a feat in no doubt deserved. But who will actually take home the "Bad Blood" video Grammy? It's not just Swift who will enjoy the win.
Regardless of who actually gets to take home the award, there are plenty of people who are thrilled that "Bad Blood" got recognized for its badassery at the Grammy Awards this year. Swift posted a video of Selena Gomez, who co-starred in "Bad Blood" as Swift's frenemy, freaking out over the Grammy win, which happened before the ceremony even began on Monday night. Seriously — the girl is crying over here.
While Swift's girl squad may be stoked about being part of a Grammy-winning music video, when it comes to an actual, physical award, they'll have to head to Swift's house to visit. Though USA Today reported on Monday that video producer Ron Morhoff took the stage to accept the award pre-ceremony, he did so on the behalf of Swift and the "Bad Blood" video director, Joseph Kahn, who also directed the videos for "Blank Space," "Out Of The Woods," and "Wildest Dreams."
Though Kahn and Swift will be the only people who get a physical
, "Bad Blood" was certainly a group effort. Swift was able to get plenty of her famous friends onboard for the FX-heavy video, and it's what made this video so iconic in the first place. I'm sure if Swift could break the Grammy into a bunch of pieces and hand them out to her squad Mean Girls-style she would, but I feel like Grammy awards are probably a little bit more durable than a plastic crown.
Oh, well. We all know that this Grammy really belongs to Swift's entire group of gal pals, even if only Swift and Kahn can get the shiny award that goes along with it.
Check out the video below:
Images: TaylorSwiftVEVO/YouTube; Teen