9 Deodorant Hacks You Never Thought Of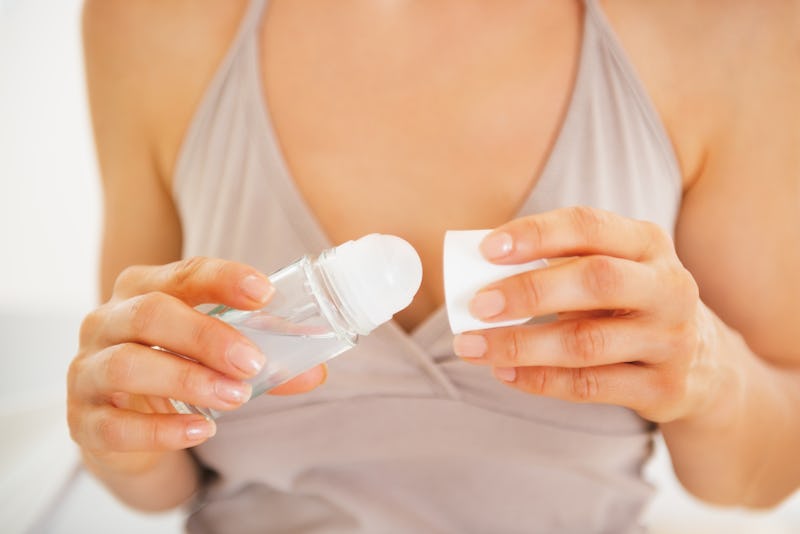 Certain beauty products obviously belong on certain parts of your body, but can also have other uses you might've never even thought of. With this roundup of deodorant hacks, you'll be able to not only remove annoying white marks fast, but also learn some other random and glorious uses for deodorant. Hooray for multipurpose hacks for this totally multipurpose product!
How did I learn so much about dealing with deodorant, you ask? Well, working as an actor growing up and racing to and from auditions, my car often doubled as my closet and bathroom mirror and I definitely got creative with how to use certain products.
Racing from one audition to the next, I had to wear heels while also tossing on my clothes. One time, I didn't even realize I had major (read: MAJOR) white lines down half of my shirt and a charming slew of blisters on my feet. The casting director didn't say anything, but he knows that I know that he noticed those white marks (you know?). By the time callbacks rolled around, I made sure my pits were always in the clear and I'd deodorant-proofed my shoes to dodge new annoying blisters.
To avoid annoying white marks and embrace how totally multipurpose deodorant is, don't miss these hacks below.
Try Spray For No White Marks
Lafe's All Natural Body Deodorant Spray, $9.73, Amazon
To dodge white marks entirely, reach for deodorant spray.
Remove Stains With Dryer Sheets
Bounce Dryer Sheets, $9.95, Amazon
Roll a dryer sheet over deodorant stains in a circular motion to get rid of them.
Or Panty Hose
ASOS Curve Denier Tights, $7, ASOS
Similarly, using panty hose the same way as dryer sheets works just as well!
Rub Deodorant On Your Shoes To Dodge Blisters
Secret Invisible Solid Powder Fresh, $2.99, Amazon
Got a fresh pair of heels? Swipe the inside of your shoes with deodorant to act as a blister barrier for your skin.
5. Put It On Your Hairline
Tom's Lavender Deodorant, $4, Amazon
Use a clear-application above your hairline before a long run to avoid sweat getting in your eyes.
6. Swipe Thighs To Stop Chafing
Nourish Organic Deodorant Cream, $9, Amazon
Good Housekeeping recommended rubbing thighs and groin with deodorant to keep things chafe-free. I'd recommend using a hypoallergenic brand for sensitive skin to avoid any possible allergic reactions.
7. Treat Insect Bites
Dry Idea Unscented Anti-Perspirant, $7, Amazon
According to Byrdie, you can quell an itchy mosquito bite with a swipe of deodorant.
8. Dodge Razor Burn
Lavanila The Healthy Deodorant, $14, Amazon
Post-shave a quick swipe of natural deodorant over legs can prevent razor burn.
9. Take Off Nail Polish
Nivea Deodorant Spray, $9.99, Amazon
Thanks to its alcohol content, a spritz of spray deodorant over a cotton ball is a fast and easy substitute for nail polish remover.
Want more style tips? Check out the video below, and be sure to subscribe to Bustle's YouTube page for more hacks and tricks!
Images: Fotolia; Courtesy of Brands