15 Harry Potter Quotes About Success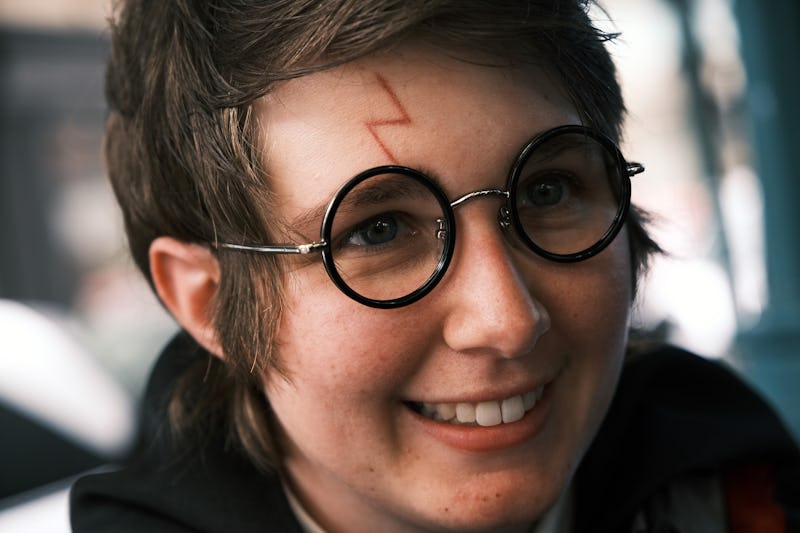 Spencer Platt/Getty Images News/Getty Images
If the cast of lovable wizards who rule the Harry Potter series know about one thing, it's definitely success. From battling mountain trolls and sneaking past three-headed-dogs, to finding dates for the winter ball and combating, once and for all, the magical forces of evil that abound, Harry, Ron, Hermione, and the rest of the gang all boast impressive resumes of magical successes. In fact, the first time Harry made his magical world a better place, he did it without even having to leave his childhood crib — if you think about it, the Voldemort-battling tyke was kind of the original success baby.
If I know one thing about Harry Potter fans, it's that you crazy Potterheads love your book quotes. And who can blame you? I love reliving every magical line of some of my own favorite books too. So whether you're looking to add some Potter-inspired motivation to your day, or you're just using the last 15 minutes of your treasured lunchbreak to take a trip down Potter lane, this list of Harry Potter quotes about success is definitely for you.
Here are 15 Harry Potter quotes about success; because let's face it: we can all use a little wizardly inspiration sometimes.
1. "I'm going to keep going until I succeed — or die. Don't think I don't know how this might end. I've known it for years."
― Harry Potter, Harry Potter and the Deathly Hallows
2. "This boy will be famous, a legend. I wouldn't be surprised if today was known as Harry Potter day in future. There will be books written about Harry, every child in our world will know his name."
― Minerva McGonagall, Harry Potter and the Sorcerer's Stone
3. "We've all got both light and dark inside us. What matters is the part we choose to act on. That's who we really are."
— Sirius Black, Harry Potter and the Order of the Phoenix
4. "It is a curious thing, Harry, but perhaps those who are best suited to power are those who have never sought it. Those who, like you, have leadership thrust upon them, and take up the mantle because they must, and find to their own surprise that they wear it well."
— Albus Dumbledore, Harry Potter and the Deathly Hallows
5. "'And what if I wave my wand and nothing happens?''Throw it away and punch him on the nose,' Ron suggested."
― J.K. Rowling, Harry Potter and the Sorcerer's Stone
6. "It takes a great deal of bravery to stand up to our enemies, but just as much to stand up to our friends."
— Albus Dumbledore, Harry Potter and the Sorcerers's Stone
7. "Curious indeed how these things happen. The wand chooses the wizard, remember.... I think we must expect great things from you, Mr Potter."
— Garrick Ollivander, Harry Potter and the Sorcerers's Stone
8. "'Wingardium Leviosa!' he shouted, waving his long arms like a windmill.'You're saying it wrong,' Harry heard Hermione snap. 'It's Wing-gar-dium Levi-o-sa, make the "gar" nice and long.''You do it, then, if you're so clever,' Ron snarled.Hermione rolled up the sleeves of her gown, flicked her wand and said, 'Wingardium Leviosa!'Their feather rose off the desk and hovered about four feet above their heads."
― J.K. Rowling, Harry Potter and the Sorcerer's Stone
9. "There are some things you can't share without ending up liking each other, and knocking out a twelve-foot mountain troll is one of them."
— J.K. Rowling, Harry Potter and the Sorcerer's Stone
10. "I am what I am an' I'm not ashamed. 'Never be ashamed,' my ol' dad used ter say, 'there's some who'll hold it against you, but they're not worth bothern' with.'"
— Rubeus Hagrid, Harry Potter and the Goblet of Fire
11. "Who're you going with, then?" said Ron."Angelina," said Fred promptly, without a trace of embarrassment."What?" said Ron, taken aback. "You've already asked her?""Good point," said Fred. He turned his head and called across the common room, "Oi! Angelina!"Angelina, who had been chatting with Alicia Spinnet near the fire, looked over at him."What?" She called back."Want to come to the ball with me?"Angelina gave Fred a sort of appraising look."All right, then," she said, and she turned back to Alicia and carried on chatting with a bit of a grin on her face."There you go," said Fred to Harry and Ron, "piece of cake."
― J.K. Rowling, Harry Potter and the Goblet of Fire
12. "We must try not to sink beneath our anguish, Harry, but battle on."
— Albus Dumbledore, Harry Potter and the Half-Blood Prince
13. "'I'm not going to be murdered,' Harry said out loud.'That's the spirit, dear,' said his mirror sleepily."
― J.K. Rowling, Harry Potter and the Prisoner of Azkaban
14. "It matters not what someone is born, but what they grow to be."
― Albus Dumbledore, Harry Potter and the Goblet of Fire
15. "He couldn't know that at this very moment, people meeting in secret all over the country were holding up their glasses and saying in hushed voices: 'To Harry Potter - the boy who lived!'"
― J.K. Rowling, Harry Potter and the Sorcerer's Stone
Images: Spencer Platt/Getty Images News/Getty Images; Giphy(15)