I Tried To Find The Best Black Lipstick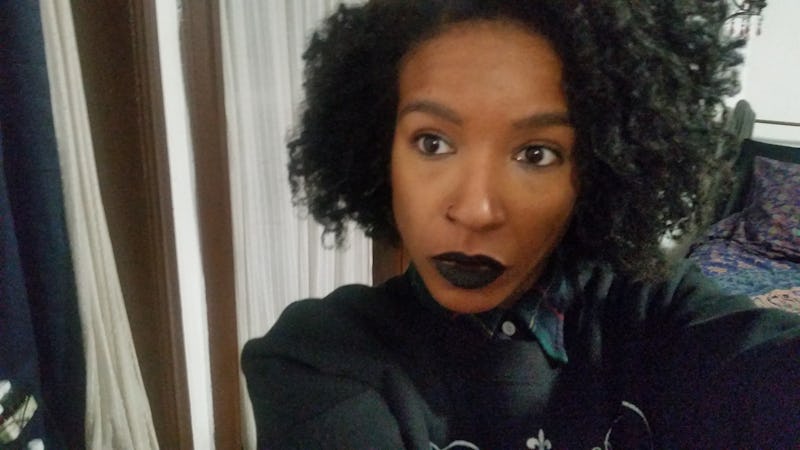 There is a legitimate reason why I've been wearing black lipstick every day for the past month, only taking off days where I worked from my bed in sloth with takeout food. I desperately needed to find out which of the many black lipsticks available are the best. Not long before my experiment first began, I realized I didn't currently own a black lipstick. I dedicated several hours to searching around for the perfect black lipstick and I was shocked/appalled/offended to find out that some lipstick brands didn't even carry a black lipstick. I shelved the idea of writing scathing emails to those companies demanding they offer my favorite shade and instead continued my quest for a black lipstick that would soon become my everything.
There are a few important factors needed to call a lipstick my everything, the longevity being the most important factor for me because there is nothing worse than having to reapply lipstick several times a day. This especially applies when it's a bold color completely different from your natural color, as it tends to be more noticeable when it starts to come off. The other factors (in no specific order) are the ingredients in the lipstick, fancy packaging, the boldness of the color, and if the lipstick bleeds or comes off easily.
To successfully find this information out myself, I gleefully wore black lipstick regardless of the time of day, function, or my outfit. Now that my experiment is over, I only care to wear black lipstick. Here's what I thought about every brand I tried.
My favorite thing about Black Night are the adorable little bits of red flakes that makes the black appearance... well, not so black. If your fear is that your black lipstick is going to be far too bold for your complexion, then this lipstick is the way to go. It goes on super smooth and doesn't dry out your lips at all. I wore my black lipstick for about 15 hours and needed to reapply about six times because it isn't super thick. It bleeds slightly, but I solved that problem by using a black eyeliner as a lip liner.
Black Night Lipstick, $25, Amazon
I loved the way the Voodoo black lipstick applies: It goes on super thick, so one layer was all I needed. I wore my black lipstick for about 13 hours and reapplied about four times — but I'll be honest, I did a lot of snacking during that time. The lipstick doesn't bleed too much, but it definitely is best with a lip liner. Oh, and it gets bonus points for being $14, cruelty-free, and non-toxic.
Voodoo Black Matte Lipstick, $14, W inky Lux
Let me introduce you to one of the best lipsticks I've ever used. Bat Black goes on super smooth, plus it's not incredibly matte, so my lips didn't feel chapped after it dried (something that happens often for me with matte lipstick). According to Rivithead's site, the lipstick is animal friendly and cruelty free. It was the only lipstick I tried that didn't get all over my coffee cup. I wore this lipstick for 10 hours and only reapplied once after eating around 10PM. Extra bonus points for costing $10.50.
Bat Black Lipstick, $11, Rivit Head
The only makeup I'm actually married to is Kat Von D's tattoo cover up and concealer, so I was seriously looking forward to testing this baby out. Nayeon went on as bold and sexy as Kat Von D and it was super smooth. When I used a lip liner, I only needed to reapply Nayeon once in 12 hours of wear — and that was after a little makeout session. The Studded Kiss Lipsticks are completely vegan and 100 percent cruelty-free.
Kat Von D Studded Kiss Lipstick in Nayeon, $35, Amazon
This isn't my first time wearing ColourPop lipstick; in fact, it was their deep blue shade that fueled my future need for black lipstick. This lipstick was super matte, which I prepared for by exfoliating my lips before applying the lipstick so that I wouldn't feel the need to apply a moisturizing lip balm which would alter my results. I wore this lipstick for 13 hours and touched it up six times, but never needed a full reapplication. There was little to no bleeding, but I still wore a lip liner. This lipstick will cost you a whopping five bucks. Also, according to to ColourPop's site, they only test their lipstick on humans.
Bull Chic, $5, Colour Pop
The Satin Black lipstick goes on very smooth, with a little bleeding that can be solved with a lip pencil. I wore it for about 11 hours with a lip liner and needed about four applications. You may need a couple of coats of this lipstick to get an even application, but I liked the fact that it wasn't super matte.
Rouge Artist Intense Color Lipstick in Satin Black, $22, Sephora
The horrified expression in this picture is due to the fact that I was concerned this lipstick was some type of black magic — that's how amazing it is. I wore this lipstick for 14 hours and reapplied once after eating. I went lip-liner free and didn't notice any bleeding. It may be a little difficult to apply if you have smaller lips because it comes in a tube similar to Chapstick, rather than your typical tapered lipstick shape. Portland Black Lipstick Co. is a small company based in Portland, OR, and the lipstick is 100 percent natural and cruelty-free, costing only $14. I was surprised that my lipstick stayed on for so long because it definitely made its way to coffee cups, cigarettes, and boys lips that night as well.
Black Velvet Cake Lipstick, $14, Portland Blacklipstick Co
If you can imagine a black stained lip balm then that's exactly what black Up's Satin Black feels like. During my experiments with black lipstick, my lips were growing chapped from not using my usual amount of balm throughout the day, so when I tried this one I was startled at how smooth it felt against my lips. Huge bonus points for that. When I first applied the lipstick, I put on one coat, blotted, and then applied another coat, blotted, and then another coat to get my color as even as possible. I used a black liner and needed to reapply three times during 12.5 hours. I loved the appearance of the matte look without it feeling matte against my lips.
Satin Black Lipstick, $23, S ephora
Now, I never intended on being swayed by fancy packaging, but damn you, Lime Crime! Must your packaging be so incredibly adorable? It makes me want to nestle into a bed of beautifully wrapped lipsticks for the rest of my life. The Unicorn lipstick stayed on me for days. No, literally days: I forgot to take it off before bed and woke up with it still applied. I couldn't tell you if it got on my sheets because they are also black, but it's pretty doubtful because I barely noticed my lipstick coming off on cups or sandwiches. I wore this for 10 hours, with one application after simultaneously smooching and eating. It went on soft and my lips didn't feel chapped either.
Unicorn Lipstick in Styletto, $8, L ime Crime
Let's revisit the packaging just one more time: ADORABLE. This black shade is part of the Velvetine series and it's a liquid to matte formula that I seriously adored, because of the applicator it's easily applied and I've worn it several times with little to no reapplications. The color is bold AF which is perfect for me, I seriously get so many compliments when I wear this one. Above, is a photo of me after eight hours of wear without reapplying, well worth $20. Lime Crime's website states that their products are 100 percent cruelty-free. The trick to keeping this lipstick on for extended wear is to let it dry before you do anything with your lips, also since it's liquid it's easy to get lipstick on your teeth, something that is very rare for me.
Black Velvet, $16, Lime Crime
Can you see why I'm hooked? All ten versions ended up being a great makeup experience, and I highly recommend anyone who's been hesitating to try out black lipstick hop on one of these brands immediately.
Want more beauty tips? Check out the video below and subscribe to Bustle on YouTube!
Image: Kristin Collins Jackson (12)