Body Positive Lingerie Brands To Shop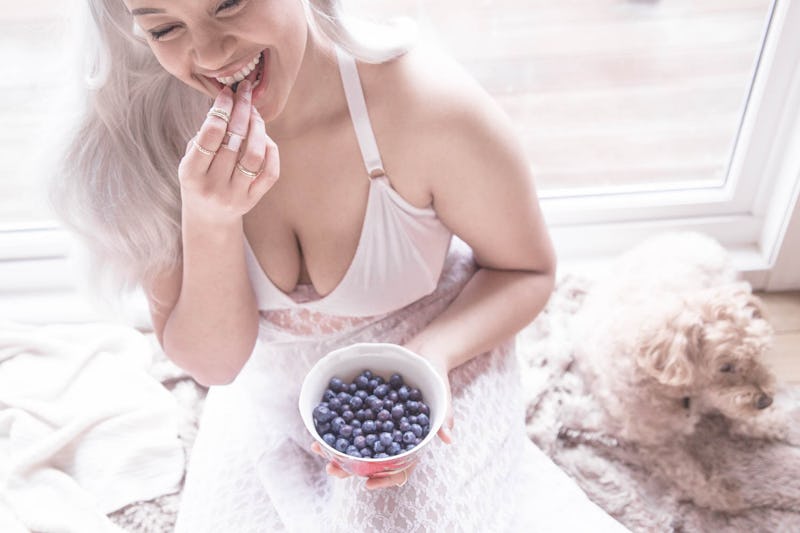 It's been said that diamonds are a girl's best friend, but when it comes to feeling lovely and luxurious, there's nothing quite like finding the perfect piece of lingerie. Finding body positive lingerie brands that cater to more than just one body type used to be a fairly tricky endeavor. Luckily, the undergarment game is evolving, and more brands are embracing the fact that bras and lingerie for "every woman" really need to include every woman. Sure, there are still strides to be made in the lingerie industry when it comes to designing for all body types and style preferences. But that doesn't mean we can't take a moment to celebrate some of the lovely pieces out there now.
These days, berry, caramel, cafe au lait, and cinnamon are taking center stage over nude and sheer stockings, making shopping for the things by skin tone a much more enjoyable experience. Size charts are slowly making their way to being more inclusive. And models are looking more and more like the women we face in the mirror each day.
The lingerie we can find at body positive brands is a truer extension of what makes many of us feel comfortable and beautiful in the boudoir, as well as under our daily clothes, because these brands are focused on creating lingerie that is inclusive rather than exclusive. Shopping the following brands means exercising your voice as a consumer, and rewarding those companies that take the time to listen to what we're truly asking for.
1. Nubian Skin
Classic Lace Push-up Bra BERRY, $65, nubianskin.com
Founded by Ade Hassan after much frustration regarding the lack of nude lingerie choices for women of color, Nubian Skin is a company dedicated to creating lingerie and hosiery that features "a different kind of nude." From delightfully embellished lace lingerie to simple classics to undergarment essentials, the brand offers a gorgeous variety of intimates, and ships to the United States, Canada, and the United Kingdom.
2. Hips And Curves
Sweet Romance Molded Cup Chemise, $39.95, hipsandcurves.com
Offering sizes up to a 6XL, Hips And Curves aims to provide "fabulous, sexy plus size lingerie that celebrates the beauty and sensuality of fuller figures." This customer service oriented company goes far and beyond bras and panties, and is an excellent place to find a wide array of teddies, robes, corsets, hosiery, and boudoir apparel catered specifically to those seeking plus size lingerie options.
3. Impish Lee
Long Slip, $148, impishlee.com
For a truly unique, body positive boutique experience, head on over to Impish Lee. Based in New York, Impish Lee custom makes intimates based off of your design choices. You choose the cut and style, the lining, and the fabrics, then the brand creates your pieces, available in sizes 0 to 24. It also offers a 30 day free remake or return policy, to ensure you're getting exactly what you hoped for.
4. Naja
Gina Bralette, $65, naja.co
While this brand could stand to expand its size range, the style and attitude behind Naja's intimates is spot on. Not to mention it's a company founded by women, focused on creating better lives for single mothers and female heads of households. It also aims to empower women in their imagery, creating marketing materials not catered to the male gaze, but instead to the women who make up their customer base.
5. Curvy Kate
Curvy Kate Tease Camisole, $94.95, figleaves.com
Dreaming of the day you can hop online and find a full bust friendly lingerie site? Curvy might just be the answer you're looking for. With lingerie and swimwear designed specifically with curves in mind, the site offers a solid variety of traditional and playful looks from various brands.
6. Lonely
Edith Underwire Bra Black, $72.30, lonelylabel.com
Lonely is an interesting brand. While many of its lookbooks feature a single body type, it offers a variety of sizes, unique styles, and has an interesting project called Lonely Girls, which showcases its happy customers. Lonely Girls is very body positive in its mantras, and highlights images of real people from various walks of life.
7. Neon Moon
non! bamboo soft-cup triangle bra, $71.41, neonmoon.co
When it comes to framing size in an entirely body positive light, Neon Moon takes a creative, empowering approach to things. Its website is super conscious of the sensitive nature of measuring oneself when a person has faced body image hurdles, and makes a sincere effort to remind customers that their value is not tied to a number. The brand also features product images containing women with cellulite, scars, a variety of body types, hairstyles, and attitudes, as well as honest reviews — truly making the shopping experience unique and comforting.
Next time you're looking for the perfect piece of lingerie — either to share with a loved one or to cherish quietly beneath your clothes — check out these body positive brands. Just remember that ultimately, you're the one who makes your intimates rock.
Want more lingerie inspo? Check out the video below, and be sure to subscribe to Bustle's YouTube page for more!
Images: Courtesy Brands