What Is Zayn's New Song About?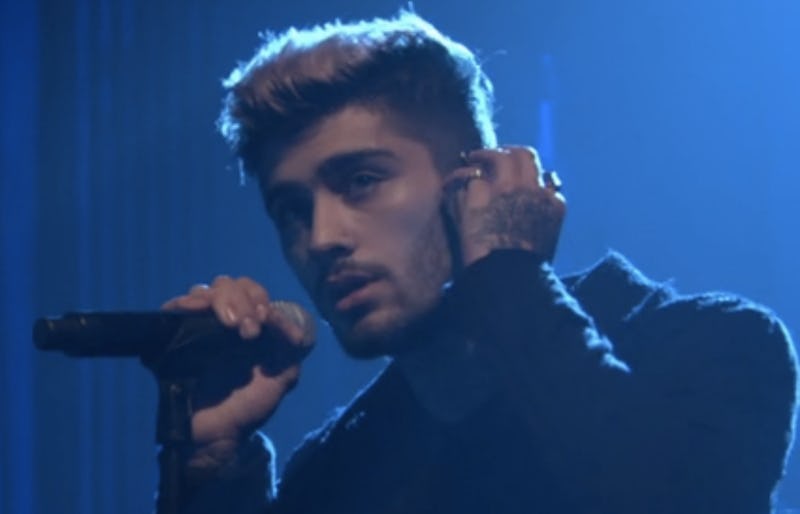 It looks like Zayn Malik's solo career is going to be more than just a one-hit wonder after all. After leaving One Direction behind and reinventing himself with the release of his first single, "Pillowtalk," it's finally time for us to hear more from the heartthrob's solo endeavor in the form of Malik's latest single, "It's You." The singer — now exclusively going by the name "ZAYN" for his new album — premiered the second single off of Mind of Mine Wednesday night on The Tonight Show with Jimmy Fallon. And let's just say that his performance was nothing less than chill-inducing. From the unexpected high notes to the lighting effects and some subtle backup vocals, we have officially been introduced to a whole new Zayn. That's right... This was definitely not the sexy, infatuated guy from the "Pillowtalk" music video. He's showing us his softer side with "It's You."
However, aside from being completely drawn into his live television performance, there's still one question about the song on my mind: What is this new single actually about? Because when he's not pumping out those ridiculously high notes while singing the words "It's You," there's a whole lot more going on in this song. The subtlety of the lyrics is what makes it all the more confusing. But, before we break it down, let's just listen to the song.
I'm curious to know what the "it" is in this song, and, honestly, he doesn't start off the song very slow when it comes to the song's overall message. There's even a curse word in there.
She got, she got, she gotHer own reason... for talking to meShe don't, she don't, she don't... give a f**kAbout what I needAnd I can't tell you whyBecause my brain can't equate it
Tell me your lies. Because I just can't face it...
First of all, Zayn is clearly in a pretty emotional state. From the looks of song's first stanza alone, it sounds as if this girl he's singing about is really playing with our boy's heart. He's being used, his feelings are being thrown to the side, and he just can't seem to understand why this mysterious "she" is treating him this way. And, with the short bridge into the chorus, it's clear that his desperation for answers is just getting stronger.
However, after that, things get even more emotionally intense. He clearly wants the girl he is talking about to open up to him and give him answers to take away his pain. But he also can't seem to fight his feelings about this girl being "the one."
It's you, it's youIt's youIt's you, it's youIt's you
At the same time, could these two simple words actually be holding a double-meaning? Is the "It's You" really referring to him declaring her as the one? Or is it actually a dig at her personality and the ways in which she's treating him? Well, let's break down the next two big chunks of text that we get in the song to find out.
I won't, I won't, I won't!Cover the scarI'll let it beSo my silenceSo my silence won'tBe mistaken for believingAm I wrong for wanting us to make it?
Followed by another round of the chorus, and then...
Could it be that it's a lesson?That I never had to learnI looked at it like a blessingAnd now it's just a curseI don't know whyI don't know whyYou, it's you
Yes, at this point, it's clear that somebody broke Zayn's heart. The "It's You" is not only pointing out how she is (or was?) the one, but it's also referring to the loss of that love he is dealing with based off of her and her decisions within their relationship. So, basically, if you have ever grown apart from something that you felt was so right... Yep, Zayn understands. This song has officially introduced us to his softer side.
So, will "It's You" get it's own Gigi Hadid-starring music video? Or will we need to listen to the rest of the Mind of Mine album to find out more about Zayn's personal love and heartbreak? Either way, we're just going to have to wait and see. All of the songs from his first solo album, Mind of Mine will be out on March 25.