Here's What Happened In 'Girls' Season 4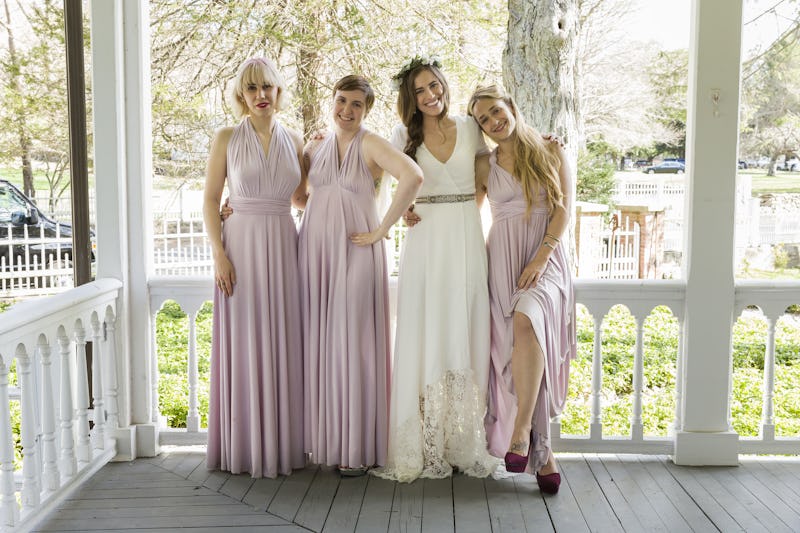 The fifth season of the HBO millennial phenomenon Girls premieres on Feb. 21. We have seen how Hannah, Jessa, Shoshanna, and Marnie struggle with adulthood over the past five years. The girls have felt growing pains while navigating relationships, failure, academics, jobs, and the real world. The women have gotten older, and it seems Season 5 will explore if they have really grown up. But, before the season begins, let's remember where we left off with this Girls Season 4 recap.
Trailers for Girls Season 5 tease Hannah's parents trying new things, a more mature romantic relationship for Hannah, Shoshanna living in Tokyo, a bitter Jessa who seems meaner than usual, and a fairy Pinterest wedding for Marnie (though her makeup is a little much). Basically it's a jam-packed season. But, some of you may be watching the teasers and scratching your heads… "Didn't Hannah go somewhere last season? Marnie is marrying that guy?! What's going on?"
Season 4 was a long time ago. And, if you need a refresher before tuning into Girls this weekend, have no fear. Here is a guide to everything you forgot about last season from Iowa to Mimi-Rose Howard to a home birth.
Hannah Goes To Iowa
Hannah attends the Iowa Writers' Workshop. And, though this is an important, prestigious step, she doesn't exactly handle it with grace or maturity. She rents a big house she doesn't need because she is accustomed to New York prices and is too immature to balance life in a new place. She also acts childish with her fellow classmates, and they don't find Hannah's quirks charming.
Jessa & Beedie/Jessa & Adam
The show immediately sidesteps the whole Beedie almost died thing with a scene between Jessa and Beedie's daughter. Jessa and Adam form a platonic friendship while Hannah is away and Jessa gets him arrested after she publicly urinates and is rude to police.
Shoshanna Graduates
Shoshanna graduates and we meet the Mel Shapiros, yes both of her parents are named Mel. Shoshanna then faces rejection in the modern job market.
Marnie & Desi Couple Up
Marnie and Desi are going for it musically — and they have an affair while Desi has a girlfriend. Their performances are still cringe-worthy, though not for lack of talent.
Elijah Shows Up In Iowa
Hannah and Elijah went wild, like jell-o wrestling with undergrads wild.
Hannah Quits Iowa
And returns to New York …
We Meet Mimi-Rose Howard
Adam has a new girlfriend — gasp! This was a shock to Hannah and a huge blow to her ego. She finds that Adam and Mimi-Rose have been coupling in her apartment. Adam moves out of Hannah's place and into Mimi-Rose's. We should also note that Mimi-Rose is crazy talented, successful, and intimidating.
Hannah Decides To Be A Teacher
This may be the most mature decision Hannah has ever made. But, her hilarious, childish friendship with a student (Maude Apatow) proves she is the same old Hannah.
Hannah's Dad Comes Out of the Closet
Tad came out and Loreen is not taking it well.
Ray Gets Political
He finds a voice speaking for the community. Shoshanna is a huge help on his campaign for community board chairperson (which he won), though the two are just friends. However, the whole Ray having feelings for Marnie thing often puts a damper on this friendship.
Marnie Gets Engaged
Marnie and Desi get engaged. Desi is still Desi and leaves Marnie high and dry to perform solo.
Shoshanna Leans In
Shoshanna is offered a great job (finally!) in Japan. Her boyfriend (Jason Ritter) asks her to stay because he may be in love her one day. Shoshanna goes to consult Ray, but runs into his boss Hermie instead. Hermie tells Shoshanna to "lean the f*ck in!"
I'm gonna tell you something. Be the walker, not the dog. This is your "lean in" moment. This is your moment to lean in. You don't want to be dependent on some guy, some nerd. Don't give the power to your partner. Grab a seat at the table and lean the f*ck in. And, if this guy's worth his salt, he'll be waiting for you at the airport when you return. This is for you, taking what's yours. Attainment. Achievement. This is your time to grasp your destiny.
There Is A Home Birth
Caroline and Laird reproduce. Caroline is adamant about wanting a home birth. But, when the baby is breech, Jessa, Hannah, Adam, and Laird convince her its time to go to the hospital and carry her there. The baby is named Jessa-Hannah. Hannah and Adam have a moment (he and Mimi-Rose broke up following drama where Jessa and Mimi-Rose's ex, Ace, broke-up). But, the audience can see it is over for Hannah.
Hannah & Fran Forever
The season ended with a flash forward to Hannah and Fran (a fellow teacher) acting adorable and couple-y in the snow. Time has passed and Hannah seems to be living happily ever after. Could Fran be the one? We'll find out in Season 5!
Images: Mark Schafer/HBO, Giphy (13)