Cali's Creative Fight Against Corporate Donors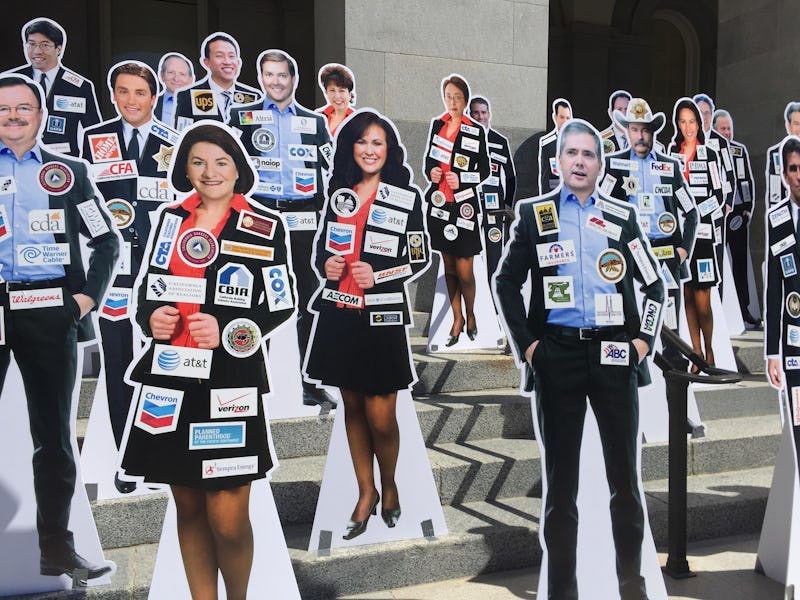 "NASCAR for politicians." That's the most common analogy San Diego resident and businessman John Cox is using to describe his ballot initiative, "California Is Not For Sale," which, if it collects enough signatures, will be put before Californians in November. The proposal is relatively simple: Make California politicians wear the labels of their top ten campaign sponsors on their suits whenever they're on the Assembly floor.
Picture it. Are you a California senator or assembly member? Did a big oil company donate a few million to your campaign? Next time you get up and give a speech in the California Assembly about the need for clean energy in the state of California, everyone will see that big oil company's logo right on you.
"I detest people who get ahead by buying politicians and becoming cronies," Cox tells Bustle. A self-described small businessman, as well as a lawyer and a certified public accountant by training, Cox says he also manages about $200 million in real estate. So, while he's not a billionaire, he has enough to personally jump start an initiative like this one, and he hopes others will soon climb on. "This campaign is about shining a big spotlight on this absurd system. It involves a certain amount of ridicule, obviously, but that's a way of getting attention."
This NASCAR-for-politicians notion is an idea that has been floating around the Internet for so long, not even Cox remembers exactly when he first heard it. But he insists this is only a first step in what he plans as a several-year battle to institute neighborhood legislatures — a system whereby California's voting districts would shrink to the size of local neighborhoods, thereby shrinking campaigns and the amount of money needed to fund them. This system is Cox's long play.
"This is not the silver bullet," Cox says of "California Is Not For Sale" initiative. "This is not going to change a whole lot. It will hold the system up to ridicule, and that's what we're aiming for here."
Cox says he expects to spend a little under a million dollars on paid staffers who will canvas door-to-door to collect the 365,000 signatures that the initiative needs by the end of April to get on the November ballot.
In a different exchange, spokesman Ryan Smith tells Bustle that "California is Not For Sale" received endorsements from several high-profile political entities, including CounterPAC. As of this writing, "California Is Not For Sale" has "roughly 150,000" signatures, according to an email to Bustle from the campaign.
Cox, an Illinois native, has so far been personally financing the campaign to get the 365,000 signatures. Should this proposal become law, the California Fair Practices Political Commission (FPPC) will be responsible for implementing exactly what this would look like. FPPC spokesman Jay Wieringa tells Bustle that the voters must decide before any major implementation decisions can be made on how exactly the politicians would attach said logos to their suits.
"We do get asked by government groups, legislators and staff to sometimes provide analysis on what kind of cost would be involved," Wieringa said. "We will provide our best assessment about what it might cost, but we can't comment on anything that might be related to anything that's before the voters."
A History With Dirty Politics
When he lived in Illinois, Cox was the president of the Illinois Cook County Republicans, the county that includes Chicago. He even ran for office in Illinois a few times. "I was one of ten candidates in the Republican primary, and I was told I had to raise $30,000 a day," he says. These experiences taught him not only how integral fundraising is to politics, but exactly how complicated the relationship between donor and politician can become.
"[Illinois politicians] would be really nice to you, and you'd talk to them and they'd tell you to your face that they were going to get rid of corruption," he laments. "And then they'd go back to their consultants and they'd figure out how to raise money from people by selling their office."
Cox is also no stranger to getting his hands dirty with California politics. Remember former San Diego Mayor Bob Filner? The one who faced more than a dozen accusations of of sexual harassment in the workplace? Filner resigned his office in August of 2013, but not before Cox personally financed an effort to straight-up recall him.
Uniting Left And Right
According to Cox, his latest campaign to hold politicians accountable has been collecting about 30,000 signatures a week — though the support is not limited to California. Cox has found allies on the other side of the country in Vermont. The Stamp Stampede, an anti-Citizens United movement founded by Ben Cohen of Ben & Jerry's Ice Cream, has emailed their California members in support of Cox's plan. So too has the Mayday PAC and Represent.Us, two other prominent groups devoted to ridding politics of big money's influence. Lest one think Cox's initiative is winning over only the Left, several Tea Party group in California have also joined in the effort, he says.
And Californians on both sides of the aisle are abuzz — or anxious? — at the prospect of "California Is Not For Sale" passing. Last November, to promote his cause, the group created life-sized cardboard cutouts of all 40 state senators and 80 assembly members. They covered the cut-outs in corporate and union logos and arranged them on the steps of the Capitol building in Sacramento. The reaction from current California politicians was one of caution.
At the time, Democratic state Sen. Marty Block said in an emailed statement that he "supports reasonable measures to add more transparency" to California politics, reported the local ABC affiliate. Republican Assemblyman Rocky Chávez dismissed the proposal, telling the ABC affiliate that "To have everyone decked out like race car drivers would be a circus element which wouldn't really benefit the public."
However, one former Californian politician was intrigued by Cox's proposal. Former Senator Mark Machado served as a state senator from 2000 to 2008 for California's fifth district, a region east of San Fransisco. Machado tells Bustle he would not have had a "negative reaction" if a similar initiative had been floating around during his time in office. But there were some of his colleagues who "press the envelope," as he says, "who would probably not be happy about it."
Norm Eisen, a visiting fellow at the Brookings Institute and an expert in campaign finance (also Obama's former ambassador to the Czech Republic), tells Bustle that he completely understands where this initiative is coming from in terms of the frustrations with the current system, but he also laughs out loud when I describe to him what the initiative, if passed, would look like.
"I agree with the problem and the frustration," Eisen says. "But there are more comprehensive solutions available. This is a real problem and this [Cox's proposal] has a great sense, but they're better off putting energy into other problems."
One drawback of Cox's plan, Eisen says, is his proposal would be easily evaded in the form of loopholes. If it passed, Eisen says, "I don't think anyone would wear a single label. Also, because it's such a purely symbolic gesture, it runs the risk of being hijacked."
The concern that corporations would invent shell bodies or PACs to circumvent being obviously tied to certain politicians is already happening at the national level, Machado said, and in fact, California politics are far from the worst. "California is a little more robust in monitoring contributions through the FPPC," he explains. Under the oversight of the FPPC, not only do California politicians have to report all contributions, they have to indicate any relationships they may have with businesses that could be tied to how that politician might vote.
Also, last December, the Orange Counter Register reported that the Golden State earned a C- for government transparency and accountability. This may sound bad, but that grade means California actually tied for second-best in the nation with Connecticut.
"Everybody is probably to some degree or another conflicted," Machado says.
One former California State Treasurer Jesse Unruh used to say that the measure of a good politician was their ability to take a person's money, eat their food, drink their booze, take in their entertainment, and then still vote "no," Machado recalls. "In that case, you were entitled to take their money," Machado says. "But if you couldn't do that, then you weren't a good politician." According to Machado:
That's really the measure, you have to be able to maintain an independence. And unfortunately in today's world, with term limits and the rapidity of turnover, and the need to go from one office to another office because of term limits, people are very cognizant of who's their friend and who they offend. It's very difficult to have an independent rack record.
Machado says, "Many of them [the politicians] may say 'I'm independent,' but it's hard to believe that your career — which is based on being reelected, which is based on a certain amount of publicity, of campaigning — is not going to be influenced by those who are contributing to it."
Machado says he thinks "California Is Not For Sale" could, in fact, change the way donations are made.
"I think this is very interesting," Machado says. "If you had people having to wear these type of jackets on the legislature floor there is a transparency there that is going to be very difficult to cloud in terms of one's voting record and performance. And it may cause a little more attention to be paid in terms of how people respond to the issues before them."
"The Corrupt Versus The Non-Corrupt"
Cox speaks with the unabashed fervor and straightforwardness of a man on a mission, driven not by political gains but a higher calling of sorts. He speaks of the deep political divides in the United States being not about Republican versus Democrat, but rather, "the corrupt versus the non-corrupt," he says.
"I think if we could just get rid of the ulterior motives, the money driving it [politics] behind the scenes, I think right and left would come to some accommodation," Cox says. "I really believe that. I really do."
This corruption, this potential to buy political power, is the underlying root of so many current ills facing the nation, according to Cox.
"We have a government for sale, we have politicians who listen to the funders and the organized interests, and then we get surprised when we have a $20 trillion national debt," he says. "States like New York and Illinois and California have huge unfunded liabilities for employee health care and pensions. Something's got to get done about this. And I'm not going to sit back and watch this any further."
Images: California Is Not For Sale (4)
An earlier version of this article stated Change.org endorsed "California Is Not For sale," which is incorrect.