16 Matcha Green Tea Desserts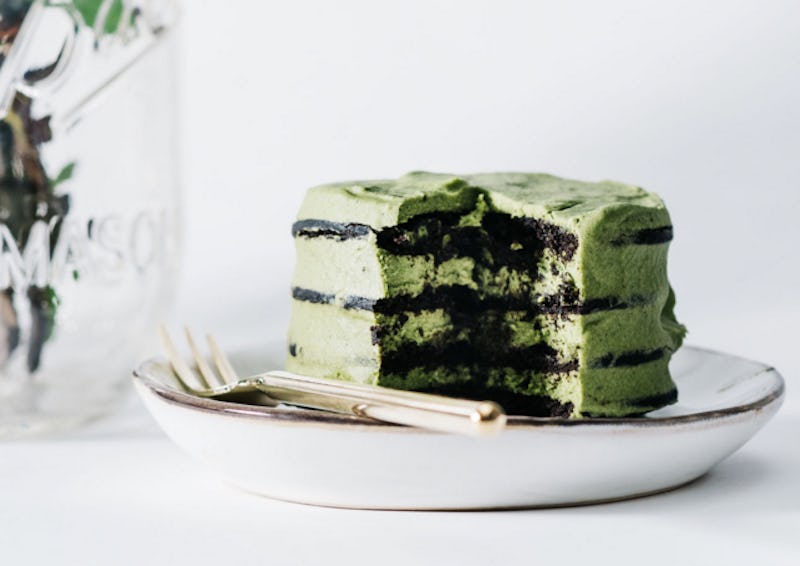 Next time you're craving something sweet, switch up your standard sugary fix with these remixed matcha green tea desserts. Matcha powder is made up of compressed green tea leaves after they've been deveined and stone ground. The results are sweeter than steeped green tea and extra concentrated with antioxidants. Matcha is definitely "having a moment," finding itself on the culinary radar outside of Asia. The star of Japanese tea ceremonies, matcha is now found increasingly in recipes of all varieties, lending its subtle flavor and beautiful color to irresistible and unexpected pairings.
This lineup of treats all boast that little "something extra" that matcha provides, as well as its light green tea color. While traditionally matcha has often been a key ingredient in many Japanese desserts, here we find it bettering the likes of sweet staples like cheesecake, brownies, and tiramisu. Matcha's numerous health benefits might have you feeling less guilty about giving in to these indulgences, but chances are you'll be too distracted discovering just how well the fresh green tea flavor complements your favorite confections. So without further delay, read on to see the generous assortment of remixed recipes, all promising to take your next dessert from nice to next-level with the subtle but potent powers of matcha.
1. Black Sesame Matcha Doughnuts
These delicious doughnuts from The Little Epicurean are an ideal way to "have your matcha tea and eat it, too!" Matcha cake doughnuts are dipped in matcha glaze, giving them double the matcha appeal, then sprinkled with sesame seeds.
2. Vanilla Almond Matcha And Chocolate Lava "Shake"
By definition, these surprisingly healthy shakes aren't even shakes, because instead of ice cream there's coconut cream. Recipe creator Half Baked Harvest combines frozen bananas, dates, avocado, vanilla, cocoa, honey, dark chocolate, and matcha, for a full-flavored green glass of goodness with no added sugar. "Even though there is loads of healthy green in this shake, all you really taste is vanilla, chocolate and a slight hint of the matcha green tea."
3. Matcha White Chocolate And Macadamia Cookies
This traditional white chocolate and macadamia cookie recipe gets remixed with matcha powder thanks to Hummingbird High. In addition to a light green tint, "the matcha adds a very subtle tea flavor to the cookies" similar to "the delicate green tea-flavored patisserie desserts you can find in Japanese restaurants."
4. Vegan Matcha Cake With Vanilla Lemon Cream Frosting
Recipe creator Making Thyme For Health promises this cake is nutritious enough to be "served as a snack cake or even breakfast if you want." The vegan dessert is comprised of whole grain spelt flour, natural sweeteners, lemon cream frosting, and matcha powder for green tea flavor.
5. Super Chocolatey Cupcakes With Matcha Green Tea Frosting
This buttercream frosting provides a beautiful pop of color and flavor atop these moist chocolatey cupcakes. A Cozy Kitchen describes the cakes as "super light and airy, while the green tea frosting has a comforting flavor that warms you right up."
6. Brownies With Matcha Glaze
My Name Is Yeh highly recommends "these little bites of joy" that require no softened butter, cooling time, or weird ingredients — unless you consider matcha a weird ingredient.
7. Green Tea Coconut Ice Cream
Make this popular Japanese dessert at home with the help of Pastry Affair, who combines the green tea ice cream with a bit of coconut and tops it with toasted almonds.
8. Mini Green Tea No Bake Ice Box Cake
These delicious cookies and cream baby cakes by I Am A Food Blog are super straight-forward to make. A remix of a classic ice-box cake, the recipe calls for pairing deliciously dark and crisp chocolate wafers with unsweetened matcha whipped cream.
9. Matcha Green Tea Panna Cotta
The Little Epicurean provides a fresh take on traditional panna cotta that gives the Italian dessert a "pretty hue of green" and an "intoxicating aroma."
10. Matcha Green Tea, Pistachios, And Chocolate Rice
This recipe by Apron And Sneakers calls for Arborio rice, dark chocolate, pistachios, and, of course, matcha green tea powder for the rice, sauce, and for sprinkling on top.
11. Matcha Swirl Cheesecake
A Cozy Kitchen sets her matcha cheesecake recipe apart from the rest with "a lil' swirl action," giving a gorgeous green and white marbled effect.
12. Matcha Vanilla Smoothies
For a healthier way to incorporate the healthy ingredient, these matcha smoothies do the trick while still satisfying your sweet cravings. Love And Lemons uses a smoothie base of almond milk and bananas, then incorporates matcha powder and vanilla bean along the way.
13. Matcha Azuki Cupcakes
These cute cupcakes by The Little Epicurean combine another Japanese flavor favorite for synergistic results. "Green tea and red bean go together like peanut butter and jelly" and this concoction balances "the slight bitterness of green tea and the sweetness of red bean" for "great depth of flavor."
14. Matcha Green Tea, Chocolate, And Ricotta Balls
This quick and easy number by Apron And Sneakers makes for the perfect "emergency dessert" that's also visually stunning and goes well with either sweet or salty dishes. Though one of the main ingredients is cheese, the final product delivers strong chocolate and green tea flavors.
15. Chocolate Matcha Cake
This recipe by A Cozy Kitchen gives you a cake that's chocolatey, rich, decadent, and decidedly green, by way of matcha frosting.
16. Double Chocolate Hawaiian Tiramisu With Matcha
Half Baked Harvest calls for a little bit of Kahlua — "you know, for good measure" — with this doubly indulgent Hawaiian take on tiramisu. Soft and buttery sweet Hawaiian bread absorbs fresh brewed Hawaiian coffee for a cup of deliciousness that's to die for even before dusting with matcha green tea powder.
For more ideas, check out Bustle on YouTube.
Images: I Am A Food Blog, The Little Epicurean (3), Half Baked Harvest (2), Hummingbird High, Making Thyme For Health , A Cozy Kitchen (2), My Name Is Yeh, Pastry Affair, Apron And Sneakers (2), Love And Lemons