19 Vegan Brunch Ideas To Start Mornings Off Right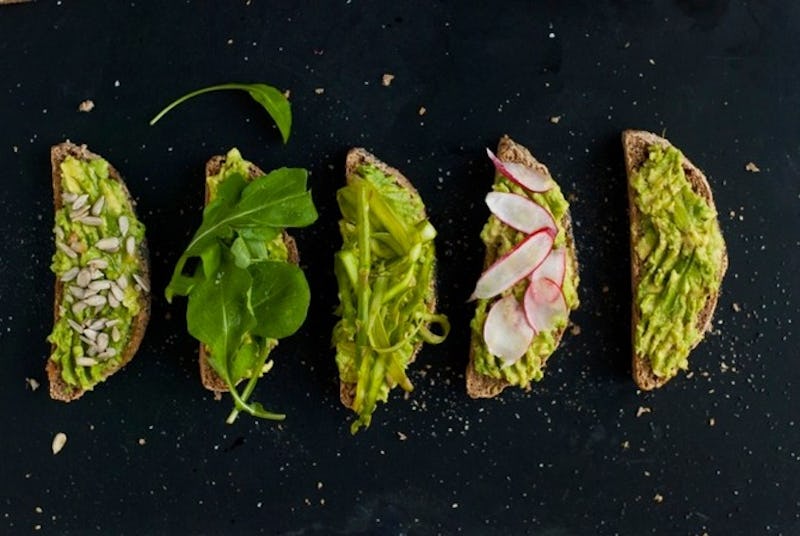 Brunch is notorious for a lot of things, the less story-worthy being its lineup of egg dishes, baked goods heavy in dairy, and savory staples like sausage and bacon. This poses some problems for vegans, but despite its usual suspects, brunch is still possible sans its popular vegan no-nos with the help of some vegan brunch recipes that cut out the animal products without compromising on flavor.
Oftentimes, vegan cuisine gets a bad rap for being bland or uninspiring. When it does imitate non-vegan options, a common fear is that the results will be way off base. With the right recipe and ingredients, this doesn't have to be the case. Brunch favorites like waffles, pancakes, cinnamon rolls, yogurt, and even sausage and bacon can be cooked up completely vegan, and live up to (and even outdo) their non-vegan counterparts. This roundup of vegan brunch dishes proves that wholesome vegan options can taste so decadent and sinful they'll have you questioning how it's possible they're vegan. Non-vegan friends may even be abandoning their buttermilk waffles and Benedict to get in on the action. Start the day off right, and from the comforts of your own home, with these delicious home-cooked dishes that deserve to be washed down with a generous pour of mimosa.
1. Vegan French Toast
While the "eggy essence" might be what gives classic French toast its appeal, Love And Lemons achieves this effect with nutritional yeast mixed with millet flour and almond milk. Then all it takes is some cinnamon, nutmeg, and lots of maple syrup for a sweet start to the day.
2. Avocado Toast
This might be cheating because it doesn't take a lot of imagination to consider just how delicious avocado toast can be without animal products. Mashed avocado with lemon juice makes the perfect spread to toasted slices of baguette, but other additions can take the experience up a notch. Cookie And Kate uses a vegetable peeler to shave asparagus and radishes to be tossed with sea salt and olive oil. The radishes give "a zesty bite and extra crunch." You can also toast sunflower seeds and top with arugula, asparagus, and pepitas.
3. Tempeh Breakfast Sausages
Even vegan you can still enjoy a side of sausage with this tempeh alternative. Fo Reals Life promises they don't taste much like beans but are actually "very 'meaty,'" especially when simmered. Let the spicy tempeh give a savory kick to your brunch spread.
4. Super Thick Coconut Yogurt
This dairy-free yogurt by Oh She Glows has a similar consistency to Greek yogurt, and you can adjust the thickness to your liking. You'll also be in control of just how sweet or tart you want it with the help of maple syrup or raw coconut nectar, and can get creative with flavors by adding fruit or chia jam.
5. Vegan Bacon
This vegan coconut bacon by Cookie & Kate is the perfect answer to any recipe that calls for crumbled bacon, and is an especially delicious crunchy addition to a vegan brunch dish. You can even freeze extra for later (though I doubt that leftovers will be a problem).
6. Black Bean Burrito With Guacamole
Remix the breakfast burrito with this straightforward but scrumptious recipe from Naturally Ella. Just switch in a vegan cheese and that's a wrap (pun intended).
7. Vegan Scrambled "Eggs"
This creative concoction actually came about when recipe creator Oatmeal With A Fork was trying to use chickpeas as eggs to create an omelet. In the midst of flipping it over, the omelet broke and the results lent themselves to the perfect plate of scrambled "eggs."
8. Morning Glory Breakfast Cookies
There's no guilt having cookies for brunch with this healthy recipe by Making Thyme For Health. Whole grain oats and walnuts replace flour, and blended ripe bananas, dates, and maple syrup act as the sweetener, resulting in wholesome cookies "full of healthy complex carbs, protein, and lots of vitamins and minerals."
9. Coconut-Cardamom Vegan Overnight Oat Parfait With Blueberry Chia Seed Jam
Oh She Glows has been making vegan overnight oats on the regular and this parfait-style creation is particularly delectable. Endlessly customizable and portable by way of mason jars, these oat parfaits make for the perfect brunch treat or on-the-go snack. Switch it up with chia seed jam or granola.
10. Cacao Nib And Strawberry Vegan Waffles
Waffles are a brunch staple, and this vegan version by Love And Lemons using spelt flour is actually "crispier around the edges without any eggs in the batter."
11. Vegan Chunky Apple Cinnamon Muffins
One large banana replaced the egg in this sweet recipe by Averie Cooks. The banana flavor isn't noticeable, and instead you get to enjoy the sweet pop of apple with the spicy edge of cinnamon.
12. Whole Wheat Vegan Cinnamon Rolls
Everything about these gorgeous glazed babies from Naturally Ella is so sinful it's hard to believe they're vegan.
13. Energizing Blueberry Breakfast Pudding
This recipe by Oatmeal With A Fork takes chocolate avocado pudding and ups the ante with chocolate and berries. A modest amount of cocoa powder is all that's needed for a chocolate taste and frozen berries provide a fruity burst of flavor.
14. Vegan Banana Nut Scones
Recipe creator Cookie And Kate encourages you to play with her recipe for the results you want. She uses solid coconut oil instead of butter, and spelt flour instead of whole wheat. Pecan butter or nut butter are recommended glazes, enhanced with a drizzle of maple syrup or honey.
15. Vegan Almond Blueberry Pancakes
"Fluffy, tender, soft" and "pleasantly sweet," these dairy and egg-less pancakes are a treat for vegans and non-vegans alike. A Cozy Kitchen even promises that non-vegans won't be able to taste a difference.
16. Sun-Dried Tomato, Mushroom, And Spinach Tofu Quiche
Country style quiche is still possible sans eggs thanks to tofu. A no-brainer for brunch, but also great for lunch, dinner, and every snack in between, this vegan quiche by Oh She Glows will deliver deliciousness all day long.
17. Slow Cooker Apple Cinnamon Steel Cut Oatmeal With Whipped Maple Cream
These steel cut oats deliver big texture and full flavor, "in all their chewy glory." How Sweet It Is declares them to be "the only oats worth eating that aren't in cookie form."
18. Vegan Banana Pecan Muffins
The usually butter-loving Joy The Baker takes a break from her norm in favor of a simple vegan option she can totally get behind, putting "new lessons into action and making flax seed eggs for tender banana pecan muffins."
19. Vegan And Grain-Free Buckwheat And Apple Ring Cake
If you're having guests over for brunch, go big with this buckwheat and apple ring cake from The Healthy Foodie. Sweet enough to satisfy any morning cravings, the snack is "to die for" with the addition of a little peanut butter or almond butter.
For more ideas, check out Bustle on YouTube.
Images: Oh She Glows (4), Love And Lemons (2), Cookie And Kate (3), Fo Reals Life, How Sweet It Is, Naturally Ella (3), Oatmeal With A Fork (2), Making Thyme For Health, Averie Cooks, A Cozy Kitchen, How Sweet It Is, Joy The Baker, The Healthy Foodie