A DIY Pedicure That's Actually Worth the Effort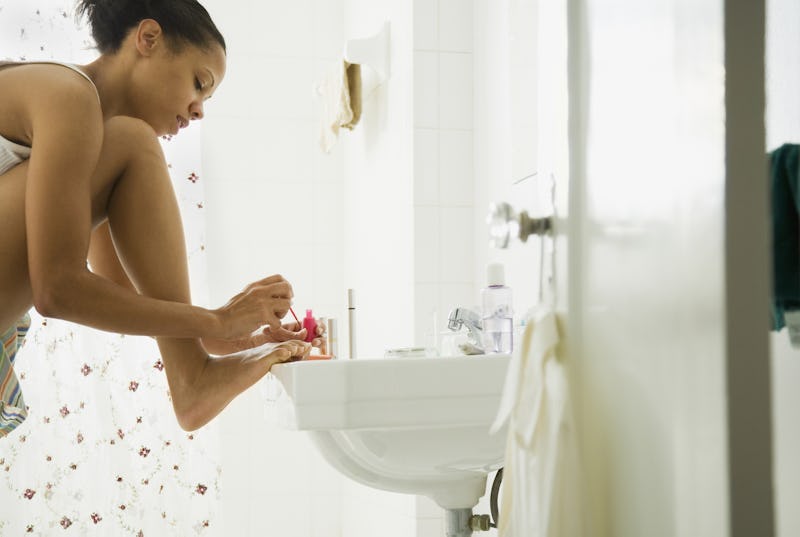 When you're braving bitter cold and dealing with multi-layer socks and winter boots, it makes sense that you don't venture to the nail salon quite so often. BUT that's no excuse to neglect your feet. If they're doing the hard work of clomping through the snow every day, they arguably require your attention more than ever. Here's an easy guide to the DIY pedicure they — and you — deserve:
You'll Need...
Try: Conair Foot Spa with Vibration and Heat, $24.99; Morton Epsom Salt, $5.94; The Body Shop Peppermint Smoothing Foot Scrub, $11; OPI Avoplex Nail and Cuticle Replenishing Oil, $10; OPI Cuticle Stick, $3.49; Tweezerman Deluxe Nail Clipper Set, $9; Professional Nail Emery Boards, $7.50; Orly Base Coat, $8; Essie 2015 Winter Polish Set, $12.99; Sally Hansen Dries Instantly Top Coat, $4; Argan Oil Body Butter, $8.89
8 Steps to a Gorgeous DIY Pedicure
1. Remove all existing nail polish. (Pre-soaked remover pads are always a winner, so you don't have cotton ball fluff sticking everywhere).
2. Soak your feet in a foot bath of 1-2 tablespoons of epsom salts (or you can use pure olive oil) to soften the skin. Keep them there about 10 minutes.
3. Scrub your soles to remove dead skin, then work around the entire foot to exfoliate. If you are truly without a scrub, water, lemon juice and sugar will also do the trick. After you're done, rinse completely.
4. Apply an oil to your cuticles, allowing it to sink in for 20 seconds before pushing your cuticles back with a cuticle stick. (The golden rule of manicures applies to your feet, too: you never cut your cuticles. Not only does cutting them make you vulnerable to infection, it's also wasted effort since the skin is just going to grow back again).
5. Clip your toenails to a manageable length (your call), making sure you are cutting straight across and not curving down into the sides, which can lead to ingrown toenails. Use an emery board to shape the ends of your nails and smooth out any roughness from filing.
6. Apply your bottom coat, nail shade of your choice and top coat in thin, smooth layers to avoid chipping and maximize longevity. Allow two minutes to dry between each coat. To save time, choose a polish brand that has a wide fanning brush (like Bourjois 1 Second Gel Formula) that covers the entire nail surface so you only have to make a quick pass down the nail once.
Bourjois 1 Second Gel Formula Polish, $9.95, Amazon
7. Once your nails are completely dry, massage your entire foot in a hydrating oil, lotion or serum. Take extra care in massaging your heels, which will help prevent cracking.
8. Sit back and admire those happy feet.