16 Unique Ways To Use Almond Butter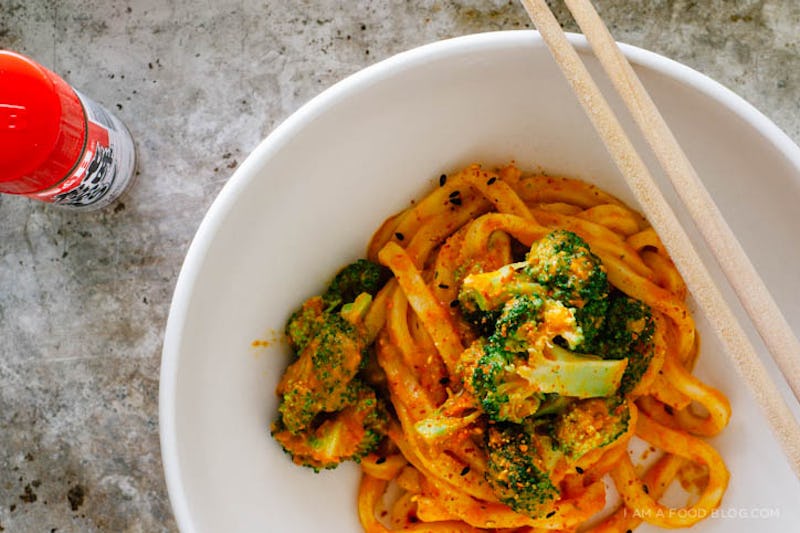 While peanut butter has become a glorified spread in popular cuisine, making its way in candy bars and countless decadent desserts, almond butter has remained simply another option for a sandwich filling. But really, there are so many ways to use almond butter that don't even remotely involve jam and bread. Sure, even if you love Reese's Pieces and can't resist a classic PB&J, these recipes might even convince you that almond butter is better than peanut butter.
Incorporating nut butter into your diet is a great way to increase your protein intake. But more specifically, eating almonds will help lower your cholesterol and boost your body's immunity. Plus, almond butter is just plain good. Smear some on an apple. Mix it into your oatmeal. It's impossible to fight the plain truth of the matter. Even a peanut devotee cannot resist a tasty jar of almond butter. It's not just a second-rate alternative for people with peanut allergies.
These 16 recipes use almond butter in so many different ways that you'll be inspired to go out and buy a jar as soon as possible. Whether you prefer your butter creamy or crunchy, you're bound to find something you love here.
1. Dark Chocolate Almond Brittle
A Beautiful Mess shows that this healthy spread also makes a super decadent dessert. Maple-flavored almond butter brings in some extra sweetness.
2. No-Noodle Pad Thai
If you're allergic to peanuts, you can still enjoy Pad Thai. Cookie and Kate uses spiralized veggies instead of noodles but makes a traditional nut-based sauce using almond butter.
3. Chocolate-Dipped Almond Butter Merengues
These lighter-than-air cookies taste a little more substantial with the addition of almond butter. Of course, Cara's Cravings adds chocolate for the perfect final touch.
4. Almond Chicken Soup
Inspired by North African cuisine, The Crepes of Wrath uses almond butter to make a creamy broth for this gingery chicken soup.
5. Vegan Chocolate Cake
The best thing about Half Baked Harvest's vegan chocolate cake? It's actually pretty easy to make! Almond butter helps make a creamy chocolate filling.
6. Carrot Cake Power Bites
These power bites by The Kitchn don't require any baking, and they'll help keep you fueled all day long.
7. Avocado Chicken Broccoli Rabe Summer Rolls
With just three other ingredients, almond butter becomes the perfect dipping sauce for I Am A Food Blog's fresh summer rolls.
8. Mango Chicken Salad
Don't just smear some almond butter on a sandwich and call it a day. Use the nut butter to give a savory bite to Taste and Tell's mango chicken salad.
9. Vegan Maple Caramel Popcorn
Ever wish you could make your own caramel corn? Now you can! Cookie and Kate uses almond butter, maple syrup, and vanilla to concoct the perfect coating.
10. Chocolate Banana Smoothie
This wholesome smoothie by A Beautiful Mess tastes like a dessert, but really, it's pretty good for you. A bit of almond butter makes it more filling.
11. Fudge-y Black Bean Brownies
Free of refined sugar, these brownies by Cara's Cravings are still perfectly delicious. Served up in mini versions, they're perfectly irresistible.
12. Almond Butter Popsicles
Creamy Greek yogurt gives these popsicles an ice cream-like taste while almond butter and dark chocolate make a refined combination. The Crepes of Wrath knows how to do dessert right.
13. Grilled Potato Salad With Almond-Basil Chimichurri
Half Baked Harvest proves that you don't need to load up on mayo to make a creamy potato salad. An almond butter-based dressing is unexpected but seriously good.
14. Spicy Gooey Almond Popcorn
Caramel corn's not up your alley? Try something with a little more bite with the help of The Kitchn.
15. Pumpkin Red Curry Udon
Almond butter makes an incomparable sauce for I Am A Food Blog's curry udon for a perfect balance of nuttiness and sweetness.
16. Almond Butter Chocolate Chunk Cookies
Almond butter results in cookies that aren't overly sweet, but are altogether insanely crave-worthy. A Spicy Perspective tops them off with a sprinkle of sea salt.
For more ideas, check out Bustle on YouTube.
Images: I Am A Food Blog (3); A Beautiful Mess (2); Cookie and Kate (2); Cara's Cravings (2); The Crepes of Wrath (2); Half Baked Harvest (2); The Kitchn (2); Taste and Tell; A Spicy Perspective