13 "Literary" Graphic Novels For Book Nerds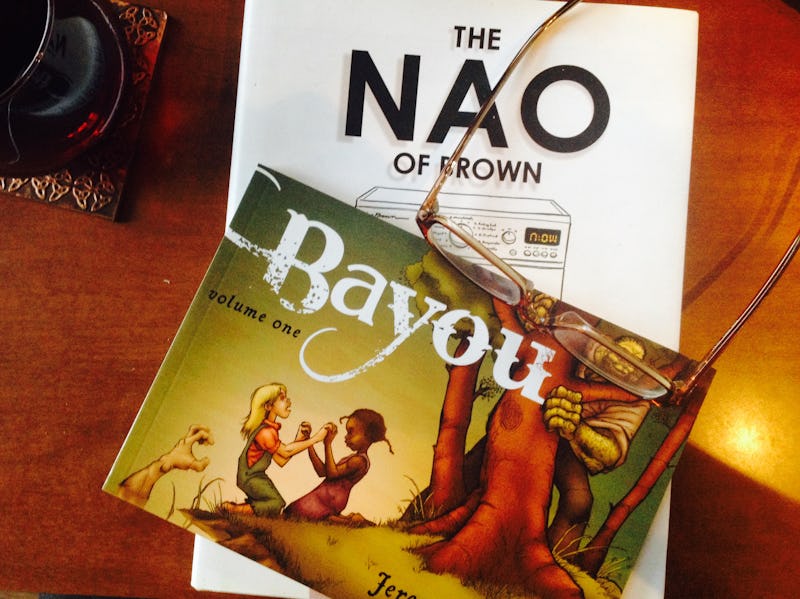 Every reader has their own particular tastes, and these tend to fall into the recognized story genres — you know, sci-fi, biography, romance, etc. The kind of books you like tends to be more about the kind of story it is than anything else. But, for some reason, comic books and graphic novels tend to all be categorized together regardless of what kind of story they hold between their covers.
There are plenty of stigmas and misunderstandings about comic books and graphic novels that keep many lovers of stories away from comic book shops. (In fact, the very name "comic book" was enough at some point, until the term "graphic novel" started making it more acceptable for "serious" readers to pick up books with pictures in them.) One of the biggest misunderstanding is probably that all comic books are about superheroes and villains (many of which are also awesome, by the way).
But there are as many different types stories to be found in graphic books as there are in other books. Plus, graphic books have stunning pictures by incredible artists! So, really it's a bonus. Still, if you're new to the graphic books section of your bookstore, it can be difficult to find the books that might fit your "literary" tastes. So, try starting with some of these.
1. Aya by Marguerite Abouet
Set in the 1970s in Yopougon in the Ivory Coast, Aya is a beautiful period piece. Following the joyful lives and hilarious love lives of teenage girls from the titular "Yop City," Aya is also a refreshing break from the bleak portraits of African countries that usually win the attentions of the Western world.
2. Love and Rockets Series by Jaime Hernandez, Mario Hernandez, & Gilbert Hernandez
With the Love and Rockets books, the Hernandez brothers have created a whole world in the small town of Palomar. There's world building and then there's community building. The Hernandez brothers are masters of community building. They tell the stories of so many members of the Palomar community as their lives progress over generations, away from Palomar and within it. It's the universe in a small town.
3. Blacksad by Juan Diaz Canales and Juanjo Guarnido
If you're a fan of the likes of Graham Greene and Chester Himes, a die-hard noir lover, then Blacksad will be right up your alley. Don't be discouraged by the fact that all the characters are cats and dogs; it's actually really really good, and as hard-boiled as they come. Also, the art is incredible.
If quirky, neurotic characters dealing with the normal stuff of life is your kind of story, then it doesn't get better than The Nao of Brown. The title character Nao Brown is an artist suffering from OCD. There's a toy store, a washing machine repair man, alcoholism, and, of course, awkward romance. It's got all the quirk you could want.
5. The Unwritten by Mike Carey and Peter Gross
Now, here's the comic book for real book nerds. The Unwritten's entire premise is about books. Armed with a wealth of literary knowledge and a bit of magic, the heroes of The Unwritten must navigate a world in which literary characters, folktales, and fables are actually real, and infinitely more complicated than the limits of the pages they come from. In this world, it's book nerdery that has the only chance of saving the day. So… yeah, it's basically every book nerd's dream come true.
Speaking of heroes armed with books, Rex Libris follows the heroics of a 1,000-year old librarian, fighting the forces of ignorance and shushing noisy patrons to the far ends of the universe and back. OK, so maybe it's not so "literary" in the traditional sense, but it's definitely book nerd candy.
Even greater candy for the literary minded, Neil Gaiman's take on the Sandman is incredible. He brings the whole pantheon of The Endless to life in this magical series that, like most of Gaiman's work, stands as its own genre, incorporating elements of comedy, romance, fantasy, and even horror. Oh, and, of course, loads of literary references and allusions that'll have your book geek meter going off every few pages.
Touching tragedies that pull at the heart strings aren't reserved to non-graphic books. Leela Corman proves this with her heart-wrenching yet beautiful tale of two sisters growing up in the struggling immigrant community of the Lower East Side in New York in the early 20th century.
Mary Shelley's famous monster gets a second (or more like millionth) life in this beautifully drawn comic. Starting where Shelley' classic novel leaves off, Frankenstein: Alive! Alive! indeed declares Frankenstein's monster very much alive. But, unlike other adaptations of Frankenstein, the monster in this comic adaptation is very much the sensitive, thinking creature of Shelley's original.
10. Incognegro by Mat Johnson and Warren Pleece
Incognegro is one of those brilliant stories that crosses genres and incorporates the best parts of them. Part mystery, part historical drama, Incognegro takes one of the most thrilling looks at racial passing you'll see in literature. The story follows a Black reporter who risks his life by passing as white in the South in order to expose the horrors of lynching.
11. Mr. Mendoza's Paintbrush by Luis Alberto Urrea and Christopher Cardinale
If you thought magical realism was squarely out of the realm of comic books, you've got another thing coming with Mr. Mendoza's Paintbrush. Adapted from a short story of the same name, the magical tale of Mr. Mendoza's literally painting the town translates beautifully into graphic form.
12. X-23 by Marjorie Liu
Superhero stories can't be discounted entirely. Marjorie Liu's run on X-23 is just one proof that superhero stories can be just as "literary" or "serious" as any story. The story of this young mutant assassin is a tragic tale of a young woman trying to come to terms with a violent past that isolates her from other kids her age and find a small piece of normalcy. The writing is lyrical and the story is a human one, despite the mutant healing factor and adamantium claws.
What's that? You want a love story? Well, look no further. The Color of Earth is a beautiful coming of age story of a lonely young woman in rural Korea learning what it is to love and be loved.
Image: Crystal Paul for Bustle