7 Hacks To Help You Meal Plan Throughout The Week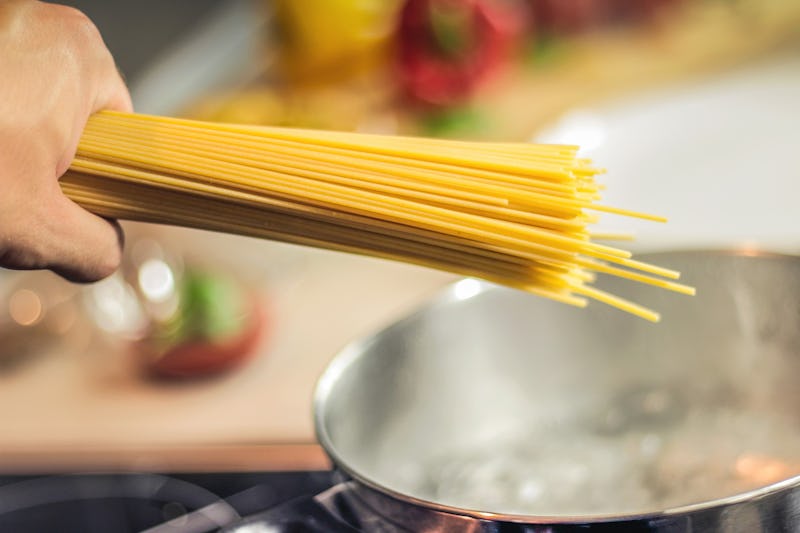 For most people, the hardest part about eating healthy is cooking for yourself. It can get overwhelming trying to prepare so many different meals within your busy life, which is why it's important to know the best ways to meal plan throughout the week. Taking the proper steps to have your food planned ahead of time can save you time and stress, and you may even find yourself getting in a routine that encourages you to cook at home more frequently.
"Knowing what you'll be cooking days or weeks ahead of time takes the stress out of mealtime, helps you stay on budget at the grocery store, and even helps you shop faster — all because you already know what you'll be making and what you'll need to purchase," says holistic nutrition expert and chef Dawn Viola, CEC, HNE over email. "The most beneficial aspect, however, is being able to take a step back and see your overall menu so you can ensure it contains a healthy variety of foods."
Meal planning doesn't mean you have to make a ton of crazy fancy meals; it just means you need to put some extra thought into what you will prepare during the week. If you're looking for some tips to make your cooking a little bit easier, try these seven hacks to help you meal plan throughout the week.
1. Cook In Large Batches and Save
"Cook and freeze large batches of a finished dish or a dish that can be finished up to a certain point — think casseroles, soups, and stews," says integrative nutrition health coach Liza Baker over email. "Batch cook what I call 'building blocks' — sauces that can be used in more than one dish during the week, such as marinara used on pasta one night and used to braise chicken another night."
2. Chop Up Veggies Ahead Of Time
"Anytime you are doing any meal prep or meal planning, I always encourage people to chop up some veggies for the next few days," says Dr. Candice Seti, licensed clinical psychologist, certified personal trainer, and certified nutrition coach over email. "If you have chopped up onions or peppers, you are significantly more likely to throw them in your eggs in the morning."
3. Make A Menu Chart
"Write your favorite recipes on index cards and divide a cork board by the days of the week," says Beth Rosen, MS, RD, CDN over email. "Pin the recipes on the appropriate day so you'll know what's for dinner all week."
4. Create Intentional Leftovers
"If you're roasting a chicken, roast two, and use one later in the week for soup, salad, casserole, tacos, or nachos," says Baker. "The beauty of intentional leftovers is that you don't spend any extra time on them because you're already making some anyway."
5. Grocery Shop On The Weekend
During the busy, hectic work week, it can be hard to find time to stop at the grocery store. Go during the weekend or on Sunday evening so you have everything you need for the rest of the week. Bring a list with all the ingredients you need, and this way you'll always know what's in your fridge.
6. Choose Ingredients You Can Use More Than Once
"Pick a few key ingredients you love, such as sweet potatoes or eggplant," says health and nutrition coach Marina Yanay-Triner over email. "Steam or boil them in advance and place in separate containers. That way you can use these items in a few different ways, but have them available throughout the week for quick access. You can decide on combinations later, but if you have these ingredients ready, dinner will be very easy."
7. Keep It Fun
"When you make the same four or five dishes every week, it can start to get boring and you lose interest in your food," says Seti. "This can zap your motivation for food planning. I encourage people to include a new recipe in their plan once or twice a month to keep it exciting and give them something to look forward to. Most of us have a full drawer or Pinterest file of recipes that we never use, so this is a great way to start incorporating them."
When it comes to meal planning, not every tip works for everyone, but what is most important is taking the time to put a little thought into what you eat so you make healthy choices during the week.
Images: Pixabay (8)