10 Accessories Every Millennial Should Own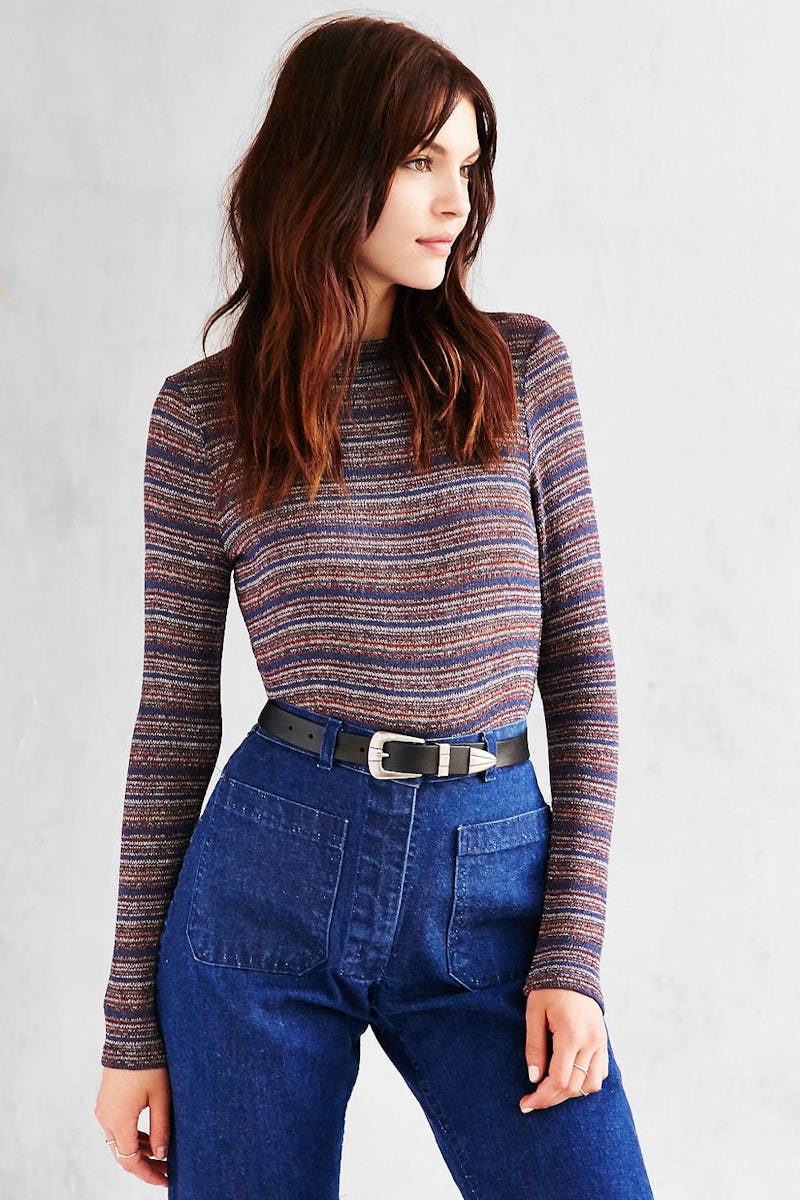 As all '90s babies know, jelly bracelets, puffy scrunchies, and butterfly clips were all necessary accessory staples. Now that we're older, we've ditched the glitter (sort of) and have gone for edgier options — As 20-somethings, there are certain must have accessories that we need to start investing in, cause that beloved tote (no matter how great) just won't cut it for more formal work events.
Remember those Marc by Marc Jacobs totes that everyone and their mom seemed to be carrying around back in 2007 and 2008? That bag was the coolest, and the first "designer" item I owned (shout out to my older sister, who lived in NYC at the time and found this gem). The ironic bag went with me everywhere, whether people understood the statement it was trying to make or not. I finally let go of it when I went to my first year of college, lasting me a trusty four or five years. I loved the crap out of that bag, and 16 year old me was convinced that yes, it does go with everything.
Wrong. Little did I know that in college, I'd be working an internship that required me to actually attend fancy parties and events. And while I could borrow dresses from friends to look a bit more polished, my trusty tote was just not going to cut it. And so I had to make my first "adult" purchase. These types of experiences slowly but surely started popping up: I spent a summer in New York City with my ultra ~trendy~ internship, and I didn't want to be caught dead in college wardrobe. Alas, the shopping intensified.
And with my first job out of college — Well, you know where this goes. Now, in my mid-twenties (oh god, I hate to think about that....) there are certain accessories that I have not been able to live without. Not to say that I'm buying every expensive item out there, but to look like an adult, you have to dress the part sometimes. If you're looking to up your wardrobe, look no further than these accessories.
1. A Clean Looking Watch
The Horse The Classic Rose Gold & Grey, $165, NeedSupply
Just picture how clean, professional, and polished this looks with a nice jacket.
Also consider: Kate Spade Classic Gold-Tone Watch, $185, Amazon
2. An Adult Tote
Want Les Essentiels O'Hare Shopper Tote, $250, Want Les Essentiels
Yes, on the pricier side, but will last you forever. And, it goes with literally everything.
Also try: Yahoho Large Leather Shopper Bag, $61.99, Amazon
3. A Clutch For Evening Wear
Rebecca Minkoff Leo Saffiano Leather Envelope Clutch, $95, Amazon
The gold zip trim makes this clutch so classy.
4. Fancy (Looking) Earrings
Fallon Spike-Back Shalmon Stud Earrings, $140, Barneys
These earrings are so versatile, they go from the boardroom, to the bar, to the wedding.
Try: Humble Chic Pearl Spike Studs, $15, Amazon
5. A Weekender Bag
Herschel Supply Co. Novel Weekender, $85, ShopBop
Part of being a "grown up" is traveling on your own terms. Sure, family vacations were fun. Do you know what's more fun? Being 21+ and traveling with your friends.
Check out other available colors at Amazon
6. A Necklace That Goes With Everything
Michael Kors Logo Bar Lariat Necklace, $87.50, Amazon
Work top, weekend top, pajama top....You name it, this goes with it all.
7. A Classic Pair Of Sunnies
Illesteva Leonard Sunglasses, $175, Amazon
In this shape and color, these sunglasses will literally never go out of style.
8. A Nice Leather Belt
Ecote Metal West Belt, $29, Urban Outfitters
A leather, western style belt looks so cool paired with your favorite denim.
9. Trusty Pumps
Pour la Victoire Celina Suede Pump, $275, Nasty Gal
Work, play, both? These shoes got your back.
Also consider: Nine West Suede Dress Pump, $79, Amazon
10. Non-Sneaker Flats
Jeffrey Campbell Joella, $125, Jeffrey Campbell
I love tennis shoes just as much as the next person — My Pumas are my babies — But sometimes, they're not appropriate for work, or say, a brunch. These will have you covered.
Consider: Chinese Laundry D'orsay Flat, $59.99, Amazon
Adulting is hard. I mean, taxes, 401ks, benefits, and doctors appointments are all real things, and I can barely keep track of my TV shows. It's a real strugg. But looking like an adult doesn't have to be! Consider this your grown up wardrobe checklist. You're welcome. Now excuse me as I fall asleep in my onesie.