Does The Reverse Hair Washing Method Really Work?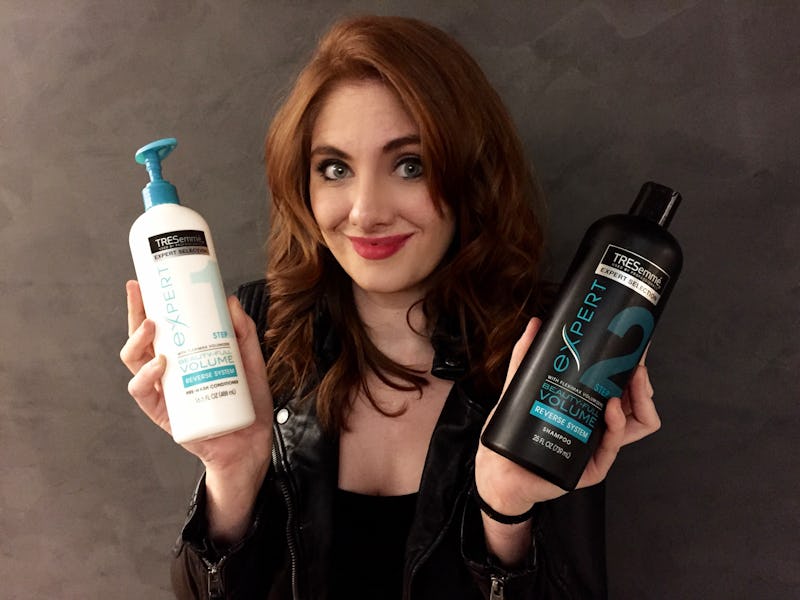 Born with the simultaneous blessing and curse of thick, coarse red hair, I long held the belief that I was immune to flat hair. Having grown up with a triangle-shaped 'do, I've been a lifelong student of frizz self-defense while paying zero attention to volume. I've spent hundreds of dollars on smoothing products in addition to attempting every folk remedy in the book — all of which unfortunately involved food in some way. (Pro tip: mayonnaise is for potato salad, not hair.) Admittedly, some of these techniques did tame frizz, but the oil-slicked results were always paired with flat roots. I was oblivious to my case of flat hair until recently when I started to appear in Bustle videos. Nothing like being on camera to make this thick-haired girl realize that it's time to learn how to give hair more volume.
That's when I discovered the internet's current favorite hair hack: the Reverse Wash System. Nope, that's not a button on your washing machine. It's actually a method to achieve more voluminous hair by applying conditioner before shampoo. No expensive hair gadgets and potions necessary? Yes, please! So, with my battle against frizz and flat hair in mind, I set out to test the Reverse Wash System for seven days, partnering with TRESemmé Beauty-Full Volume shampoo and conditioner (or should I say "conditioner and shampoo"?) specially formulated for the new washing method.*
*Warning: Not all shampoo and conditioners are created for this purpose. You're best off using a system that's designed to work in reverse.
Reverse Wash System 101
The Reverse Wash System is simple. Very simple.
Apply conditioner to wet hair. Let it soak in for a minute or more. Rinse!
Shampoo as you would normally.
So there you have it! It's your typical shower ... backwards. And while you already have everything you need, it's recommended to use a shampoo-conditioner combo that's specifically formulated for this purpose.
And in the case that you still don't get it, print out the visual guide below. (Yes, I do care so much about educating the Bustle audience that I risked my phone's life with shower selfies.)
Day 1: The First Reverse
I'll admit it—I was nervous to stray from traditional hair washing because deep conditioning after a light shampoo is my crutch that no one has been able to take away from me... until now. My fears? Post-shower tangles and puffy, frizzy hair after drying.
Applying the conditioner first did not feel natural, but I did enjoy it due to both the novelty and my love of conditioner and how it feels in my hair. I knew I was going to like applying conditioner first, but I was not at all prepared for how much I liked shampooing after the condition. It actually... feels amazing. The lather is so soft and has a completely different consistency from when you shampoo first. Try it out. Now.
After rinsing the shampoo from my hair, my hair felt slightly less moisturized than it does when I condition second. With hair-pulling and childhood trauma racing through my head, I searched for my wide-toothed comb with a sense of dread. So, did it hurt? Just see below to see for yourself how easily the comb went through my hair.
After blow-drying my damp hair, I concluded that my frizz-phobia, like my fear of tangles, was completely unwarranted. The lack of weight and increased volume was very noticeable (look at that bouncy part!), and my hair was smooth relative to my hair texture. I did add some shine serum, but this has always been a vital part of my routine. While my hair was actually smoother than after a regular wash, I still think that leaving the conditioner in for another minute may be beneficial for a coarser hair texture.
Day 2: Going-Out Hair (A.k.a., "Dude, Where's My Flat Iron?")
Like every girl who went to college in the early 2000s, a night out starts by pre-gaming with my flat iron. This night was no exception. The first day had been a big success, yet despite the system's positive results, I was still nervous that finishing with shampoo instead of globs of conditioner would summon the wavy frizz demon in my hair.
Turns out that my fears were actually unwarranted. Overall, I was very pleased. As I mentioned, I normally end up with flat roots when I aim for a sleek look, but the conditioner and shampoo gave me volume even after heat styling. The volume initially made me a bit self-conscious because I wasn't accustomed to any lift in my roots after straightening my hair, but to my surprise/pleasure, I received a number of unsolicited compliments from my friends that night. And yes, I do spot a wave or two, but that's par for the course with my naturally wavy hair.
Day 3: Day-After Hair
After a late night out, my hair receives a get-out-of-washing-free card. Knowing that my friends are also prone to hair-days-off, I had to give the Reverse Wash System the day-after treatment and see if my hair was still brunch-worthy. Honestly, I think my hair looked pretty great, but I still had the human decency and respect for fellow brunchers to pin it back.
The following photo proves that I felt good enough about my hair to leave the house.
Days 4-5: Top Of The Week Top Knot
Ask my manager... I don't start to shine until Wednesday. All of my efforts on Monday and Tuesday are dedicated entirely to making it to work on time and summoning enough energy to power through. So needless to say, my hair is accordingly in some form of a low maintenance topknot on those days. But this week I aimed for an updo that would remain effortless but whisper effort. Turns out that volume is key to achieving a top knot that's a far cry from rolled-outta-bed-like-this.
A blow-dry resulted in an updo that was neither greasy nor too taut against my head. I found that increasing the body of the hair helped frame my face much better than usual, thus resulting in a promotion first thing Monday morning. Actually that didn't happen, but my coworkers did compliment my hair.
And in case you're wondering, I was still really really enjoying how shampoo felt after conditioner. That alone almost made my Monday and Tuesday bearable. Almost.
Day 6: I Pull Out The Big Guns For A Date
On Wednesday, I had a first date scheduled with a guy I met online. Despite this person being a complete stranger, I still felt like the occasion called for more effort than I normally put into my appearance. Plus, reversing my wash routine had actually resulted in me paying more attention to my beauty and style habits. My newfound inspiration led me to do something I hadn't done in over a year: use a curling iron.
After blow drying, I styled my hair with a curling wand. Having used the Reverse Wash System and dried my hair before styling, I could tell that my hair was becoming more used to the method and was definitely smoother than the first day of execution. I didn't even use a shine serum, and my hair was incredibly soft and frizz-free in addition to how my more volumized hair lent really well to a wavy style.
In case you're wondering, my date did text me back. I give partial credit to the curling iron.
Day 7: The Final Verdict
That, ladies and gentlemen is my seal of satisfaction. The effectiveness of the Reverse Wash System paired with the extra effort I applied to styling—an added bonus of switching up my routine was that I paid attention to other aspects of my hair routine—resulted in the best hair week I've had in ages.
I would recommend the Reverse Wash System to anyone seeking to effortlessly increase their hair's volume. I actually couldn't wait to recommend the system to all of my fine and limp-haired friends (especially my mom, whose shower has always been packed with expensive volumizing products). I'm also proof that it's an equally great technique for those rocking thick hair. I definitely encourage anyone reading to try out the reverse wash method for themselves.
Now get out there, take a shower backwards, and report back!
This article is sponsored by TRESemmé Beauty-Full Volume.
Images: Anna Parsons / Bustle, Giphy