How To Layer SPF With Your Makeup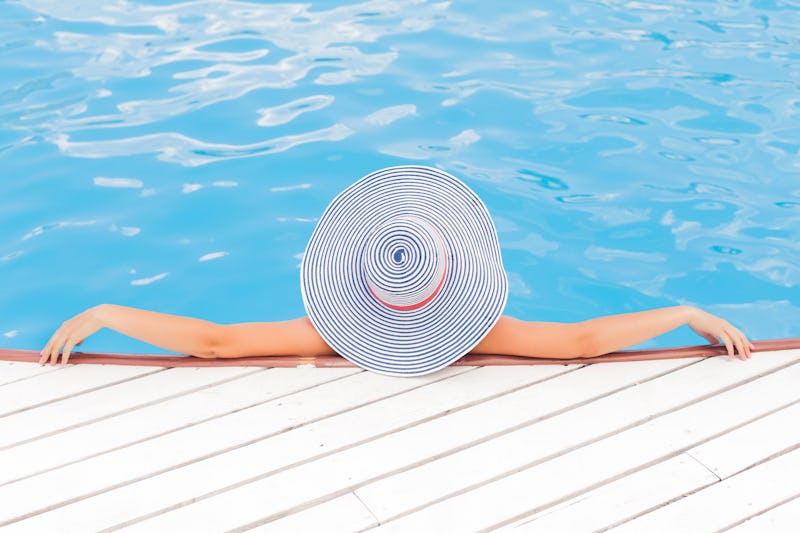 Serum, oil, moisturizer, foundation — how do you know what comes first or last (or second or third)? Here's exactly how to layer SPF with your makeup so you can protect your skin and still wear it all.
By now, you know how important wearing sunscreen is. It protects your skin from the damaging effects of exposure, like dryness and premature aging. But how do you make sure you wear enough sunscreen and maintain flawless foundation? Layering, my friends.
"Navigating the basics of how to layer skin care products is one of the most confusing topics among my patients," said New York City dermatologist Neal Schultz, M.D., according to Vogue . "The problem with using so many product is that there's a dilution factor, and possible conflicts with the active ingredients in those different items," said Schultz.
In general, here's how it works: Layer no more than three products on top of one another, starting with lightest formulation and saving the heaviest for last. To get the most out of your products, choose double-duty products like moisturizer with SPF, or retinol serum that combats fine lines while soothing skin.
If you can't decide which formulation is the lightest, choose what tackles your biggest issue. So if you battle acne, choose your salicylic acid serum first.
The best way to seamlessly integrate SPF into your routine is by choosing a moisturizer with a high concentration of SPF in it. Pair a moisturizing, SPF primer with a BB or CC cream and boom — you have all the multi-purpose products you need. Here are a few of my favorites.
Benefit Cosmetics The Big Easy Liquid to Powder Foundation, $49, Amazon
Fend off excess oil with this liquid-to-powder foundation. It packs 35 SPF to protect your skin.
NARS Pro-Prime Multi-Protect Primer, $38, Amazon
Anti-oxidants repair while the SPF protects.
Hourglass Veil Mineral Primer, $52, Amazon
Ready for summer? This waterproof defender will stay on and stay moisturizing through anything.
MAC Prep + Prime Face Protect SPF 50, $43, A mazon
No greasy SPF here. It soaks up oil so you won't feel slimy poolside.
Smashbox Photo Finish Foundation Primer SPF 15, $29, Amazon
This primer creates a smooth foundation for other products, and helps them last all night.
Too Faced Primed & Poreless SPF 20 Bronze Tint Face Primer, $30, Toofaced
This lightweight, bronzy primer is perfect to wear alone in the summertime.
Maybelline Dream Pure 8-in-1 Beauty Balm Skin Clearing Perfector, $7, Amazon
Sheer covering with full SPF support. Score.
Images: Pexels; Courtesy of Brands