Jillian Michaels' Business Partner Is The Best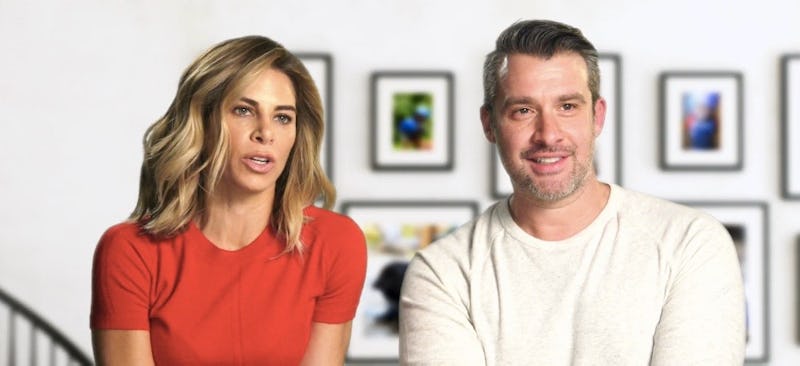 Though it might seem like Jillian Michaels has enough energy to power her one-woman fitness empire on her own, she actually has a strong support system that helps her maintain her grip on her company and that helps. And as her new reality series Just Jillian shows, one of her biggest sources of support is Giancarlo Cherisch, Jillian Michaels' business partner. Cherisch's LinkedIn calls him the co-CEO and founder of Empowered Media, and the two have worked together for years. But, Cherisch is more than just a business partner, he's also a close friend to Michaels and her family, which includes both her long-term partner, Heidi Rhoades, and their two children, son Phoenix and daughter Lukensia.
In an interview with Xfinity, Michaels and Cherisch talked about how close they are. When asked about what male role models her kids have, Michaels immediately spoke up about how Cherisch fills the father role in her kids' lives. "That's where Uncle G comes in and G is around the kids a lot ... and he is quite honestly that father figure to them," Michaels said. "Giancarlo was also very instrumental [in the adoption] ... Giancarlo put himself out on a limb in a lot of different ways to help Heidi and I bring [Lukensia] home. So, they have G and that he's the best and closest thing they have to that." But, in addition to being a father figure, here's a few other roles Cherisch adopts when working with Michaels.
He's A Cool Babysitter
One who takes the time to watch the kids when Michaels and Rhoades need extra help.
He Has The Coolest Dog Of All Time
This tiny little puppy is called "Biggie," both ironically and because of Cherisch's love for the '90s rapper. And he is absolutely adorable.
He Loves Madonna
And, Biggie Smalls is not the only musician from last century that Cherisch appreciates. The whole Just Jillian crew went to see Madonna at MSG last year.
He Does His Fair Share Of Chores
He's even willing to help Michaels out around the house!
You Didn't Get To See His Circus Chops On The Show
But, his antics on the trapeze are impressive!
He Knows How To De-Stress
Working with Jillian Michaels is not always a walk in the park — but Cherisch has his coping mechanisms down.
And, Above All, He's A Great Friend
Whether he's rocking it out at the kids' table or closing an important business deal, Michaels relies on her right-hand man for just about everything — and her business partner and friend always delivers. Everyone should have a BFF like Giancarlo in their life!
Image: E!