11 Tips For Preventing Morning Breath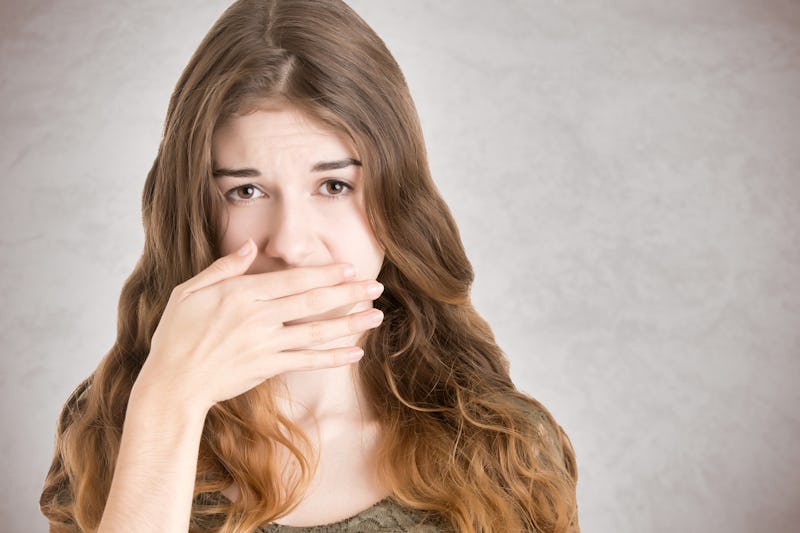 I'm one of those people that has a lot of trouble watching shows (even fictional ones) that try to combine romantic scenarios with survival-related settings. When the inevitable after-the-zombie fight morning sex scene comes, all I can think is how bad everyone's morning breath must be. These people are waking up with bad breath, and they're totally down to make out — regardless of how hopelessly nonexistent their oral hygiene standards may be.
I've been big on dental hygiene ever since my five-year-sentence of braces, when no amount of brushing or rinsing could get my teeth to feel entirely clean. When they finally came off my junior year of high school, I started to feel a lot better about my mouth's overall state of cleanliness. That being said, braces or not, it is possible to wake up without bad morning breath.
Morning breath is caused by a whole bunch of factors, including (but not limited to) dry mouth, certain foods, sleeping habits, and an overgrowth of oral bacteria. Fortunately, however, whether you're concerned for that poor soul who shares your bed or it's just a personal pet peeve of yours, there are ways to tackle morning breath — whatever the cause may be.
Switch Out Your Toothpaste For Charcoal & Hibiscus (Yes, Really)
Charcoal Tooth & Gum Powder, $14, Amazon
This organic teeth whitener & detoxifier is made with activated charcoal, bentonite clay, and hibiscus petal extract to fight cavities, prevent tooth decay, and whiten teeth. Because it's entirely non-abrasive, it won't cause a rapid regrowth of bacteria, like other harsh products will. (Think of this analogy: When you wash your hair every day, your body produces excess oil to make up for dryness, and the problem worsens.) Some reviewers even switched out their toothpastes entirely and are completely hooked. While toothpastes are often marketed as a dental cleanser, depending on their ingredients, they can be doing more harm than good — they're often filled with chemicals that irritate gums and merely cover up the taste of bacteria.
Don't Sleep With Dry Mouth — Kill Smelly Bacteria Before Bed
OraMD Breath Spray , $9, Amazon
Eliminate germs that make breath smell bad right when you need to — using an invigorating blend of almond, spearmint, and peppermint oils to kill periodontal bacteria. The spray is 100-percent natural, lasts for 60 uses, and all it takes is a single spritz to keep bad breath at bay. Spray before bed to keep mouth hydrated all night, and see if you agree with user that says it's "the best oral health aid ever!"
Get A Non-Abrasive Mouthwash
Squeaky Clean Mouthwash, $15, Amazon
Some people base the quality of their mouthwash on how much pain they're in, but those harsh ingredients can cause microscopic lacerations ideal for bacteria, infections, and really bad breath. This Squeaky Clean Mouthwash is alcohol-free (so it won't burn), but it still rids your mouth of sulfur-producing bacteria. Because the taste is subtle but pleasant, you'll know it's actually cleansing the mouth — instead of just masking the smell. (Bonus: Its chic bottle means you can leave it out on your bathroom counter.)
Keep Bacteria At Bay With Probiotics
Dental Probiotic, $25, Amazon
This probiotic dietary supplement is essential for pristine health (and super fresh breath), as the pills introduce friendly bacteria into your system that keep bad smell-causing bacteria under control. This awesome Dental Probiotic will keep your mouth clean and your teeth healthy as it kills odor-causing microorganisms and promotes respiratory, immune, and dental heath. It's also made without chemicals or common allergens, and reviewers are adamant that it's the best thing you can do for your mouth.
Use the Three-Step Mint to Not Just Mask — But Treat Bad Breath All Day
TheraBreath Dry Mouth Lozenges, $8, Amazon
Therabreath's dry mouth lozenges are awesome because they work in three stages (eliminate unpleasant flavors, fight germs, and stimulate saliva production) to keep your mouth fresh and clean. They use all-natural ingredients and tropical fruit extracts, which makes them taste great and help everyone, from those with slight dry mouth to those whose medications cause severe lack of salivation. Keeping your mouth hydrated matters because dry mouth is a huge cause of morning breath — saliva helps flush food and bacteria out of your mouth.
Clean Like A Dentist
Tongue Scraper And Dental Tools Kit, $13, Amazon
Bacteria on the tongue and between teeth is the main cause of morning breath, and this kit comes with a stainless steel tongue scraper, a tartar scraper, and a dental pick to remove bacteria from even the most hard-to-reach places. Its classy (and convenient case) makes travel and easy storage simple, and reviewers say their mouths have never felt cleaner. Everyone knows that a trip to the dentist is going to give you that clean-mouth feeling, but if you're looking for some serious hygiene between visits, this professional Dental Tools Kit is the next-best-thing.
Care For Your Teeth — Don't Aggravate Them
Nimbus Microfine Toothbrush, $15, Amazon
Believe it or not, brushing too hard won't fix bad breath. Actually, it'll cause it, as gums can get swollen and infected. This innovative toothbrush was designed for people who prefer a gentle softness that still removes plaque and bacteria, but does so without causing irritation. It's got a combination of both long and short bristles to reach between teeth and right against gums, and people say it provides the best clean because it's ultra soft, and they're never switching back.
Chew On Tea Tree Oil Throughout the Day
Tea Tree Chew Sticks, $4, Amazon
Tea Tree is one of the best things for dental health, and these Chewing Sticks deliver antibacterial oils between teeth and into the gum line to freshen up the areas that your toothbrush can't reach. They're made from renewable fast-growing Birchwood trees, and reviewers say that they promote great breath, even if you're a smoker. Instead of munching idle mindedly on salty snacks this week (which can really dry you out), stock up on the sticks that will keep your mouth healthy and crisp.
Utilize Green Tea For Its Antioxidants
Sencha Naturals Green Tea Mints, $6, Amazon
If you're already packing gum or mints on the reg, why not get the green tea mint that actually fights bad breath germs with antioxidants? With new studies emerging about how green tea helps neutralize foul mouth odor, these Sencha Naturals Green Tea Mints are a must. They're made with organic and fair trade Japanese green tea and mango, and are sugar free, gluten free, and low in caffeine. Reviewers say they have a fresh, delicious, and complex flavor that's not overwhelming, and they do a significantly better job at fighting bad breath than their competitors.
Go Straight To The Source With Peppermint Oil
Peppermint Essential Oil, $11, Amazon
This Premium Peppermint Essential Oil comes with a glass dropper and a glass bottle, which is ideal for easy application and protecting the finished product — your (minty-fresh) delicate gum tissue and teeth. It's also 100-percent pure and therapeutic grade, so a few diluted drops on your toothbrush, and you're set for a clean, fresh-smelling mouth. Peppermint oil is anti-bacterial, anti-viral, and anti-fungal, which is why it's a common ingredient in most dental care products.
Ultra-Hydrate With Coconut Water & Monitor Your Hydration Levels
Contigo Autospout Addison Water Bottle, $13, Amazon
You know dry mouth is a huge cause of morning breath, so enough with the dehydration. Studies show coconut water can be super effective at rehydrating your body, while also replenishing electrolytes. Keep up your coconut water intake by using this slim, fits-in-your-car-cup-holder water bottle. It's 100 percent BPA free, and its special guard keeps the silicone mouth spout covered when not in use.
Bustle may receive a portion of sales from products purchased from this article, which was created independently from Bustle's editorial and sales departments.
Images: Fotolia (1); Amazon (11)