Will These 'Lip Sync' Spin-Offs Be As Good?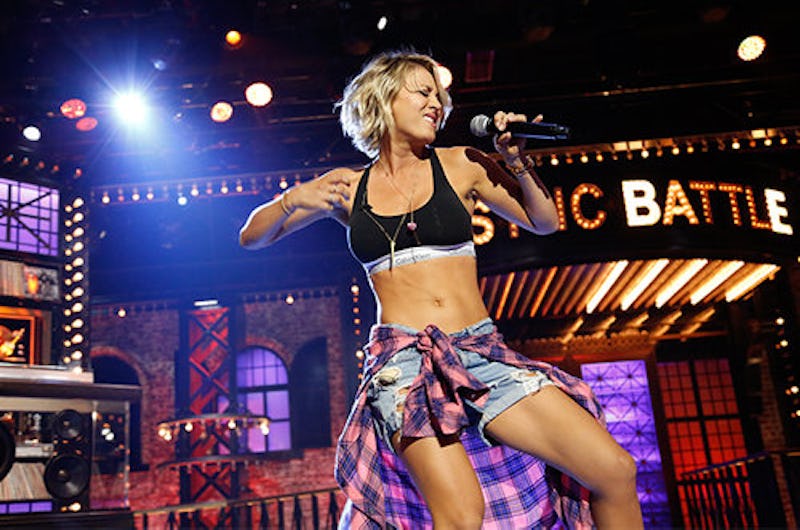 Good news, lip sync lovers: soon there will be even more karaoke-style face-off's in your television-watching future. It was announced on Monday that Spike will be releasing Stwo new Lip Sync Battle-style shows. The network is partnering with Nickelodeon to create Lip Sync Battle Jr., and, on its own, is creating the spin-off Caraoke Showdown with host Craig Robinson. Both shows are definitely capitalizing on the lip sync craze that is taking over television, but they're both also pretty different. While Lip Sync Battle Jr. will feature lip syncing kids instead of celebrities, Caraoke Showdown will feature unsuspecting contestants singing straight-up karaoke, a definite departure from the lip sync-style original. And, as awesome as these new shows sound, it doesn't seem like either of them will be featuring the one thing Lip Sync Battle loves to capitalize on: famous people. Will these spin-offs be as good without celebrities?
To cut to the chase: I think so. I mean, I'll admit it. I'm a sucker for the celebrity aspect of Lip Sync Battle. But I'm also a sucker for any reality television show in which celebrities are featured. I love seeing celebrities being themselves, but I know that's not necessarily why everyone is tuning into Lip Sync Battle on the regular. It's fascinating to me, sure, and I am a little bummed that these new spin-offs won't feature celebs prominently, but they also have a ton of other things going for them.
Like the whole kids aspect of Lip Sync Battle Jr. Just imagine the audience that a show like that will bring in. Viewers will be younger, most likely, but the content will most likely be way more adorable. Yes, watching celebrities dress up and dance with other celebrities is fun and funny, but kids doing that is just downright precious. I'm picturing it as the Double Dare of lip-syncing, and, for this reason, I think it's going to be huge.
And then there's Caraoke Showdown, which seems like a pretty big departure from the original show. But who doesn't want to watch totally hapless contestants try their hand at real singing? This show sounds like a perfect mix of the best singing competition shows that you know and love. Doesn't it also kind of sound like being able to experience a karaoke bar from the comfort of your own home? Hi, best of both worlds, who wouldn't want that?
So am I a little disheartened that these new spin offs will be missing the celebrity factor? Sure. But I'm also pumped to see them flourish with their own new and unique spins on a super popular show.
Image: Spike; Giphy (2)