12 Bedtime Habits That Reduce Breakouts Overnight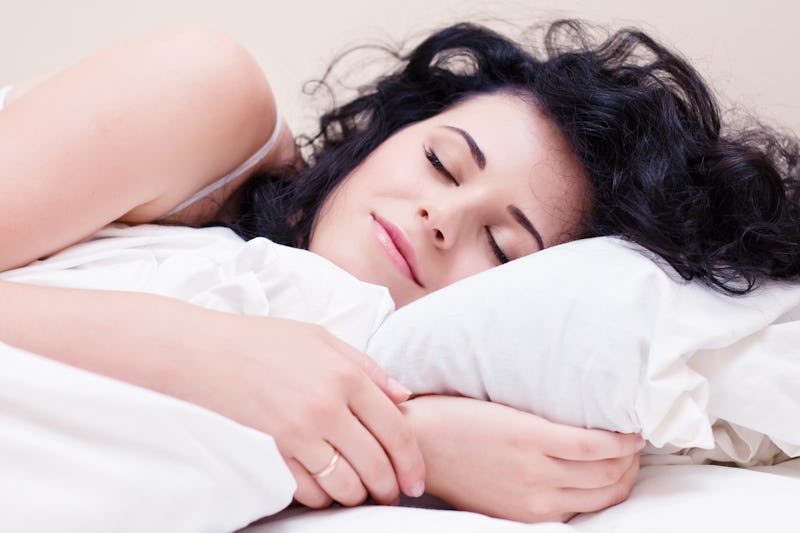 The only thing worse than hearing that horrible alarm first thing in the morning is looking in the mirror to find new breakouts. They made their way onto your face while you were sleeping, seemingly overnight. And not only are you running late, now you have to spend extra time covering up the blemishes. So, wouldn't it be nice if you could reduce breakouts overnight, instead of going to sleep and just hoping for the best?
There are absolutely preventative measures you can take to make sure your skin is better than how you left it come 7 a.m. You might need to relax before bed with a calming aromatherapeutic candle that will reduce those stress hormone-induced breakouts. If certain air conditions in your home are causing you to wake up with dry skin, you should treat yourself to a cool misting humidifier to help your skin feel more hydrated, in order to reduce acne.
It's often said that old habits die hard, but in this case, you'll never want to go another snooze without having incorporated these new habits into your nightly routine. I can't promise you'll wake up feeling like P. Diddy, but you'll definitely wake up with clearer, brighter, and healthier skin. Top that, Ke$ha!
Use All-Natural Lavender Cleanser To Wash Away Excess Oils
Angels on Bare Skin Cleanser by LUSH, $30, Amazon
This vegan cleanser does everything— it contains ground almonds and lavender flowers to gently scrub your skin as well as lavender and rose oils to soothe the surface and calm redness. Users love the difference they see in their skin after this fresh cleanser wipes away their dry skin. At night, it's important to wash your face with something that will wipe away excess make-up and oils, while staying gentle on your skin — prepping it to be soft and smooth for your AM wakeup call.
Spot Treat With Powerful Calamine & Salicylic Acid Lotion
Mario Badescu Drying Lotion , $17, Amazon
For stubborn zits that can't take a hint, apply this quick-drying lotion that uses calamine and salicylic acid to dry out blemishes overnight. It shrinks the appearance of whiteheads, while treating to prevent further spread of the blemishes and reduce redness. One user even said, "This is a strong but insanely effective product," so be sure to moisturize once you wake with breakout-free skin.
Use The Sebum Reducer to Decrease Inflammation While You Sleep
PureLx Clear Anti Blemish Spot Treatment Solutions, $16, Amazon
Your skin works the hardest during the nighttime hours to heal itself — so that's the best time to use this sebum-reducing acne inflammation corrector. Treat specific blemishes with this cruelty-free spot treatment that contains salicylic acid, glycolic acid, and witch hazel that will work while you sleep to naturally unclog pores and remove dead skin cells. Users praise this product for removing their worst dark spots.
Breathe In the Best-Selling Humidifier To Hydrate Skin Overnight
Honeywell Germ Free Cool Mist Humidifier, $55, Amazon
It's no secret that air conditioners and heaters can be rough on your skin. Keep your face and body hydrated while you sleep by investing in the number one, best-selling cool mist humidifier that also kills 99 percent of the bacteria floating around your room (bleh!). This stays quiet, so it won't interrupt your beauty sleep, and you can easily clean it by placing parts in the dishwasher.
Moisturize Your Skin With Bee Pollen & Shea Butter Cream
Burt's Bees Radiance Night Cream, $14, Amazon
Applying this dermatologist-tested cream to your face before you snooze will enhance your skin's radiance with royal jelly and bee pollen, and its shea butter will have you waking up to softer, clearer acne-free skin. You'll love the results you see from a product made with royal jelly, because it contains eight essential amino acids and seven rejuvenating vitamins that quickly improve and repair trouble skin. One user praises this product saying it makes her skin "flawless" during the winter months.
Sleep On Clean Satin Pillowcases To Avoid Breakouts
Oosilk Mulberry Silk Pillowcase, $21, Amazon
If you're waking up to constant breakouts and pesky new pimples — you may need to replace your cotton pillowcases with breathable, Mulberry satin pillowcases. These pillowcases prevent moisture buildup, which can result in overnight breakouts. (Pro Tip: To take extra care against collecting harmful dirts and oils that could press against your skin, wash your pillowcases at least once a week.)
Keep Head & Body Free of Buildup Breakouts With Ultra Cleansing Shampoo
Redken Hair Cleansing Cream Shampoo, $34, Amazon
This clarifying shampoo was made with hair product lovers in mind. It will remove build-up on your hair and scalp that could easily transfer to the surface of your skin while you sleep — causing major breakouts. Removing hair products form your hair at night will also remove the tiny persistent breakouts you find on your hairline or back. The best part about this shampoo is that it washes away pollutants without stripping your hair of everything it needs to be strong and healthy the next day!
Hydrate With Irritant-Free Water Bottle & Rooibos Leaf Tea To Reduce Morning Grease
Ello Pure Glass Water Bottle, $10, Amazon; Get Gorgeous Tea (36 count), $11, Amazon
It's hard to resist sugary drinks at night, especially if you're out on the town with the girls. To make it easier on yourself, keep this filled BPA-free reusable glass water bottle by your bed, and you'll wake up not only feeling more hydrated, but with skin that looks rejuvenated — instead of greasy. It holds 20 ounces of water, so it's the perfect size to carry with you all day to stay extra hydrated.
Want something other than water before you sleep? Try sipping on skin-clearing tea that's caffeine-free and full of healthy antioxidants, rooibos leaf, and orange peel. Its pomegranate taste is refreshing, and it makes giving skin the nutrients it needs feel like a treat.
Wipe Away Bacteria From Phone Screen With Rosemary & Peppermint
Wireless Wipes Cell Phone Wipes, $5, Amazon
Fact: Your cell phone has more bacteria on it than most public restrooms. So before your evening call to your S.O., wipe down your cell with these electronics-safe rosemary peppermint wipes (which are corrosive-free and won't streak). They stop you from transferring germs from your screen straight to your face, in addition to keeping all other shared electronics in your house (the remote, of course!) free from germs and breakout-inducing incidents.
Get Extra Beauty Sleep With the Breakfast at Tiffany's Inspired Silk Mask
Breakfast at Tiffany's Holly Golightly Sleep Mask, $14, Amazon
Instead of scrolling through your Instagram feed until 3 a.m., think about how full night's rest affects your skin. To eliminate potential distractions, sleep with this handcrafted satin eye mask over your lids. It will let you sleep longer and more deeply, and your full-rested, well-hydrated, acne-free skin will thank you for it. Bonus: The elastic lingerie strap means it won't slip off as you sleep, and the mask comes with a pouch for traveling.
Reduce Stress Levels With The Calming, Green Tea Eco-Candle
Paddywax Soy Candle in Recycled Glass, $18, Amazon
When you're super stressed, you release the hormone cortisol, which makes oil glands kick-in and cause breakouts. Let yourself unwind before bed by burning this aromatherapy candle with an all-natural calming fragrance. This soy wax candle is made in the USA and contains both bamboo and green tea to give you 60 hours of relaxation. After your zen sesh, blow out the candle and fall asleep feeling relaxed — it could mean waking up to brighter skin!
Skip The Late-Night Salty Snack, Have A Healthy Bite Instead
Bob's Red Mill Oats Rolled Regular (Pack of 4), $14, Amazon
Heading to the kitchen for a salty or sugary snack late at night is many people's vice — and it can wreak serious havoc on your skin in the morning. These whole grain, rolled oats will save you from diet-induced breakouts, and they're the perfect healthy, anti-inflammatory snack to munch on with fresh bananas or berries. There's no reason not to indulge in cravings, just do so while protecting your skin, too!
Bustle may receive a portion of sales from products purchased from this article, which was created independently from Bustle's editorial and sales departments.
Images: Fotolia (1); Amazon (13)