8 Curling Iron Mistakes You're Probably Making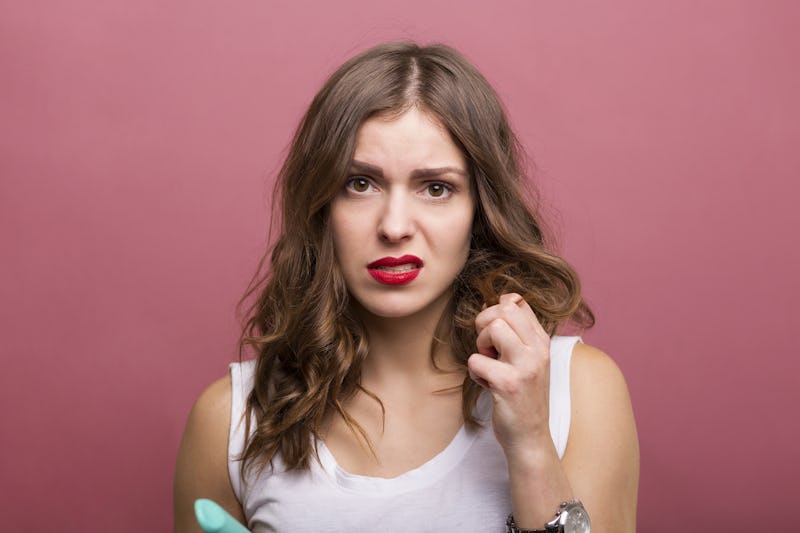 From clamp marks to overly textured roots, using a curling iron is not always as easy as it looks. Being a victim of trial and error myself, I thought I'd share some of the common curling iron mistakes you might be making and teach you how to fix them. The good news is that most of these are simple fixes, so once you master them, you'll be able to curl like a pro. After all, warmer weather calls for Victoria's Secret-style hair, right?
Before you read these, it's important to consider your hair texture. For example, naturally curly or wavy hair may require a blowout first and also may hold curl more easily than straight hair. It's important to know what works for your texture before you approach any hairstyle. You should also know whether you're going for loose curls or more of a tight ringlet-style, as this will affect the hold time for each curl.
Before I start discussing mistakes, you may be wondering what type of curling iron you should purchase. Believe it or not, the answer isn't necessarily the highest priced curling iron on the shelf. In fact, I use a Conair Infiniti Pro that I bought at the drugstore and I'd highly recommend it! But, if you have really thick or unruly hair and tend to stick to higher end hair tools, go for The Beach Waver by Sarah Potema (the official curling iron of the VS fashion show).
While the iron is important, there are many factors that contribute to less-than-desirable looking curls, so let me break them down. Here are eight curling iron mistakes you're probably making and how to fix them.
You're Using Your Conditioner Second
Cibu Smooth Conditioner, $20, Cibu For Hair
That's right: the order you use your shampoo and conditioner can actually affect how well your curls will hold! If you have straighter hair that tends to have a hard time holding curl, consider using your shampoo after your conditioner. Your hair will still be brushable, but you won't have the heavy residue from conditioner weighing down your curls. Additionally, this method will give straight hair a little bit more texture than it would have normally.
Verb Leave-In Mist, $13, Amazon
Since curling requires holding a heated iron on your hair for seconds at a time, it can be incredibly damaging if you don't prep the hair properly. To avoid breakage — or worse — crunchy looking curls, be sure to use a heat protectant first, like this all-in-one conditioning and protectant spray from Verb.
R+Co Park Avenue Blowout Balm, $18, Nordstrom
If you don't use a blowout cream before you blow out your hair or begin curling, you should. Blowout creams are a great alternative to hairspray and a good product will hold your curls without making your strands sticky like hairspray does! One of the best is R+Co's Park Avenue Blowout Balm.
You Try To Curl Freshly-Washed Hair
Shu Uemura Color Lustre Dry Cleaner Dry Shampoo , $40, Amazon
When it comes to curling, second day hair works best. Often times, a fresh wash can leave your strands silky, therefore making it more difficult for the curls to hold. If you have oily hair, consider using a dry shampoo on the second day to tide you over.
You Use The Clamp
Beachwaver PRO, $199, Amazon
Never — I repeat never — use the clamp on the curling iron. Simply hold the end of your hair and pump the clamp, but don't let it touch the hair for too long. Clamping will cause less-than-desirable bends at the ends of your hair, taking away from the natural look of the curls.
You Hold The Iron Right Side Up & Curl Too Close To The Roots
As you're curling, especially if you're using a wand, be sure to hold the iron upside down. This will put the larger end of the curling iron closer to the roots, therefore blending the transition from the straight portion of your hair into the curly portion. In the video above, Lindsey holds the curling iron the right way, so copy her technique and good form!
Similarly, if you're looking in the mirror wondering why the top of your hair doesn't look quite right, it's probably because you curled too close to the roots. For romantic, soft curls, you should be curling from the center of the hair down. If your hair is short, leave a couple of inches near the roots straight.
You're Curling In The Wrong Direction
Always curl the strands in the front away from your face like Holly does in the above video. This will ensure that the curls frame your face better. If you prefer a natural looking curl pattern, after you curl the strands near your face, you can begin alternating the curls towards and away from the face. This will give you a less "done up" look.
You Brush Your Hair After Curling
Mason Pearson Brush, $150, Amazon
If you're going for a tousled look or trying to add more volume to the hair, turn it upside down and finger comb when you finish styling. This will break up the strands and make them less clumpy without brushing out the curls you worked so hard to create. Especially if you have naturally frizzy hair, resist the urge to brush it out!
Images: Fotolia; Courtesy of Brands