Why You Should Wear Sunscreen On Your Tattoos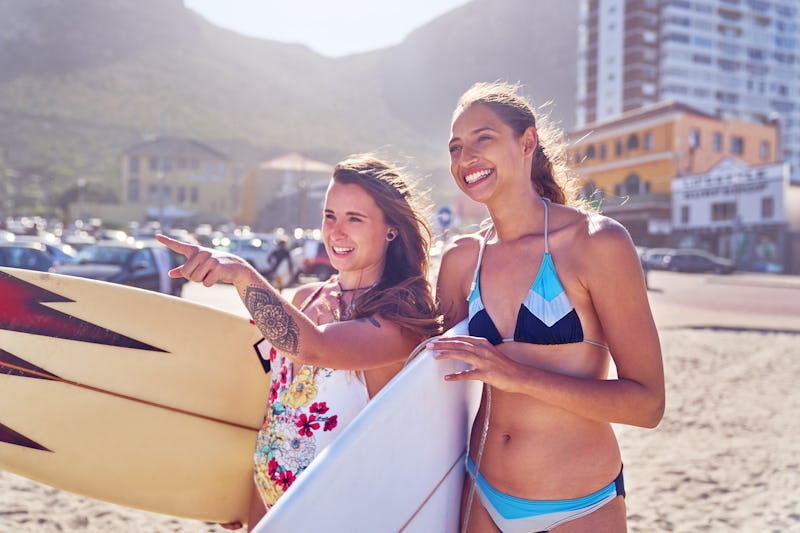 Caia Image/Collection Mix: Subjects/Getty Images
Proper after care is 100 percent essential for a tattoo to heal properly, but it can be tempting to slack off after a few weeks. If you've skipped sunscreen over your tattoo a few times and didn't notice any fading, you might be asking yourself, "Is sunscreen on tattoos necessary after all?" I reached out to Matthew Marcus, the owner of Three Kings Tattoo with shops in both Manhattan and Brooklyn to shed some light on the question.
To cut straight the chase, "Sunscreen is absolutely necessary for the upkeep of tattoos," explains Marcus. "Tattoo inks are not lightfast, meaning they fade, UV rays break down the chemical structure of the pigments and degrade them. Like leaving a picture in the sun, a painting by the window or any other object that has been left in the sunlight over time, it fades out and eventually is destroyed." I'd personally prefer to avoid something on my body that could be compared to a destroyed painting...
Beyond just skipping sunscreen, getting sunburn makes matters even worse. Marcus tells me, "You shed skin from your body every day but exposure to strong sunlight will only break them down faster. When you burn and peel you are basically speeding this breakdown process up."
As for what kind of sunscreen to buy, Marcus didn't recommend any specific brands, but advises, "The higher the SPF, the better ... anything that doesn't have a ton of chemicals."
Below are brands I've used on my tattoos consistently over the past few years and really, really like!
1. Antioxidant Infused Sunscreen Mist SPF 50
Antioxidant Infused Sunscreen Mist, $19, Supergoop!
This is super easy to apply if your tattoo is in a hard to reach place!
2. Disappearing Zinc Oxide SPF 50
Disappearing Zinc Oxide, $10, Sun Bum
Rest assured, you will never ever deal with white streaks from this one!
3. Everyday Sunscreen Broad Spectrum SPF 50
Everyday Sunscreen, $19, Supergoop!
The name pretty much captures it, am I right?
4. Broad Spectrum SPF 50 Body Cream
Broad Spectrum SPF 50 Body Cream, $23, Clinique
The ultimate in luxury, this creamy formula is perfect for dry skin.
5. Mineral Sunscreen Stick SPF 50
Mineral Sunscreen Stick SPF 50, $13, Mustela
For tiny tats, you can't beat this easy-application stick.
6. Sport Continuous Spray SPF 50
Sport Continuous Spray SPF 50, $36, Coola
For sensitive skin, this fragrance-free spray is an ideal pick.
7. Mineral Sunscreen
Mineral Sunscreen, $24.99, Dolphin Organics
Uhm, can we just stop and appreciate that this brand's name is Dolphin?! Squee.
Images: Caia Image/Collection Mix: Subjects/Getty Images; Courtesy of Brands