O.J. Simpson's Lawyers Really Did Feud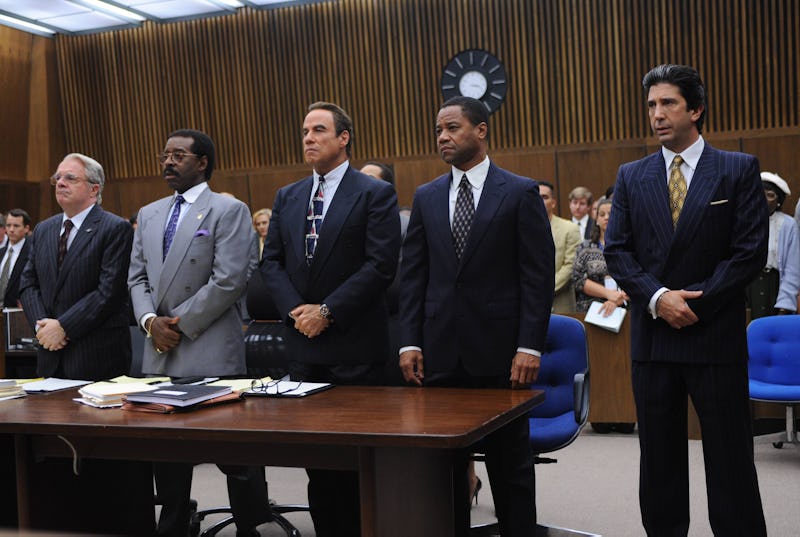 On FX's American Crime Story during the Feb. 15 episode, viewers saw a sudden regime change: Johnnie Cochran (Courtney B. Vance) replacing Robert Shapiro (John Travolta) as lead defense attorney for O.J. Simpson's '90s murder trial. It was a decision that came from O.J. (Cuba Gooding Jr.) himself and it inspired many angry glances between the two attorneys. You might be wondering if that move was for dramatic effect, or did Johnnie Cochran and Robert Shapiro really feud? Well, ACS was once again true to life — the real-life Shapiro and Cochran did have a feud that the attorneys were not shy about talking about once the trial ended with the real Simpson being acquitted of the murder charges. (However, according to The New York Times, Simpson was found liable in the resulting 1997 civil suit and ordered to pay "$25 million in punitive damages to the families.")
Shapiro had been the lead defense attorney on the case since Simpson's arrest in June 1994, but days before the trial began in January 1995, the New York Daily News reported that Simpson wanted to demote Shapiro and promote Cochran to handle the courtroom proceedings. It was actually a move based on the attorneys' backgrounds — as the Los Angeles Times reported in 1994, Shapiro had experience with high-profile celebrity clients, but Cochran had extensive courtroom experience.
In that same article, Shapiro admitted to the Los Angeles Times that there were some problems among the legal "Dream Team," as they were known. "Are there disagreements? On almost every issue," Shapiro said. "But a lot of this is like a jazz group playing together. Sometimes it's time for someone to play a solo. Sometimes the whole band plays together. This band plays together very well."
At the time, many speculated that both Shapiro and Cochran were competing for the limelight and headlines. But, the harshest words didn't seem to come out until after the "not guilty" verdict on Oct. 3, 1995 — after which Shapiro granted an interview to renowned ABC reporter Barbara Walters, in which he pledged never to work with Cochran ever again (video above). Shapiro told Walters that he was the one who hired Cochran, because of his legal talents as well as his race, but he did not approve of Cochran's "playing the race card" in the case. "Not only did we play the race card, we dealt it from the bottom of the deck," he said in the interview. Shapiro continued to be outspoken about his feud with Cochran in his 1996 book The Search for Justice: A Defense Attorney's Brief on the OJ Simpson Case.
As for Cochran's view on Shapiro, he told Los Angeles NBC affiliate KNBC that Shapiro had "demons that need to be exorcised," according to the LA Times. "He's somewhere at home, sulking and feeling bad," Cochran said during the interview. "We did not realize the damage it would do to his ego not to be lead attorney."
According to USA Today, he also told CBS the following: "I like Bob Shapiro a lot, but I don't think anybody on this team is in any great hurry to work with him again."
In his own 1996 book Journey to Justice, Cochran wrote that Shapiro "accused the rest of us of 'dealing the race card,' he [Shapiro] had conveniently forgotten that he was the one who first shuffled the deck," according to a review in SF Gate.
If it was this tense in the real-life trial, I can't help but wonder how it'll all play out on American Crime Story.
Image: Ray Mickshaw/FX