Proven Ways To Make Your Hair Thicker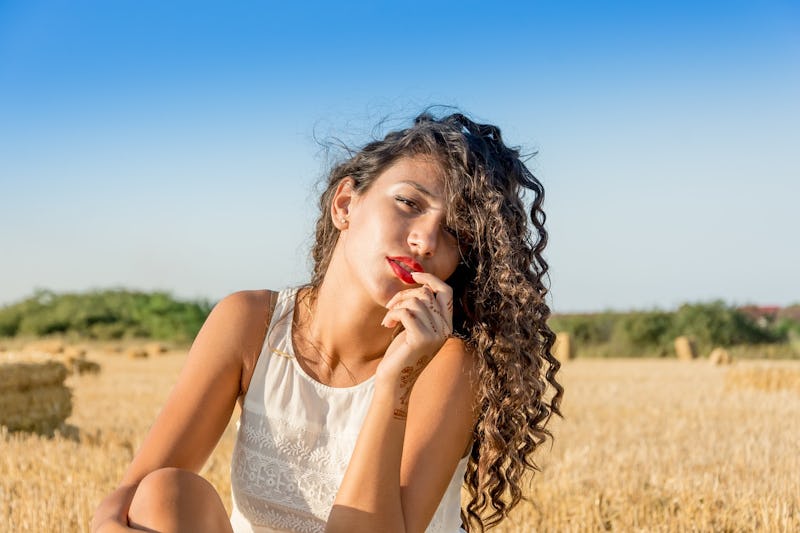 My natural hair color is fairly dark, so when I pull it up into a ponytail it's very easy to see that it's thinned out significantly in recent years. The good news for me, and those who feel my pain, is that there are ways to make your hair thicker that have proven to work for women time and time again. The visible white spots I just saw in the bathroom mirror reflection make me so angry to look at, but they don't have to for long. Some of the ways to improve hair thickness are actually a bit obvious, but to tell you the truth, I'd never thought about how my daily routine might be affecting my hair thickness. Now that I realize some of the reasons my hair is thin might be due to the damage I personally cause to it, it's time to correct it — and you can too. As you'll see, it's quite simple.
Let's be real here. When we're watching TV or movies and see these stars with gorgeous, thick, luscious hair, we can almost always be certain that they're getting a boost from hair extensions or some other kind of Glam Squad-esque trick. However, it doesn't make it any less difficult to stop our minds for thinking, "Damn, that's so unfair!" Reality is very few people are born with fabulous hair that looks like it's out of a shampoo commercial. We can, though, take steps to get our hair as thick as could be.
Here are seven proven ways to make your hair thicker.
1. Try Minoxidil
Rogaine for Women Hair Regrowth Treatment, $38, Amazon
Minoxidil is the only FDA-approved drug for treating hair loss in women — so if your hair loss has become a major problem for you, this treatment is worth a try. According to LIVESTRONG, while men are approved to use the 5 percent solution, women are only approved to use the 2-percent solution at this time, so keep that in mind when making your minoxidil purchase and when applying (it's applied topically twice a day). Products containing minoxidil include Women's Rogaine and Pantene Expert Hair Regrowth Treatment for Women.
2. Fill Your Diet With Protein-Rich Foods
According to The Guardian, foods rich in protein can help spur hair growth. That said, they suggested amping up your diet with foods like flax seeds, walnuts, fish, and avocados.
Viva Labs Organic Ground Flax Seed, $9, Amazon
3. Invest In A New Hat
When you head out for a day at the beach likely you're quick to grab your bottle of suntan lotion to protect your skin. What about your hair, though? According to MD-Health, sun damage can be a major part of why your hair is losing its thickness. The outlet suggested protecting your hair from the sun by keeping it covered when you're outdoors with a hat. (Think of it as a fun excuse to buy an adorable new floppy hat!)
Ayliss Floppy Sun Hat, $13, Amazon
4. Put A Limit On Your Use Of Hot Tools
While we're on the topic of damage, just turning on your straightener to heat up is probably making your hair cringe. Think of how much damage you're doing to that head of yours every time it's exposed to the heat from your blow dryer, or your straightener, or your curling iron, or whatever other hot tool you're using that day. According to Devin Toth, celebrity stylist at Salon SCK and brand ambassador for Rowenta Beauty, "If women want thicker-looking hair, they should immediately stop flat ironing it." Toth also told Good Housekeeping that we should also "refrain from using too much conditioner in the shower" as well. If you're someone who really feels like they can't part from their hair tools, Good Housekeeping suggested using heat protectant spray beforehand to help in its fight to get thicker and stronger.
Try: CHI Iron Guard Heat Protectant Spray, $10, Amazon
5. Use The Right Kind Of Hair Dye
Do you dye your hair regularly? Again, another source of damage! Women's Health spoke to Paradi Mirmirani, M.D., a dermatologist in Vallejo, California, who specializes in hair disorders, who said, "Permanent dye penetrates deeper, changing the structure of hair, which weakens it." That, in turn, leaves you with thinned out hair. To prevent this and get your hair thicker again, Mirmirani recommended using a temporary semi-or demi-permanent rinse instead.
6. Trust In The Power Of An Egg
Using eggs on our hair can make it thicker — really! For one, try using an egg as part of a hair mask. According to BeautyAndTips.com, beat one egg, add two tablespoons of honey, three tablespoons of Aloe Vera gel, and two tablespoons of Vodka. Take this mask and massage it into your roots, then leave it on for 20 to 30 minutes. Afterwards, shampoo and condition as usual, and then repeat the whole process once a week. The outlet noted this helps stimulate hair growth — making your hair both thicker and healthier.
Separately, another use of the egg is as shampoo. BeautyAndTips.com suggested beat two or three eggs in a bowl and shampoo your hair as usual using the mixture, and leave it on for about five minutes. Then, rinse your hair and condition as usual. This can be done a couple of times per week and results should start to show up soon after, according to the outlet.
7. Get The Right Haircut
While this last one won't necessarily cause your hair to be thicker, it will make it appear thicker for sure. According to Cosmopolitan, go for a cut that features long layers throughout and a few layers around the face. Why? It gives it an instantly fuller look. Celebrity stylist Adir Abergel told the outlet, "Layers create a stacked effect, allowing more air and movement and therefore fullness between sections." Easy peasy!
While the feeling that our hair is thinning can be incredibly frustrating, it's nice to know we do, in fact, have some options to help make it thicker. Try some of these tricks on for size, and your hair might just be filling out before you know it.