11 Natural Self-Tanners For A Healthy Bronze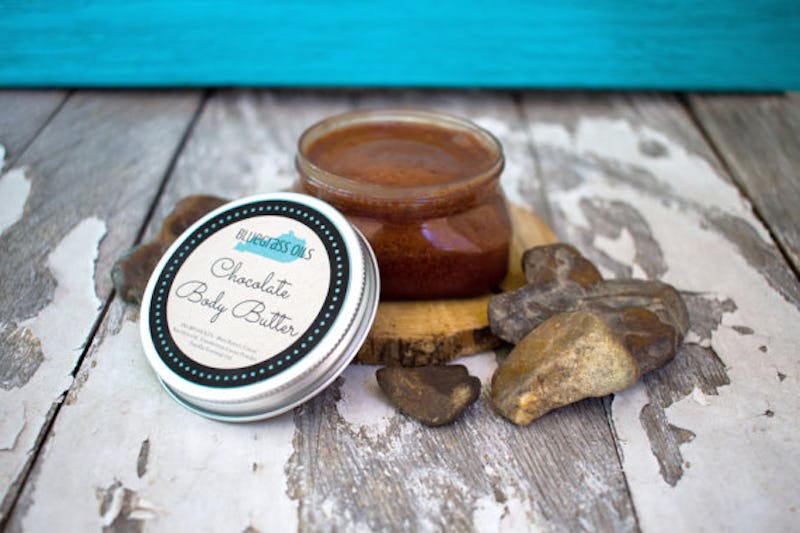 Getting a crave-worthy glow doesn't require hours in the sun or a ton of chemicals. I've scouted out a bunch of amazing products that don't have any mysterious (and potentially carcinogenic) ingredients and will still leave you with a lovely sun-kissed complexion. Here are 11 natural self-tanners for spring that will led you straight into skin-bronzing bliss? Yes please.
By the way, if it's your first time ever DIY tanning, there's a few things you need to know for it to look natural. Before you apply any tanner, make sure you've exfoliated your entire body thoroughly. Dead skin cells can trap the tanning lotion and possibly result in dark spots. No bueno.
Beyond exfoliating, there are a few other ways to make sure your skin is as smooth as possible before applying any tanner. Coat yourself with moisturizer and give it time to absorb so that your skin is fully hydrated. Another note? Remove deodorant since it could cause some unevenness. Once you've exfoliated, moisturized, and are deodorant-free, you're ready to apply self tanner!
With so many self-tanning and bronzing products out there, it can be hard to determine which one to go with. The lotions, mousses, and sprays below are 100 percent natural, with most featuring organic ingredients. Of course, as with any beauty product, do a small "spot test" on your inner arm to confirm that you're not allergic to any of the ingredients.
Here are 11 natural self-tanners to consider if you want to fake a tan for spring.
Self Tanner Bronzing Cream, $14, Etsy
The bronze mica will give you a tan hue while the shea butter will keep your skin soft and hydrated.
Organic Self Tanner, $35, Etsy
Infused with goat milk and lavender essential oil, this organic self tanner is also an indulgent aromatherapy treat.
Chocolate Body Butter, $13, Etsy
I mean, this has chocolate. What more needs to be said?
4. Sunless Tanning Cream
Absolute Sun Dark Tanning Cream, $40, Chocolate Sun
With cocoa, shea, and green tea, this gradually-developing sunless tanner smells good enough to devour.
Elemental Herbology Sun Kiss Body Moisturiser with Self-Tan , $52, Amazon
This eco-certified self tanner is mixed with sweet essential oils for skin-quenching moisturizing experience.
Famous Dave's Tanner Organic & Natural Self Tanner , $27, Amazon
Featuring organic aloe, this sunless tanner is great for extra sensitive skin since it has no added fragrance of any kind.
Bronze Babe Self-Tanner, $18, Etsy
This glorious tanner is DHA-free and comes in a slew of shades.
Organic Self Tanner, $12, Etsy
This self-tanner is 100 percent organic and includes skin-smoothing vitamin E.
Self Tanner Bronzer Bars, $15, Etsy
Keep things fast and easy with this all natural tanning bar!
Tropical Tan Self Tanner, $18, Amazon
This natural self tanner includes pomegranate extract for legit sun protection.
My Skins Friend Organic Self-Tanner Spray, $26, Etsy
For those that prefer spray, this one is both cruelty-free and vegan!
Images: Courtesy of Brands