10 Seriously Easy Ways to Get Curls Without Heat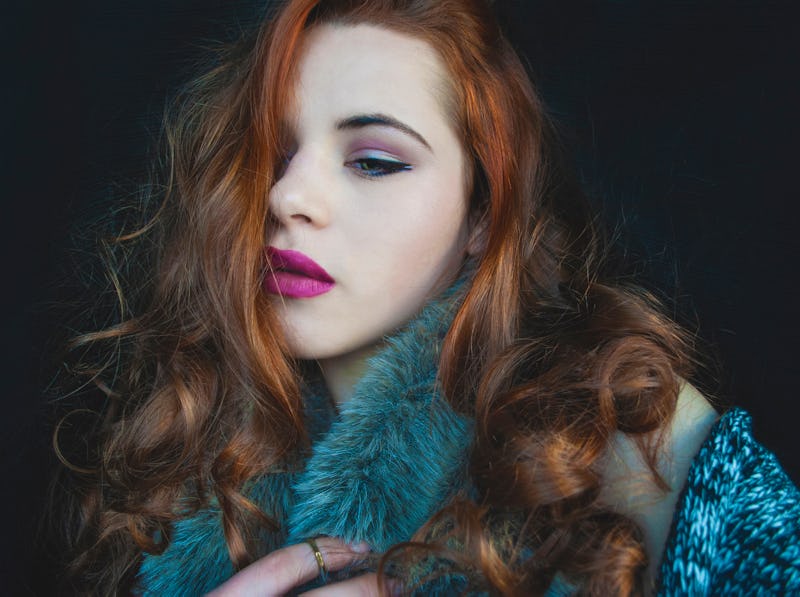 If you're anything like me, trying to get your hair to hold a curl requires a lot of time and heat. However, I don't have a lot of time, and I definitely don't want to use a lot of heat on my hair. Thankfully there are some surprising ways you can curl your hair without using heat. (Added bonus: You can sleep in most of them overnight, so your hair is curling while you sleep).
One of the tricks requires nothing more than that cute pair of trendy '70s tube socks you'll definitely find more uses for, while another one lets you use your next-favorite exercise hair accessory that will get you through your sweatiest workout. If you want to throw it back to your grandmother's fail-proof tricks, you can even sleep in the set of top-rated spiral curl rollers.
Put your curling wand and blow dryer away, you won't be needing them today. Choose to give your hair a break from damage, while letting your texture run wild. You can wake up with flowing princess curls or a head full of springs with these helpful hints below. Add a little extra product to keep it all intact, and you'll begin to wonder why you ever let yourself spend hours curling you hair on that 400-degree setting.
Craft Overnight Braid, But First Coat With Curl Memory-Promoting Cream
Kenra Curl Defining Cream, $12, Amazon
Braiding your hair is an easy way to get beachy waves. But before you start braiding, apply a small amount of this Kenra Curl Defining Cream into your hair to help it hold the style. This cream is formulated to encourage natural waves by promoting your hair's curl memory. Tie the ends with an elastic, and keep the braids in as long as you like. When you untie them, you'll look like you just came from the beach. As a bonus, this styling cream helps combat frizz and keeps your hair shiny and healthy.
After Defining Pre-Braid Strands, White Tea Dirt Paste Adds Texture
Jonathan Dirt Texturizing Paste , $20, Amazon
Your braids will create some wild, major-volume waves when you add a little bit of the Jonathan Dirt Texturizing Paste before you create your braid. Its nourishing white tea and nettle extracts will keep hair shining, while sweet almond protein repairs — and prevents — damage. But all that moisture still lends a gritty texture to your hair, which makes you look like a lioness when you take your braid out. It might feel a little dirty and natural at first, but your hair holds a curl best when it's not squeaky-clean.
Get No-Heat Curls With Built-In Clip Rollers
Kick it old school with the 48-pack of Conair Foam Rollers. Roll your hair up into these before bed, and you'll wake up with super bouncy spiral curls. The smaller the roller, the tighter the curl, so this variety park is great if you want to switch up the look of your curls. They also have a clip on the end to make sure your rollers stay in place all night.
For Similarly Sized Curls That Are Extra-Comfy When Sleeping, Try Sponge Ball Curlers
Refaxi Strawberry Sponge Ball Curlers , $5, Amazon
Users say these spongey strawberry curlers are one of the easiest and most comfortable ways to curl hair overnight. After applying a volumizing solution to your strands, just uncap the top of the strawberry, twist damp hair around the center, and secure back in place when you've gathered the desired amount of hair. Let dry, and wake up later to soft, natural-looking curls.
For Fine & Slippery Strands, Use the Rough Texture Rollers
Soft 'N Style Pink Velcro Roller (18-piece) , $9, Amazon
Roll this 18-piece set of Soft 'N Style Pink Velcro Rollers into your hair for soft, flowing curls. They stay in your hair thanks to their rough texture, so you can chill out around the house without worrying that they'll fall out. Once you take them out, spray your hair all over with curling hairspray to make sure your defined style stays intact.
Spray An Alcohol-Free Sea Salt Spray For Hydrated Curls
O ribe Apres Beach Wave Spray, $39, Amazon
Sea salt sprays tend to have alcohol in them, which dries hair out and leaves it dull and flat. The Oribe Apres Beach Spray hydrates and thickens your hair to add volume, making it feel like you just left the beach (without needing to rinse yourself off). Its actuator nozzle top is designed to really push the product into your hair for complete application, and its also UV protection makes sure your hair stays sun damage-free.
Slip on a Headache-Proof Headband for Setting Overnight Curls
YANA Stay-Put Sports Headband, $13, Amazon
You can curl your hair with your next-favorite workout accessory: Put the YANA Stay-Put Sports Headband across your forehead and over the rest of your hair when it's damp. Its nonslip fabric won't push your hair in weird directions, and its specially designed elastic back won't cause headaches. Then, twist sections of your hair around the headband so the entire headband is covered all the way around. Sleep on it, or just wait until your hair is dry and you'll have loose, pretty curls.
Get Spiral Curls, Even With Short Hair
Curlformers Short Corkscrew Curls Styling Kit (80 curlers) , $49, Amazon
If you're looking to get spiral curls, you need to get the Curlformers Styling Kit. This kit was the 2015 recipient of the Naturally Curly's Best Retexturizing Tool, and users say it's well worth the money because you can sleep in them and get those perfect corkscrew curls, every time. The kits come in a variety of sizes (depending on the length of your hair), so you can get well-shaped curls even with a shorter cut. There's a hook to thread your damp hair through the spiral, and once all your hair is in the curlers, just let it dry for ringlet curls.
Try the Unconventional (But Super Useful) Vintage Fashion Trend For Frizz-Free Curls
TCK Retro 3 Stripe Tube Socks, $11, Amazon
Sometimes you don't need fancy hair products to get killer curls. You can curl your hair with these TCK Retro 3 Stripe Tube Socks, which are conveniently riding the several seasons-long '70s-are-back trend. By sectioning your damp hair out, and rolling each part up with a tube sock, your delicate strands will be carefully cushioned for less chance of frizz later. Tie the tube sock in a knot with your hair in the middle, and let your hair dry. When you take the socks out, you'll have beautiful bouncy curls.
Use Your Shirt Accessory for Smaller, Natural-Looking Curls
Levi's Printed Bandanas, $7, Amazon
Not only are bandanas the T-shirt accessory trend of the moment, but they can really help you get curly hair without any using heat. Take one or two (depending on how much hair you have) of Levi's Printed Bandanas, and cut them up into one-inch strips. Then, roll a section of your hair around each piece and tie it once you roll it down to the root. It's similar to the tube sock trick, but it'll get you smaller curls — and it works perfectly for people with shorter hair. These Levi's come in packs of two, so you can keep one for dressing up your minimalistic black tee-and-jeans look.
Bustle may receive a portion of sales from products purchased from this article, which was created independently from Bustle's editorial and sales departments.
Images: Anna Boeva/Unsplash, Amazon (10)