Get Your Fill Of This 'Shark Tank' Chili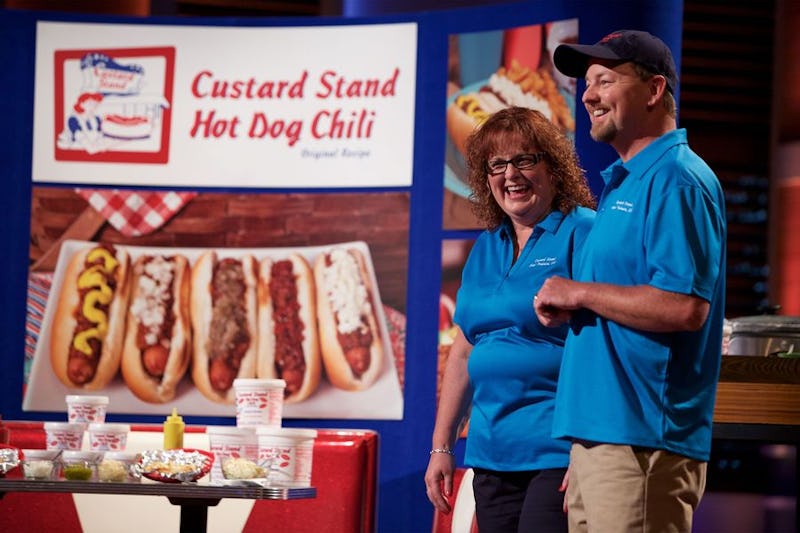 Don't let the name fool you — Custard Stand Food is about way more than custard. The West Virginia-based eatery has been cooking up delicious chili and chili dogs since 1991, but they paid a visit to Shark Tank in order to take their chili national. If you're craving a taste, you'll need to know where to buy Custard Stand Food from Shark Tank.
The Custard Stand itself is a popular establishment in West Virginia that airs commercials, has a hashtag (#AmericasTastiest), and serves up ice cream as well as chili dogs. It seems like Custard Stand Food has built a brand that has stood the test of time and chili that is already being sold at some big stores. You can buy Custard Stand Food products at Kroger, Walmart, Sam's Club, IGA, and other independent grocery stores in 15 different states, which are listed on the company's official website. The Hot Dog Chili and Chili Soup products are also available online through the company website. Here's what else you should know about Custard Stand Food if its Shark Tank appearance whetted your appetite.
The Founders
According to the Times West Virginian, owners Dee and Angie Cowger opened the Custard Stand as pickup window for ice cream in Webster Springs in 1991, but soon expanded into food. They served Angie's grandfather's 100-year-old recipe for chili and it was a hit. Customers began requesting to buy the chili on its own and by 2003, the Cowgers began mass producing the chili and founded the brand Custard Stand Foods.
Custard Stand Locations
Custard Stand now also has more locations in West Virginia, including Oak Hill, Danville, Elkins, Flatwoods, and Mannington, according to the company website.
Chili Ingredients
Angie describes the chili in the clip above as an "all-beef hot dog chili with no fillers." She says that there's no soy, crackers, oats or textured vegetable protein present in the recipe. The chili itself doesn't have beans, but the chili soup does.
Production
In 2003, Custard Stand Foods took over the car wash behind the Custard Stand and converted it into a production facility for their chili, according to WOWK-TV. Today, the company website says facility produces more than 4,000 pounds of hot dog chili. "It expanded over the years so much that they had to cut back into the mountain and expand it backward for their storage area and production area," franchise owner Todd Fancher told the Times West Virginian.
Buying Online
You don't have to head to the store to get your chili on — the Custard Stand Food website is selling its Hot Dog Chili and Chili Soup in various sizes, and sampler packs of both, just in case you want a taste of it all.
Recipes
Chili doesn't just go on hot dogs or fries (with cheese). Custard Stand Food's website also contains some recipe ideas, so you can enjoy your chili in ways like chili mac 'n' cheese, Mexican cornbread, and walking tacos. Is anyone else really hungry all of a sudden?
Image: Tyler Golden/ABC