11 Beautiful Poetry Collections By Women Poets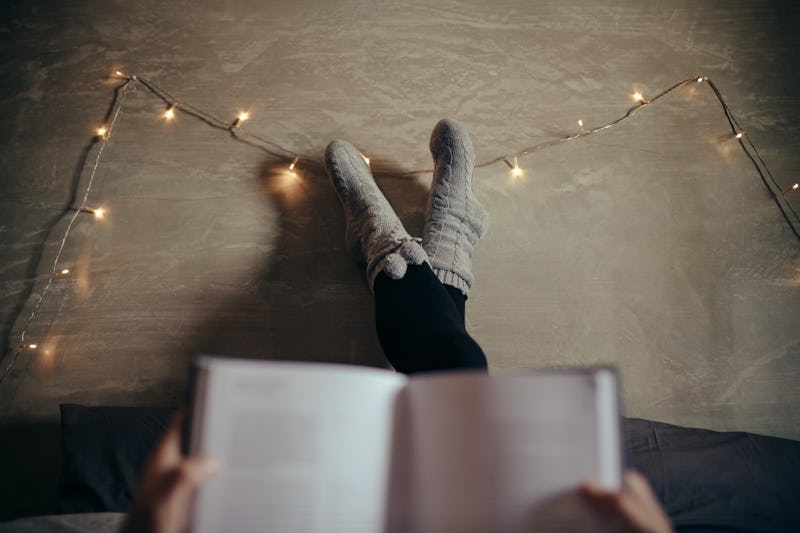 Let me tell you a little something about the dangers of beautiful poetry collections by women: In my freshman year poetry seminar, my (I'm sure well-meaning) professor asked me to speak to him after class one day, where he gently inquired as to whether or not I had plagiarized a recently submitted essay on Emily Dickinson. Horrified, I starred at the offending essay he held in his hands. Sure, he had asked for 500 words on one particular poem, and I had written seven pages on poems I thought were better — but I couldn't help it! It was my first experience really reading Emily Dickinson, and I was TOTALLY HOOKED. I explained as much, and though his expression remained incredulous, the matter was dropped. (Although, following the incident, he switched from a letter-based grading system to a check/plus grading system, to avoid having to do more than skim any future seven-page essays, I suspect.)
So, a word to the wise: beware the allure of the mesmerizing women poets — their language will pull you in, and you'll fall utterly in love with their beautiful poetic imagery, and the next thing you know you'll be writing extra-long analytical essays and getting lines like "Hope" is the thing with feathers - / That perches in the soul tattooed on the inside of your right arm. Or, you could just not beware, and totally indulge in the obsession. Like I have.
Here are 11 beautiful poetry collections by women poets to get you started.
As a debut poet of 2015, Robin Beth Schaer has me totally excited to see what she's going to give us next. Her poetry is a kaleidoscope of almost-electric imagery, with undertones of the past, present, and future; fantasy; science fiction; and philosophy. Exploring environmental disasters alongside those everyday tragedies of daily life on planet Earth, Shipbreaking is all about the beautiful, messy, and dangerous ways we all live in this world.
I could not be more in love with Warsan Shire if I tried — and poetry fans all over the world seem to agree. Shire was 2014's Young Poet Laureate of London, and her collection Teaching My Mother How to Give Birth , has literally gone viral — on YouTube, through Facebook posts, and via 140-character excerpts splashed across Twitter. Interested in home and displacement, and immigrant and refugee experiences, Shire's poetry speaks of trauma, politics, female strength, and journeys both around the world and into the self.
Author and activist Adrienne Rich spent her career writing what is, in my opinion, some of the most beautiful and necessary poetry of all time. The Dream of Common Language was written as a manifestation of that exact dream the title describes: to discover universal communication through art and poetry. Feminist to the core, this collection covers everything from forgotten women in history, to same-sex romance, to the female relationship with nature. Everything Rich wrote was breathtaking, but The Dream of Common Language is by far one of my favorites.
If just hearing the name "Emily Dickinson" gives you unpleasant flashbacks to high school English class, then I implore you to give her another try now that you're all grown up. (Did you read my little anecdote in the beginning?) The woman wrote gorgeously about everything: life and death, love and loneliness, society and isolation, the natural world and the spiritual one. The Collected Poems of Emily Dickinson showcases this once-experimental poet who was writing entirely ahead of her time, and you'll love it. I swear.
5. Ariel by Sylvia Plath
Another classic no poetry lover can do without, critics and reviewers alike have said that through reading Ariel , readers can actually observe Sylvia Plath growing into the fullest expression of herself as a writer — and it's true. Filled with such an intensity of spirit, Plath is perhaps at her darkest in these poems, which explore love, depression, epic journeys, and the emotional resonance of everything in Plath's world. Definitely not an uplifting collection, but certainly true and beautiful.
Ada Limón seems poignantly aware of her own mortality in her latest collection of poetry, Bright Dead Things — and the world she describes is ever more beautiful for it. Mindful of the present, while aware that our time on this earth is only temporary, Limón takes readers on a journey of the evolution of self — growing up and growing old, falling in love and falling out of it, the geographies we leave behind and the places that stay with us for a lifetime. The writing is vibrant and the imagery precise.
While any of Jo Shapcott's many books of poetry could be considered "most beautiful" reading, the works collected in Her Book: Poems 1988-1998 give you a great survey of three of her best: Electroplating the Baby, Phrase Book, and My Life Asleep. Unexpected, bizarre, and sometimes surreal, Shapcott's poetry describes everything from metal-coated mummified bodies to seasonal changes in the natural world. There really isn't another poet quite like Shapcott writing today.
An exploration into how the black female body has been used, portrayed, and imagined throughout history, Voyage of the Sable Venus is a collection of lyrical poems that dig deep into issues of race, sexuality, and personal empowerment. Exploring a painful history, while simultaneously celebrating her own racial heritage, Robin Coste Lewis's has written a debut collection of poetry that is daring, difficult, and beautiful.
The World's Wife is undoubtedly Carol Ann Duffy's most recognized work, and for good reason — although if you love this collection, you really don't want to miss any of her others either. Written in the imagined voices of wives, sisters, and girlfriends of world-famous (and sometimes mythical) men, this collection explores love and male/female relationships with irony, humor, and surprise. It's beautiful in an unexpected, sassy sort of way.
10. Duende by Tracy K. Smith
Writer Tracy K. Smith is a relatively new poetic obsession of mine — and I wish I hadn't taken so long to discover her because she is simply stunning, flawless, provocative, political, and just about every other quality one loves in their daily dose of poetry. Smith's collection, Duende , is absolutely a poetry collection for poets (and lots of other readers too) that chronicles one writer's journey through history's storytelling and poetic traditions, and explores poetry's place in both the political and the personal.
11. Felicity by Mary Oliver
Pulitzer Prize-winning writer Mary Oliver has always written about love and nature — but with the eyes of a woman who is constantly in wonder at the world, no matter how much time she has spent in it. Although her writing rarely travels beyond her native New England landscape, this particular collection dives less into the natural world, and more into the self. If Felicity , Oliver explores what it means to love another person — what desires we make known, and what secrets we will forever hold in the turbulent quiet of our hearts.
Image: Fotolia