11 Ways To Be A Less Toxic Person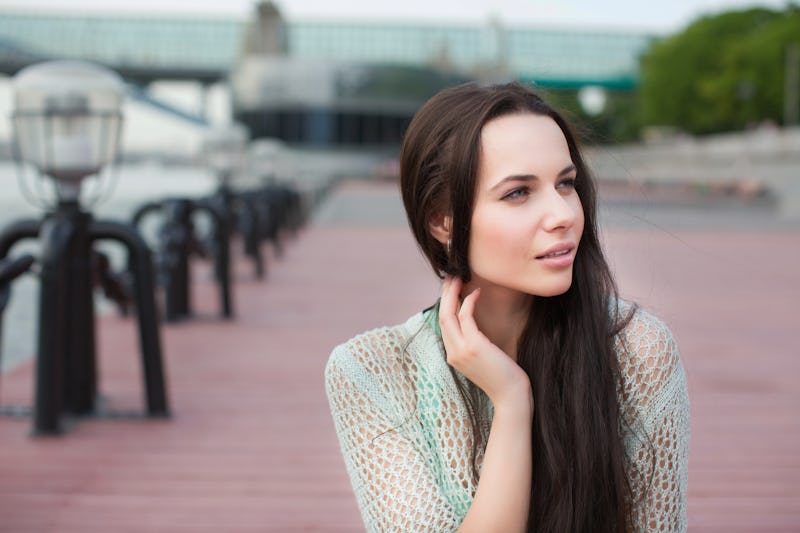 If you spend any time at all on the internet, you've probably noticed the growing trend of articles and information that bring up the topic of "toxicity." It starts off with questions like, "Do you have a toxic parent?" or "Are you surrounded by toxic people at work?" and extends into relationships, friendships, and siblings. Now the pressing issue seems to be, "Are you a toxic person?," which requires you to take a step back and observe your own habits like an outsider: Do you thrive on drama? Do you take friends for granted? Do you constantly outsource the blame for everything?
My take on the matter, however, is that we're all a little toxic, and that's OK. If toxicity comes from a place of fear and low self-esteem, then many people have been there at one point or another. Most people have done things they're not proud of because they felt scared, or desperate, or left out. Frankly, I think it's ridiculously therapeutic to start from a place of, "Yeah, maybe I could work on myself a little bit." After all, no one's perfect, and if you're perpetually working toward your own self-improvement, then the ball's always in your court. Waiting around for other people to change is a lost cause, so it never hurts to shift your focus over to yourself — for the purpose of your own happiness. Thankfully, there are lots of ways to jumpstart your own healing, and I've compiled a list of things that always help me return to that place of confidence, gratitude, and self-love.
Learn To Provide Your Own Acceptance
The Gifts Of Imperfection , $9, Amazon
This New York Times bestseller, The Gifts of Imperfection , just might be your first step to viewing the world from a place of belonging. It helps us overcome who we think we should be, and instead, settle into a place where we feel unquestionable authenticity and belonging. Brené Brown is an expert on human behavior, and readers say this book had a bigger impact on their self-esteem than years and years of therapy.
Often, when people find themselves craving acceptance from other people, what we're really looking for is acceptance from ourselves. Tip: If you find yourself out and about often with no time to sit down, try listening to its words of wisdom on Audible.
(Psst: Don't have Audible? Try it out now with a 30-day free trial — two free audio books included.)
Stop Doubting Yourself Once And For All
You Are A Badass , $9, Amazon
Another New York Times Best Seller, You Are A Badass is a how-to guide from world-traveling success coach Jen Sincero that helps you stop doubting yourself and instead live with a mentality of love — for yourself, and for your life. It's been described as no-nonsense, crass, and blunt, and it's definitely not your average self-help book. That's why people love it: It helps you deal with your fears in a funny and refreshing way, and reviewers say that shortly after reading, they're ready to raise their legs to kick some butt.
Make Every Day A Spa Day
Aromatherapy Essential Oils, $13, Amazon
I love this essential oil gift set because a good batch of essential oils can pull me out of the worst of slumps. It includes six fragrances for all of your aromatherapy needs, including relaxation, relieving anxiety, and prompting positive attitudes. (They also have no additives, no fillers, and are therapeutic grade.) The second you step foot into a good spa, you're overcome with relaxation before the massage even starts, likely because your sense of smell directly links to the part of your brain that processes emotions and memories.
Find Your Outlet For Creativity
Adult Coloring Book, $6, Amazon
If you've got pent-up creativity and nowhere to express it, it starts to take a toll on your happiness and your stress levels. Adult coloring books are all the rage right now because of how therapeutic they are, and this No. 1 best-seller is the top choice because of its beautifully intricate designs and great-quality pages. Each elaborate henna print design has a blank page in between, so materials won't bleed, and you can use anything from pencils and markers to gel pens on your way to color-induced self-healing.
Center Yourself With A Good Cup Of Tea
Baetea Happy Tea, $20, Amazon
I stand by the belief that there are few things a good cup of tea can't fix, and if you're looking for a natural pick-me-up, this Baetea Happy Tea might be just the thing. It's a delicious blend of lemongrass, rose hips, hibiscus, and peppermint, and it's guaranteed to lift your mood without caffeine or artificial ingredients. Even people who aren't into tea give this one a five-star rating, because it tastes great and feels great, and it's a perfect way to unwind at the end of the day.
Express Gratitude For Your Friends By Cherishing More Memories
Fujifilm Instax Mini 8 Film Camera, $57, Amazon
Things start picking up at work, your dating life suddenly accelerates, you're in the middle of a bit of a breakdown — whatever it is, we've all been guilty of putting our friends on the back burner for a while. Show them you care — by recording your next day trip together with this top-rated instant camera. Its automatic exposure measurement means perfect selfies every time, and its lightweight body means you can pack and take it anywhere. It's an effortless way to say, "Thank you for being there, even when I'm a little MIA."
Wear Your Confidence On The Outside
Ropalia Evening Mini Dress (Sizes S-XL), $10-$18, Amazon
Confidence is one of those things that becomes way easier when you learn to pamper and appreciate yourself, and nothing says "I appreciate you, body," quite like a new little black dress. I'm in love with this one by Ropalia in particular because of its skater fit and intricate lace bodice. The fit is a little loose, which means you have plenty of room to dance all night.
Tune Out, So You Can Tune Into Yourself
GranVela Foldable Headphones, $35, Amazon
I'm the type of person who gets really, really agitated when I'm surrounded by excess noise, and that's why full-coverage headphones are my own personal lifesaver. These foldable ones deliver deep, powerful sounds through comfortable, lightweight ear cushions, all remaining lightweight and safe for travel. They plug into any phone or device your have, and you pick your pair from nine different vibrant colors.
Complain In A Constructive Way
Studio Oh! Guided Journal, $11, Amazon
If you tend to be a bit of a complainer, you might just be one of those people who needs to externalize things before you can see them clearly. Studio Oh! created this thoughtfully designed notebook to guide you toward seeing the silver lining in any cloud. Uplifting quotes encourage you to view things with a positive perspective, and one reviewer said, "Keeps you motivated and thinking in a positive way all the time."
Communicate With Friends (The Old-Fashioned Way)
Thank You Potpourri (Set of 36), $13, Amazon
If you're a serial-one-word-texter, take a little time out to write your best friend an old-fashioned letter. This No. 1 best-selling (and really cute) stationary set encourages some old-school communication through illustrated, glossy cards that show consideration and thoughtfulness. They come in an array of adorable designs, as well as include 36 matching envelopes for an amazing value. In a world where our mailbox is filled entirely with bills, trust me, your friend will cherish a hand-written note.
Nurture Your Body & Make Something for Yourself
Cravings: Recipes for All the Food You Want to Eat , $15, Amazon
One of the best ways to practice self-love is to nurture your body, but it's hard when so much food is filled with hidden additives, preservatives, and unhealthy ingredients. That's why home cooking is one of my own personal therapies, and this best-selling cookbook breaks down all the meals you've always wanted to cook. One fan of the book said, "I bought the book yesterday and immediately made something out of it for dinner last night. It was so delushious (haha) and even two ten year old boys were fans."
Bustle may receive a portion of sales from products purchased from this article, which was created independently from Bustle's editorial and sales departments.
Images: Fotolia (1); Amazon (12)