Inspiring Makeup Storage Before & After Photos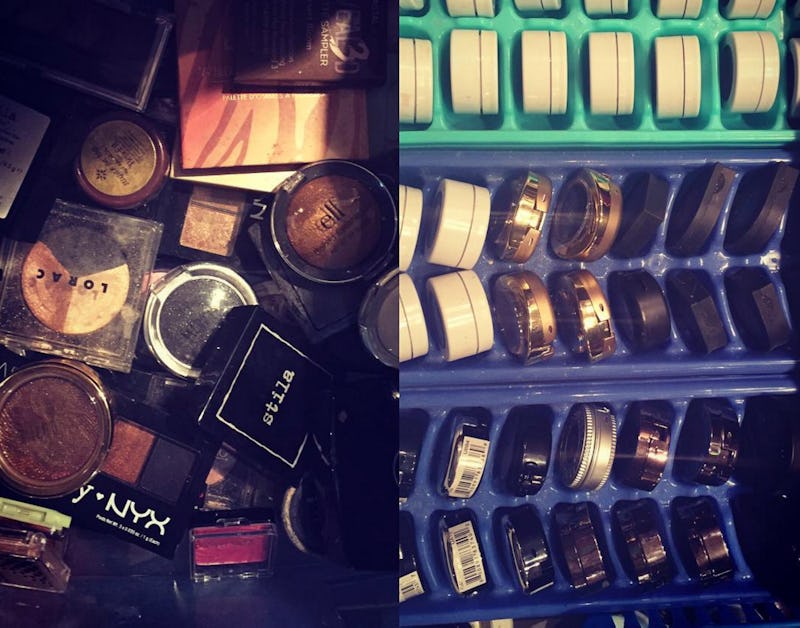 Whether your makeup collection is outgrowing your storage space, or you just want to streamline how your store your prized possessions, it never hurts to get organized. But sometimes getting started is the hardest part. Which is why some good ol' before and after makeup organization photos can help with inspiration. Once you can truly see what a difference it makes to put all of your makeup in its place, the process can actually be pretty fun. (And is there anything better than a totally Instagram-worthy makeup collection??)
Personally, I'm a palette fiend. I love having all of my options condensed and laid out in front of me. So when it comes to products that come in compacts, and can seem small at first but eventually take up way too much room (looking at you, single eyeshadows), I'll depot. Not only is it a space-saver, but it's a satisfying process as well. Regardless of whether you decide to depot though, there are still tons of cool options for how to store your makeup. Interested in seeing how some other beauty junkies organize their stashes? Here are 13 before and after photos that will have you wanting to reorganize ASAP.
1. Use Acrylic Compartments
Taller acrylic compartments are perfect for organizing products like lip glosses, liners, and mascara.
2. Rearrange It
Even just switching up where you keep different organizers can be a game-changer.
3. Declutter It
If you already have the storage you need, don't forget to refresh and reset once in a while.
4. Use Acrylic Dividers
Smaller dividers like this are perfect for getting compacts in order.
5. Depot Powders
But if you don't want to deal with all of those singles, pop them out into a customizable palette. The Z Palette is one of makeup junkies' most popular picks.
6. Depot Palettes
Even your palettes can be consolidated.
7. Use Cookie Trays
Get innovative. I'll always accept another excuse to eat more cookies.
8. Depot Concealer
Five-gram jars can be easier to organize than tubes, and they're perfect for holding liquid or cream products like concealer.
9. Box It Up
A good label-maker will be your best friend.
10. Depot Lipstick
Besides just being gorgeous to look at, a lipstick palette will give you back so much more storage room.
11. Depot Cream Eyeshadows
Those wells are also perfect for cream eyeshadows and liners.
12. Clear It Up
Having the right organizers for your personal needs can open up so much more vanity space.
13. Use Ice Cube Trays
And using ice-cube trays to house single eyeshadows? So brilliant.
Want more beauty tips? Check out the videos below and subscribe to Bustle on YouTube!
Image: @bmoreamyclark/Instagram