15 Makeup Organizers To Fill Your Aesthetic Needs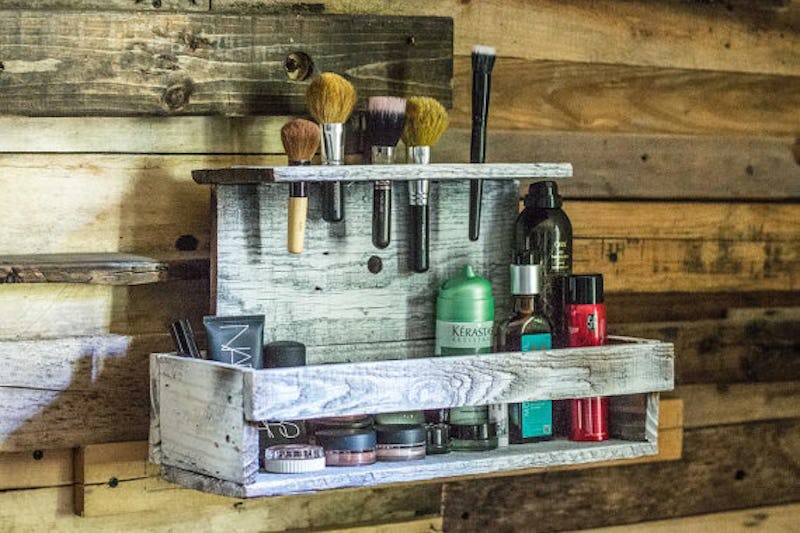 I'll admit it: Most of my makeup is stored in a box. The rest is in my makeup bag, and my brushes occasionally make their way back to a cup I've designated for them. I appreciate the art of makeup organization, but I've never found a pretty makeup organizer that's made me want to bother with it. This is perhaps because I'd have to own up to still owning a lot of makeup from Claire's if I were ever to display my beauty products. I also never understood the need of having all your lipsticks lined up in a grid of plastic — until compiling this list, that is.
As the messiest Virgo who's ever existed, it's probably in my best interest to invest in one of these aesthetically-pleasing makeup organizers. Although I find the clear plastic ones boring and held onto that excuse at any opportunity, I am now void of any reason for not having perfectly organized (and clean) makeup. Plus, think about how cute it's all going to look on my Instagram.
Personally, I'm sold. Makeup has been an obsession of mine for years, and now I'm well on my way to adding makeup organization to my multifaceted list of reasons for loving the beauty industry. Take my money, makeup organizer creators, because these products are too cute not to own.
1. Vintage Drawers
Cash Box Vintage Drawer Makeup Organizer, $59, etsy.com/homebytake
A cute little chest of drawers is the perfect way to organize your makeup without needing to have it all on show. This vintage-style makeup organizer is perfect for hiding any makeup brands that aren't exactly Instagram-worthy.
2. Blinged Out
Blue Crystal Makeup Organizer, $50, etsy.com/lovewhimsyart
On the other end of the spectrum comes this blue crystal makeup organizer, which is a hell of a lot more showgirl and perfect for the glamorous queens among us.
3. Storage Bag
Colorful Storage Bag, $20, etsy.com/modernest
This cute cotton makeup organizer is way more portable and a softer, simpler way to go about organizing makeup.
4. Tray Organizer
Makeup Organizer Single Tray, $10, etsy.com/vaner2d2
The aim of the game for makeup organizers isn't just organization, but showing off all your makeup. What's better than a simple tray? Especially one as gorgeous as this Etsy find.
5. Wall Mounted
Wall Mounted Makeup Organizer, $249, etsy.com/bleachla
If this wasn't out of my price range and I didn't live in a rented apartment, I'd definitely purchase it in a heartbeat. It's just so beautifully chic.
6. Rotating Makeup Organizer
Rotating Makeup Organizer, $44, etsy.com/shimmersandsparkles
It rotates. What more could you want?
7. iMakeup Station
iMakeup Station, $74.95, etsy.com/masterworks888
This is so you can Snapchat, watch tutorials, and find your makeup brushes all in one place. It's actually perfect for those whose makeup takes an hour to apply (guilty!). This way, you can fit in at least one Law & Order episode during the process.
8. Rustic Makeup Organizer
Rustic Makeup Organizer, $95, etsy.com/joyallendesigns
Those beautiful wood tones will look perfect in any shabby chic-themed bedroom.
9. Vintage Vibes
Makeup Organizer, $67.75, etsy.com/ultroviolet
This ornate makeup organizer is too beautiful not to purchase, even if you don't own any makeup.
10. Satin & Lace
Purple Satin Makeup Holder, $15, etsy.com/vintagestboutique
Here's another glamorous number that would look absolutely stunning hanging from your wall.
11. Pine Makeup Organizer
Pine Makeup Organizer, $59, etsy.com/woodrestart
I especially love the little box compartment where you can hide all your beauty secrets.
12. 1970s Makeup Case
1970's Makeup Case, $260, etsy.com/giftistanbul
Treat yourself to an actual vintage solution for storing your makeup in style. Plus, nobody else will be able to cop your unique makeup organizing solution.
13. Magnetic Makeup Organizer
Magnetic Makeup Organizer, $108, etsy.com/crafterscalendar
Magnets will ensure that your pallets stay in place via this super chic organizer.
14. Wooden Rustic
Rustic Wooden Makeup Organizer, $39.99, etsy.com/littlewoodcreations
This organizer takes "rustic" a whole new step forward.
15. Leopard Print Organizer
Leopard Print Makeup Display, $75, etsy.com/alexanderwoodworx1
What's more glamorous than leopard print? Nothing, that's what. This one's a perfect addition to any proudly tacky girl's makeup organization.
These organizers are all totally unique and can be used to perfectly organize and display your makeup. No matter the theme of your bedroom, life, or beauty, one of these will be perfect for you.
Want more beauty tips? Check out the playlist below, and be sure to subscribe to Bustle's YouTube page for more hacks and tricks!
Images: Courtesy Brands