'Vinyl' Is "A Dream Come True" For Jack Quaid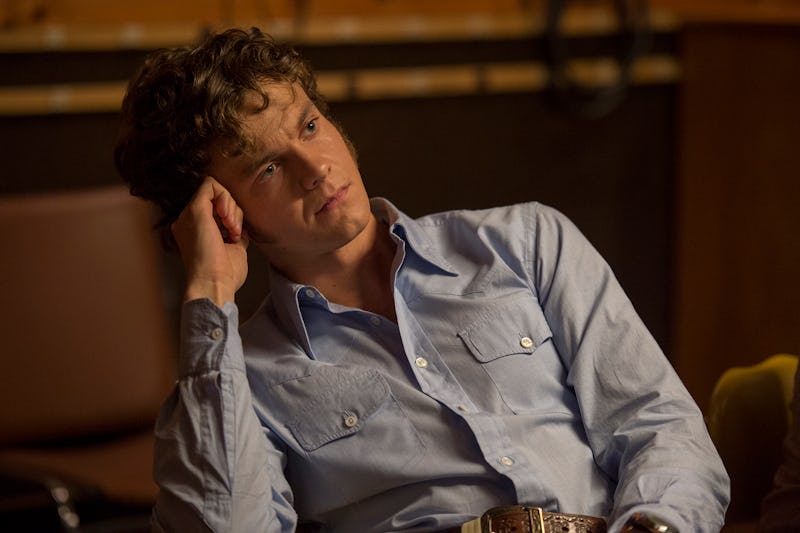 Jack Quaid is a self-admitted fan of classic rock, choosing the genre over the "boy bands" that he was unduly subjected to as a product of being born in 1992. As a fellow '90s kid, I can ascertain that many of our first concerts were groups like Nsync, The Backstreet Boys, or DreamStreet, if we were less lucky. Quaid, however, tells Bustle that his introduction to live music was a bit different. "One of the first concerts I went to was the Rolling Stones," he says. "My dad [actor Dennis Quaid] caught wind of all their hits at some bar." It's very fitting, since currently, Jack Quaid stars on HBO's Vinyl, which is produced by Mick Jagger himself. Quaid notes that he's not sure how he got into the bar for that first concert at such a young age, but is glad that he did, because he got to witness one of the greatest bands in history in such an intimate space. What he never could have seen coming all those years ago was someday working with Jagger in an even more personal setting.
"This whole thing has been a dream come true," Quaid says about his experience on the show, set in 1970s New York City. As the geeky junior A&R representative Clark Morelle, Quaid provides a foil for some of the show's more outrageous characters, including Kip Stevens, played by James Jagger (son of Mick), who Quaid says is "the nicest possible guy."
His co-star's father, the same famed rock legend that gave Quaid one of his first concert experiences, is also the show's executive producer, and Quaid observes that the elder Jagger is "very hands-on." According to the actor, Mick Jagger spends some time on the set, and when he's not doing that, he is "supervising the script, he's supervising the music… he's just on top of it."
Quaid also had a unique experience with the show's other executive producer, acclaimed director and legend in his own right, Martin Scorsese. The 23-year-old used to attend film school at NYU, before leaving to focus on his busy acting career and "give it a shot." The scheduled speaker for his would-be graduation ceremony? Martin Scorsese. "I ended up working with him that summer," Jack says, noting the fortunate irony. "There is a reason that [Scorsese] is one of the best guys out there," Quaid continues, citing Scorsese's "encyclopedic knowledge of film," and calling him an "actor's director." "He has a wonderful way of talking to actors that really brings [you] up," the actor says.
With such juggernauts behind the scenes of the series, it's no surprise that Vinyl has proven to be a megahit. If you need a meter for success, try the fact that it was picked up for a second season after just one episode, and Quaid assures fans that the HBO series is just getting started. In fact, he says that one scene in the finale not only was "the craziest day on set," but filming it "just changed [his] life." If that alone doesn't get you excited for the season finale already, watching the rest of Vinyl every Sunday at 9 p.m. on HBO should be more than enough.
Images: Macall B. Polay/HBO (2)