9 Alternatives For Manny MUA's New Palette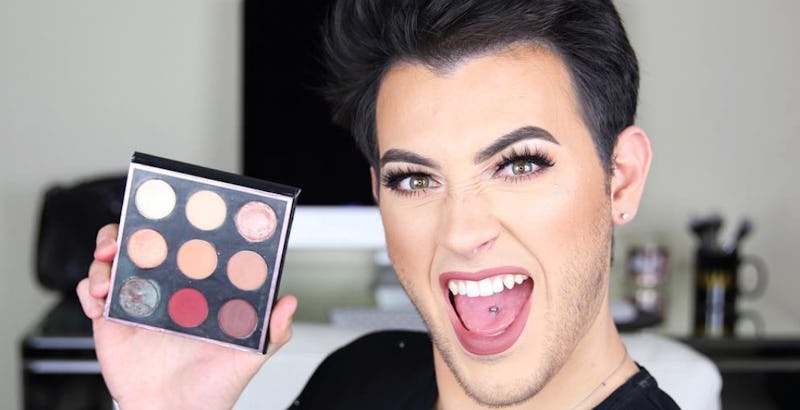 Another launch had come and gone before we could even load up our online shopping carts. If you love YouTube beauty vloggers and collaborations, this one stings a bit. So here are my favorite alternatives for the Manny MUA x Makeup Geek palette, because it's totally sold out.
Manny MUA is a makeup artist and YouTube vlogger, known for his hilarious videos and glam style. He's worked with companies like Gerard Cosmetics, Benefit, and now Makeup Geek. He teamed up with MG to create an eyeshadow palette. The palette features nine shadows. Five are custom colors created by Manny and the other four are original MG creations. Two are foiled shadows, while the rest range from full matte to frosty shimmers.
Within twenty minutes of the palette's launch, it sold out. It actually crashed MG's site for a few hours, which just goes to show how obsessed fans and followers are with this palette. It's a warm-toned collection of colors with a lot of orange, red, and browns. Only one cool-toned brown shows up in the palette, so this is definitely for all the warm-toned girls (and guys) out there.
How pretty is it? It's so good.
If you missed out on the palette, here are my favorite alternatives to shop (until it's restocked!).
1. Artemis Alternative: Glisten by Morphe
Glisten, $2.99, morphebrushes.com
This shimmery nude with a peach undertone is perfect for an inner eye highlight.
2. Beaches & Cream Alternative: Bella Sand by Milani
Milani Bella Eyes Gel Powder Eyeshadow in Bella Sand, $3.99, drugstore.com
This is my favorite line of drugstore eyeshadows. Creamy, bendable colors and an unbeatable price make them the perfect dupe.
3. Sora Alternative: Warm Brown by NYX
Warm Brown by NYX, $4.50, nyxcosmetics.com
Oranges make the eyes pop, and elevate the colors in other shadows. Don't be afraid to swipe this in your crease after your transition shade.
4. Frappe Alternative: Birkin by Anastasia Beverly Hills
Firkin by Anastasia Beverly Hills, $12.00, anastasiabeverlyhills.com
A medium-toned, matte brown is perfect as a transition shade.
5. Cosmopolitan Alternative: Glitz Factor by Buxom
Glitz Factor by Buxom, $12.00, sephora.com
I love this shimmering, feminine pink that is perfect for springtime.
6. Luna Alternative: Amber Rush by L'Oreal
L'areal Paris Infallibile Eyeshadow in Amber Rush, $5.96, drugstore.com
Luna is Cosmopolitans toned down, cooler little sister.
7. Mars Alternative: Sienna by Anastasia Beverly Hills
Sienna by Anastasia Beverly Hills, $12.00, anastasiabeverlyhills.com
An earthy, matte red looks intimidating in the pan but beautiful in person. Keep this color low on your lid to keep it from looking like pink eye!
8. Aphrodite Dupe: Black Honey by Clinique
Black Honey by Clinique, $16.00, clinique.com
Instead of a harsh brown, opt for a deep matte brown for your next smokey eye.
9. Insomnia Alternative: Loaded by Urban Decay
Loaded by Urban Decay, $19.00, urbandecay.com
It's hard to match MG's duo chrome shadows, but you can get pretty close with this high shine, rich pigment eyeshadow.
Image: MannyMua/YouTube; Courtesy of Brands