'black-ish' Expertly Tackles "Black Lives Matter"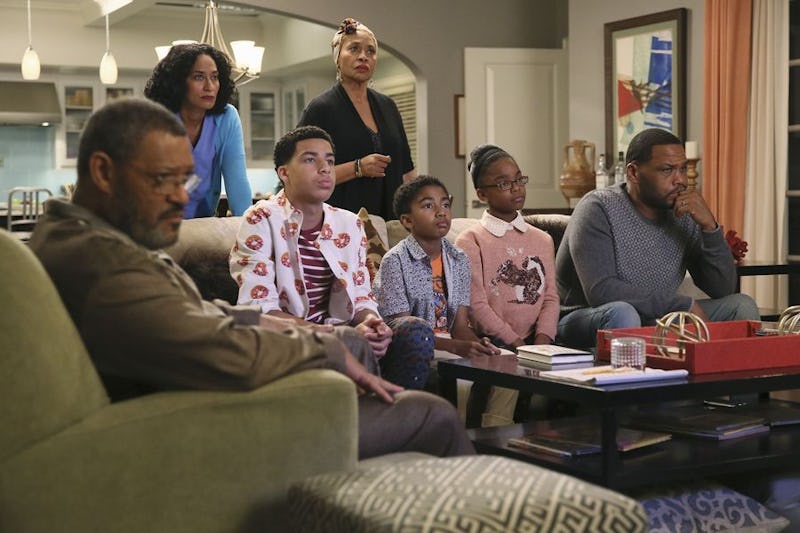 It was only a matter of time before the harsher reality of black American life came up on black-ish, which has made its second season a standout with premises that feel emotionally true enough to be ripped from real life. And, even when tackling a subject as loaded as Black Lives Matter and police brutality, black-ish managed to work in a thoughtful examination of what black families go through when they have to educate their children about systemic racism. It was a bit more serious than any other episode of black-ish, but well worth attention.
The episode opened with an innocent question from its most innocent character, Jack, asking, "Why are these people so mad?" while watching Black Lives Matter protests in the wake of a fictional black teen being killed by police. And, things immediately got complicated from there. Dre and his parents were cynical, believing things would never change, while Junior looked for the nuance in the situation through statistics and research. Bow, however, was trying desperately to find the silver lining in the justice system. She wanted to keep the twins innocent for as long as she could — but, as this episode showed, even young black children need to be aware of racism, because many wind up killed at the hands of police.
The episode name-dropped several real journalists who have fought for diversity and make racial issues a priority in their coverage like The Atlantic correspondent Ta-Nehisi Coates and CNN anchor Don Lemon. There were also references to many real deaths that have happened over the last year from Freddie Gray to Tamir Rice. The episode even called out one of the most inexplicable things of 2015: The Marv Albert scene in Trainwreck.
Speaking of which, I'm glad that there was room for jokes in this episode. Handling topics like politics or police brutality is serious, but even serious conversations can have funny aspects. Some of the best lines included: "Why must you always advocate for the devil? He does not need help with his legal team!" and "I wasn't worried about thugs — I married one."
I wish Bow didn't have to be the "#notallcops" punching bag, but I can't deny that even though she made a great clown, when Tracee Ellis Ross played Bow's emotional journey, it came across as very real. In the end, it was watching how each member of the family found the way they're able to cope with racism and maintain hope for the future that resonated — and prompted lots of emotional fan reactions on Twitter.
And, yes, it got a bit sentimental for the ending of a sitcom episode, but that final "hope" montage landed hard — this is black-ish's most successful foray into social commentary yet.
Image: Patrick Wymore/ABC