Watch Christian Bale Look For Love In A New Movie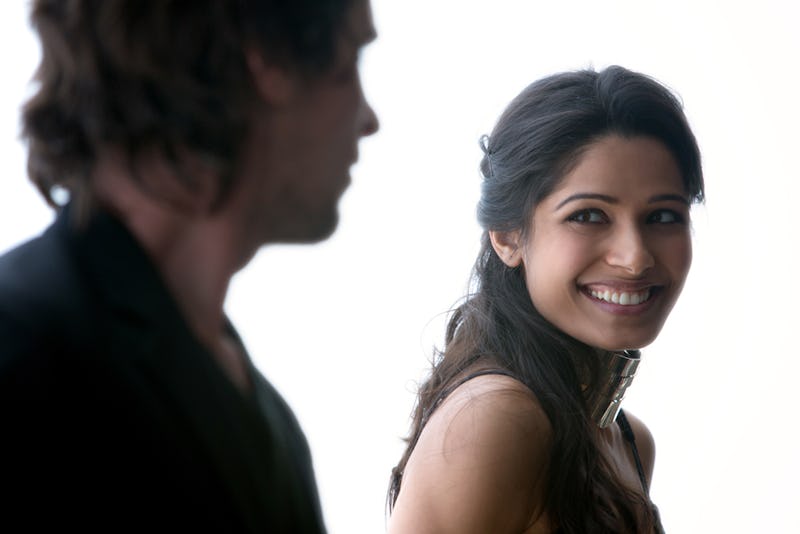 Terrence Malick, the director of The Tree of Life and The New World, is getting ready to release Knight of Cups, his first new film since 2012's little seen To the Wonder. With Knight of Cups, Malick, known for his sweeping dramas and impressionistic and surrealist style, turns his lens to Rick, a Los Angeles writer, who has lost touch with who he is and his relationships with others. The movie, out Mar. 4, focuses on Rick's romantic adventures with six women, all in Malick's signature dreamy tone. But, for many, the main appeal of the film isn't the plot, or even the director; it's the cast. Knight of Cups stars Christian Bale as Rick, and his string of lovers, both past and present, include Cate Blanchett, Natalie Portman, Freida Pinto, Teresa Palmer, Imogen Poots and Isabel Lucas.
Famous for refusing to conform to traditional Hollywood norms, Malick keeps his new film in the same un-Hollywood-like vein as his prior works. Time, for example, is often not made clear in his films — at certain points it seems to stretch, at others contract. Malick's films also tend to have a sort of otherworldly quality to them, with snippets of dialogue distorting traditional sense of time and space on film, as seen in this exclusive Knight of Cupsclip below. Film lovers will recognize the work of Malick's frequent collaborator, the Oscar-winning cinematographer Emmanuel Lubezki, in the video, which shows Rick, presumably reflecting on one of his past lovers, model Helen, played by Pinto. Standing in a sparse apartment, Rick looks on as Helen moves carefully and beautifully around him. "Is this a friendship we have?" she asks. "I don't want to wreak havoc in men's lives."
The clip doesn't give much away from the film, but it does put Malick's unique directing style on display. This is a director, after all, who Bale claims refused to give him a copy of the script, preferring instead to drop the actor into scenes and let him fend for himself. "I didn't know where we were half the time," Bale said in an interview with Evening Standard. "Everyone else always got more material than I did. Terry called it 'torpedoing.'" Looking at the clip of Pinto and Bale, it's not hard to imagine Bale being dropped into the scene — or, as he told Evening Standard, how he thought co-star Teresa Palmer was really a stripper while on set.
Knight of Cups is described in its official synopsis as an "odyssey," through which Rick attempts to "wake up to the beauty, humanity and rhythms of life around him." It appears that by putting Bale in a similar state of unawareness, Malick might perhaps have made his newest masterpiece.
Images: Broad Green Pictures