11 Unexpected Things You Should Just Always Have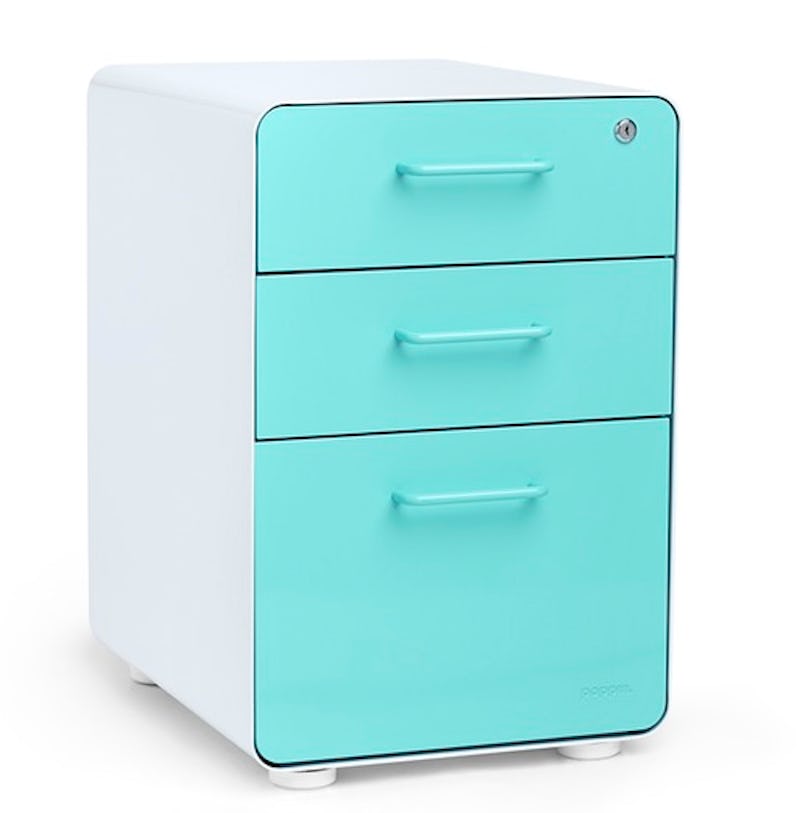 There are certain things we know we should have in our homes — like fire extinguishers, a CO2 detector, and toilet paper. But there are a few things every home should have that aren't necessarily obvious or life-saving; they're just incredibly handy to have around, and you might not think of them until you actually need them... which is the most annoying thing ever.
I knew I had passed into relative adulthood when I realized my apartment was full of little extras — not those things that can exactly be considered necessities, but rather non-obvious odds and ends that made my life way easier day-to-day. They were things that I never would have even thought of buying when I was 22-years-old and sometimes (only sometimes) using two hand towels in place of one regular one.
If you're ready to make the transition from starter-apartment to real home, or just aren't sure where to start when it comes to certain home basics, here are 11 unexpected items every home should have.
1. A Hot Glue Gun
High Temp Mini Glue Gun, $3.67, OfficeSupply.com
OK, some of you might have never even used a hot glue gun, let alone think you need one. However, I can assure you they are incredibly easy to use, and once you have one on hand you'll wonder how you ever lived without it. I use mine for Halloween costumes, quick fabric touch ups, and the occasional DIY project. It's also helped me repair small random household objects that I would have otherwise thrown away – like my favorite decorative dish.
2. A Quality Vacuum
Hoover Windtunnel Max, $127.41, Walmart.com
This tip from an Apartment Therapy compilation piece on necessary household items couldn't be more true. As someone who spent the first year out of college trying to clean everything with a dust buster, I can tell you from first hand experience that a high quality vacuum with attachments for different uses and surfaces is one of the best investments you can make for your home. I highly recommend investing in a model that doesn't require a bag, since it'll be one less thing to worry about replacing.
3. A Power Drill
Pink Power Cordless Drill, $69.99, Ebay.com
Much like a hot glue gun, a drill might be something you've never owned before, or even find kind of intimidating. I personally used to forgo all kinds of DIY projects or install things haphazardly because I didn't own a drill and also thought they were somehow beyond my skill level. It turns out they're actually incredibly easy to use, and also will open up an entire world of things you'll be able to do in terms of home maintenance.
4. A Non-Battery Operated Flash Light
Energizer Plastic Handheld Flashlight, $35.63, Mscdirect.com
This is a tip from my mom that has served me well on several occasions (I once lived through almost a week without power after Hurricane Sandy). Battery-powered flashlights are all well and good, but it can also be super helpful to have a non-battery powered, wind-up one on hand as well. That way if you forgot to buy spare batteries you'll always have an emergency light in a pinch — and light is definitely one of those things you don't want to find yourself without.
5. Scented Candles
Honeydew Melon Large Candle, $27.99, Yankeecandle.com
In a piece for Elle Decor, designer Grant K. Gibson recommended always having a scented candle on hand. "A beautiful candle adds scent and personality to a room, " he said. Plus, I just always find it's the perfect extra touch after a big house clean or when I'm having company over.
6. A Humidifier
Broksonic Hybrid Ultrasonic Humidifier & Diffuser, $149.50, Frontgate.com
According to Healthline.com, humidifiers help with everything from dry skin, to painful sinuses, to irritated vocal cords — especially in winter when the air can be extremely dry. Keeping a humidifier on hand for when the weather gets cold is seriously a game changer and will again leave you wondering how you went so long without one.
7. Microfiber Cloths
16x16 Microfiber Cleaning Cloth, $149, Webrestaurantstore.com
A Real Simple household compilation piece recommended purchasing microfiber cloths instead of regular dishtowels or cleaning rags, as they are super absorbent and make cleaning up spills so much easier. I also personally love having one on hand to help dry my hair after a shower — I've found they cut air drying time by about half.
8. Rubber Gloves
Large Multi-Use Yellow Rubber Globes, $0.89, Webrestaurantstore.com
That same Real Simple piece also recommended always having rubber gloves for cleaning on hand. They're the kind of thing that you'll use all the time once you have them, and you'll probably find that your skin gets way less dry while washing dishes.
9. A Filing Cabinet
White + Aqua Stow 3-Drawer File Cabinet, $229, Poppin.com
I know — filing cabinets seem like the most boring thing in the entire universe, and certainly not something you want in your house. However, keeping your important documents, like bank statements, prescriptions, and lease info in one centralized and organized place can save you a TON of time and anxiety in the long run. In fact, organization expert and founder of the site Simplify 101 Aby Garvey said that a filing cabinet is absolutely a must for an organized home.
10. A Super Comfy Blanket
Chunky Knit Blanket, $41.86, Etsy.com
Gibson also recommended having a super comfortable and high quality blanket or throw, as they'll add a finishing touch to a room, as well as dress us a less expensive sofa. Also, a good cuddle blanket for reading and watching TV is just one of life's greatest pleasures!
11. A Portable Speaker
Trusound Wireless Bluetooth Speaker, $59.99, Truesoundaudio.com
Some of you may already have a portable speaker and are thinking this is old news, but if you don't already have one, do yourself a giant favor and get one now! They make such a difference for parties and even small get togethers, and also mean that you aren't tied to your laptop when listening to music and podcasts at home. Not to mention there are some incredibly cost-effective and aesthetically-pleasing options out on the market now.
If you spend time cursing the heavens when you don't have a household basic — or worse yet — actively forgo doing little projects or DIY efforts simply because you don't own a few necessities, consider investing in some or all of the above. I promise you won't regret it.