5 Ways To Celebrate Leap Year Birthdays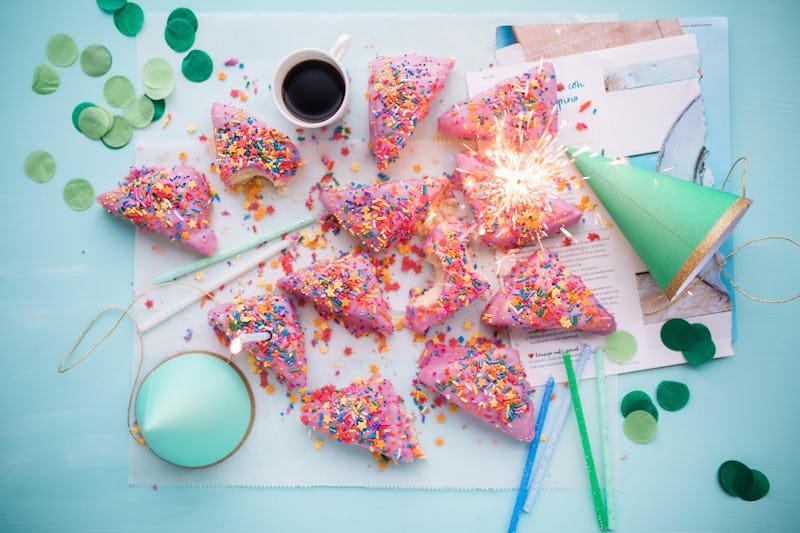 I wasn't born on Feb. 29, but as a person whose birthday routinely fell smack dab in the middle of final exams all four years of college, I know what it's like to have one's birthday feel a bit like the Olympic torch — it gets lit once every four years, and people are so busy that nobody really cares all that much. So how does one make a Leap Year birthday really special? I've got some fun Leap Year birthday ideas for leaplings of all ages, and some special ones for those celebrating birthdays six and up.
Quadrennial birthdays call for an extra layer of celebration. Leaplings, after all, were born on the day that quite literally keeps our calendar in sync with the Earth's journey around the sun. The day was first instituted by Julius Caesar and his squad of astronomers back in the first century BC when they noticed that the Roman calendar just wasn't hitting the mark when it came to tracking one trip around the ol' celestial lightbulb. To prevent the seasons, festivals, and important dates from slipping out of their normal routine, team Caesar decided to occasionally add an extra day to the final month of the year — that would be February, for our Roman scholars out there.
Rapper Ja Rule may currently be the most famous celebrity born on the Brigadoon of birthdays. Next Monday, he will celebrate his 10th such Leap Day. The rapper recently mused on Twitter about his standing among other celebrities born on Feb. 29.
Here are some ideas worthy of a bash that only happens once every four years.
1. Rent a bounce house
Interpret Leap Day super literally and leap til you can't leap no more with the most fun inflatable party guest in all the land. Bounce houses are fun for all ages. Invite your grownup friends to a bounce house party, and wait for the ecstatic reactions to roll in. Then, be sure to Instagram your best jumps.
2. Embrace your Olympic proximity
Celebrate your birthday like the champion you are by having a field day, sort of like the ones you anxiously awaited in grade school. Set up your traditional potato sack race, egg on a spoon run, and ring toss, or for older leaplings, play beer pong and cornhole. Get a few gold medal party favors and awards for the best yard game athletes at your party.
3. Make four year-aged tequila margaritas
With a little research, you can find some brilliant aged tequilas that have been waiting patiently for the last four years to be turned into stellar birthday party margaritas. Or maybe grab a case of Blue Moon, as your birthday happens about once every two blue moons, lunarly speaking.
4. Get a free meal at the Hard Rock Cafe
The Hard Rock Cafe is celebrating the 200,000 or so Leap Day babies in the USA by giving out a free entrée to anyone with a valid photo ID to prove that he or she is a part of club leapling. Swing by for a burger and fries, if you've got a Hard Rock Cafe near you!
5. Watch four seasons of a favorite show at the Four Seasons
This is the pinnacle of Treat Yourself. Book yourself a room at the Four Seasons in your favorite city, and spend your downtime ordering room service and watching four seasons of your favorite TV show.
The happiest of birthdays to all of you leaplings out there!