Things You Should Just Always Have In Your Bag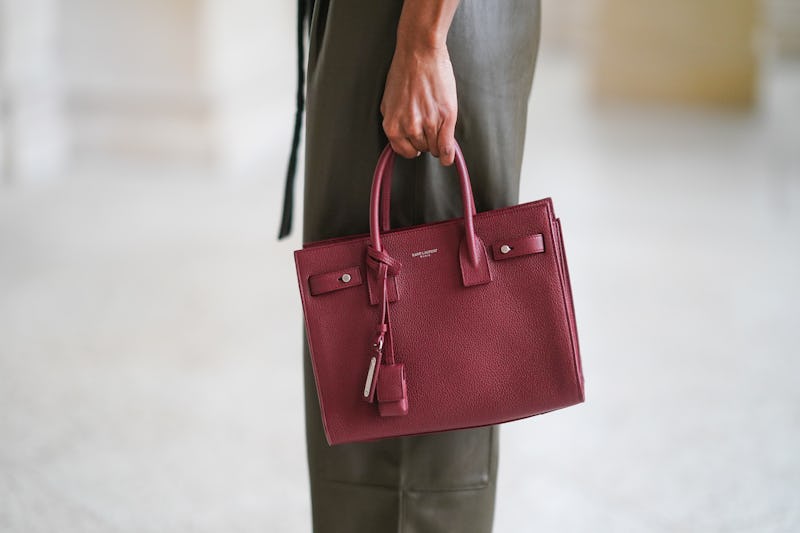 Edward Berthelot/Getty Images Entertainment/Getty Images
For some of us, our purses are our lifelines. They contain important odds and ends and help get us through the day (and sometimes night). In fact, I think there are a few items every woman should have in her purse to ensure maximum preparedness for whatever life hurls in her direction.
And I know there's some people out there who roll their eyes at the image of the woman with her catch-all hand bag. But when faced with these types I always just think, "What's so wrong with being prepared?" I don't haul certain items around because I'm vain or irrational — I've just been caught enough times in life not having something I needed and know I don't like the feeling.
Not to mention, my purse has come to the rescue of many a person in need on countless occasions. I've lent out moisturizer, hand sanitizer, and once even an iron pill (it's a long story). Point being, a lot of times people who don't come prepared benefit from us purse-lovers' preparedness, so they really shouldn't throw stones.
If you're a person like myself who likes to feel as though you have a little disaster-kit over your shoulder at all times, here are the 13 things I think everyone benefits from carrying.
1. Tide Stick
Tide To Go Stick (Pack of 3), $10.15, Amazon
If you're like me and are spill-prone, then a Tide stick will definitely come in handy. Not to mention you'll probably be someone else's savior on more than one occasion.
2. A Pen
Cool Trendz Fine Tip Gel Pen (24 pack), $45, Amazon
Everybody inevitably needs a pen. It's just one of those things. It will serve you especially well in places like banks and post offices, where there's just never enough of them to go around.
3. Tampons
Super Discrete Bag From Blue Q, $8, Amazon
This one is pretty self-explanatory, but if you don't already have a couple in your purse, do yourself the biggest favor ever and toss in a few now. Because they just aren't the kind of thing you want to realize you don't have when you need them.
4. Deodorant
Secret Deodorant in Powder Fresh, $3, Amazon
OK, no one likes feeling like they need deodorant and not actually having any. No one. Keeping a little travel-sized stick in your purse will save the day for you on countless occasions, and help you feel fresh those times you don't have time to go home and spent two hours getting ready.
5. Gum
Much like deodorant, sometimes we're in need of a breath refresher but we don't actually have the ability to brush our teeth. Not to mention, studies have shown that chewing gum can help decrease anxiety, so it's great item to have on hand.
Try: PUR Aspartame Free Gum in Spearmint, $5.25, Amazon
6. A Phone Charger
Realizing your phone is at 14 percent when it's only 4pm isn't technically an emergency, but it can really, really feel that way. Especially if we need to get in touch with friends or family later in the day, or even if we were just really looking forward to listening to that podcast on the subway ride home. So if you're purse is already cavernous, you may as well use some of that space for a super handy phone charger.
Try: Anker PowerCore+ Mini Portable Charger, $9.99, Amazon
7. Chapstick
Chapstick Total Hydration, $9.49, Amazon
Chapped lips not only feel terrible, but they can make you super self-conscious, especially if you're at work or have to deal with new people. Keep some lip moisture handy to make sure you're never held back by this super unnecessary annoyance.
8. Red Lipstick
I personally like keeping an inexpensive bold red lipstick in my purse at all times, since it's perfect for those times when I end up going out unexpectedly. And the reason I like red specifically is because it can look as subtle or as bold as I want depending on how much I apply, and can also double as blush in a pinch.
Try: L'Oreal Colour Riche Lipstick in British Red, $5.99, Amazon
9. Blotting Paper
Clean & Clear Oil Absorbing Sheets, $6.88, Amazon
Some people would probably say hand moisturizer makes their "must-have" list, but because I personally run on the oily-complexion side, I'd have to say face blotting paper is way more important. Not only does it help make you look fresher after a long day, but it will definitely help make your feel more confident if you suffer from oily skin.
10. Sunglasses
Nothing is more uncomfortable than being caught without sunglasses on a super sunny day, so it's a good idea to always have a cheap down and dirty pair on hand just incase. And you'll probably want to throw in some sunscreen while you're at it.
Try: Tom Ford Miranda Sunglasses, $199, Amazon
11. Tissues
Tissues are another one of those things that you just don't want to realize you don't have when you need them. Plus, they can often be used to blot your lipstick or for a variety of little unexpected purposes.
Try: Kleenex Pocket Packs Tissues, $5.68, Amazon
12. A Comb
The Wet Brush, $8.98, Amazon
As I've written before, studies show that feeling good about your hair actively affects your self-confidence, meaning being able to quickly run a brush through it before a big interview or important event can really make us feel better. It's why I always like to have a little collapsible brush around.
13. Concealer
L.A. Pro Concealer, $5, Amazon
Feeling self-conscious about a zit or under eye circles can be such a buzzkill, which is why it's always nice to have concealer for those mini-emergency situations. It's especially helpful for those times when you didn't anticipate having to go out after work, or for when you get one of those inevitable out of nowhere pimples.
There's no shame in being prepared, or in knowing yourself well enough to know what you need to feel comfortable throughout the day. And if you're looking to create the perfect purse situation, tossing in all or some the above items will get you well on your way.
Images: Courtesy Brands; Giphy (5); Edward Berthelot/Getty Images Entertainment/Getty Images