7 Things To Know About Seeing Your First Gray Hair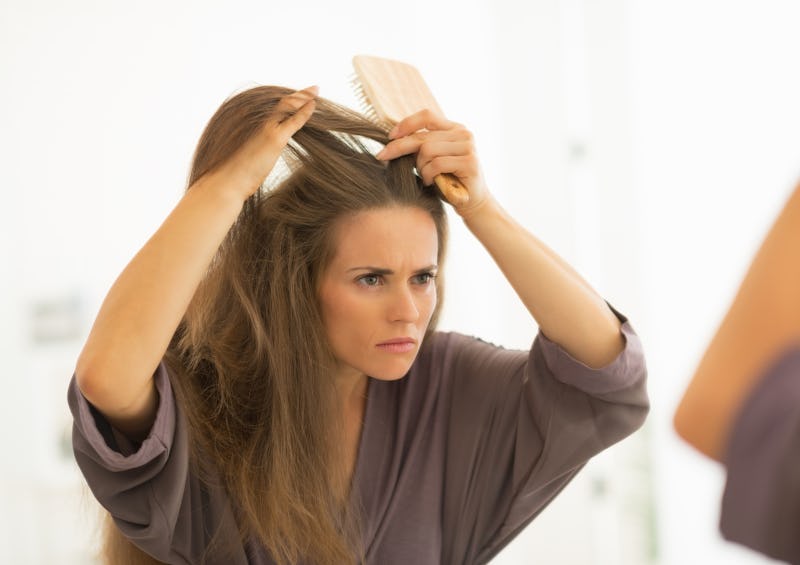 I found my first gray hair at the ripe age of 21: the year that is supposed to be within the prime of your life. This was before I learned what you should know when you spot your first gray hair, so naturally, I misguidedly stared into the mirror in absolute horror. I instantly tracked it down and plucked it out (mistake No. 1) and proceeded to wallow in self-pity (mistake No. 2 — and also very dramatic), as I faced an imminent premature graying in my near future. The truth is, gray hair isn't a big deal at all, and it's totally fine to embrace it. If you'd rather live free from grays right now, though, there are some things you should know.
First of all, try not to worry too much. Gray hairs can be caused by many different factors, including your genetics, the normal aging process, a lack of important nutrients, or stress, and they're a totally natural occurrence. If you want to be put at ease (and maintain your current hair color), read on to find out which products you can use to touch up gray areas, which practices to avoid, and how to prevent more grays from popping up.
Here's what you need to know:
Instead Of Plucking Your Grays, Feed Your Follicles With A Copper Complex Serum
Tricomin Solution Follicle Therapy Spray , $38, Amazon
Don't believe the old wives' tale: Plucking gray hairs won't make them multiply. But, this doesn't mean you should go on a wild hunt for silver strands. Already guilty of plucking? This follicle-repairing therapy with amino acids and minerals will treat damaged areas and reconstruct your strands' outer layer to prevent hair loss. Pulling out unwanted hairs can easily harm your follicle and cause bald patches. Use this product daily on towel-dried hair for the best results.
Focus On Getting Stronger, More Vibrant Hair With A Natural Solution...
Coconut Oil Hair Mask , $13, Amazon
Save yourself time from mixing it yourself, and apply the already-made coconut oil hair treatment. This coconut oil hair mask also has Vitamin E, Shea Butter, and Argon Oil and will hydrate any hair type — kicking gray hairs out of your mane and helping your strands to grow in strong and healthy. It's perfect for anyone who has dry or damaged hair that has been resulting in a few coarse gray locks.
...Or Make Your Coconut Oil Treatment To Prevent Unwanted Hair Hues
Natures Bounty Optimal Solutions Coconut Oil, $8, Amazon
Coconut oil is popular in India as a natural, nourishing beauty product. It's said that massaging organic coconut oil in your hair for 15 minutes each day can prevent grays; at the least, it'll keep your hair from drying out. The organic coconut oil is intensely moisturizing and will help keep your hair soft and vibrant. One user said she replaced her conditioner with this oil and immediately noticed clean and shiny locks that didn't feel weighed down. Cook this organic coconut oil at high temperatures to make an effective hot oil treatment, too!
Fortify Your Hair With A Biotin Supplement
Biotin S oftgels (120 Capsules) $15, Amazon
This No. 1, best-selling biotin supplement won't reverse grays, but it's been said to improve your keratin infrastructure, which affects your hair, skin, and nails. This highly potent biotin supplement is formulated with coconut oil and could help support your hair's overall health and growth.
Add Volume (And Amino Acids) To Help Camouflage Your Grays
Phytovolume Actif Volumizing Spray , $30, Amazon
Good old-fashioned volume can be all you need to let your grays blend into the background. This heat-activated volumizer uses wheat protein and amino acids to lift hair up at the root for more texture, more body, and more vibrantly colored hair that's not stiff or dry later on in the day.
For Instant Relief, You Can Use A Flake-Free, Root Touch-Up Spray...
Gray Away Root Concealer - Black To Deep Medium Brown , $12, Amazon
If you need a quick instant fix, spray this temporary touch-up that won't flake on your roots. It matches your exact color, washes out with each shampoo session, and contains no dyes — solving all of your current hair woes.
...Or Use A Double-Duty Dry Shampoo & Root Touch-Up
Rootflage Medium Golden Brown Temporary Root Touch Up, $22, Amazon
Not into a spray concealer? This camouflaging touch-up powder works overtime because it doubles as a dry shampoo that also hides gray areas, all while giving your hair a shampoo-fresh look and feel. It blends into your hair color and won't damage your hair as it works its magic. One user raved about this product, saying it "came to the rescue" for a few weeks when her hair stylist was unavailable.
Rejuvenate Coarse Grays With A Natural Pre-Shampoo Treatment
If you see a silver strand, chances are it will have a thick, coarse texture. To add smoothness to these strands if they multiply, apply this moisturizing pre-shampoo treatment infused with avocado oil. This treatment will also lend your hair a glossy shine due to natural ingredients like olive and almond oil, rosemary, and nettles.
Try An At-Home, 28-Day Hair Color To Keep You Set Until Your Next Salon Visit
Healthy Look Blonde 3-Pack , $30, Amazon
Sporting a few grays is no biggie, but if you'd rather not, you don't have to grin and bear it. Don't have time or money for a visit to the salon chair? This non-permanent, ammonia-free, at-home hair color is infused with a creamy formula that softly blends away gray hair with minimal damage, unlike many other boxed colors. It is formulated to hold up for 28 shampoos — just in time for you to schedule an appointment with your hair stylist!
Get All-Over Brunette Back With A Glossy Color Revitalizer
Sebastian Professionals Cellophane Color Revitalizer , $17, Amazon
For brunettes, this shine-inducing color revitalizer works by improving hair's reflectiveness (for extra shine) by adding tinted, translucent gloss that looks natural for an effortless blend. Free from ammonia, alcohol, and peroxide, this gloss hydrates hair, fortifies your strands against UV rays, and helps soften encroaching grays.
Stop Masking Grays, And Transform Hair Into An On-Trend Silver Look
Ion Color Brilliance Brights Hair Color Titanium , $10, Amazon
Instead of dramatically running to the closest drugstore to buy your first box of "Touch Of Gray," (because that's absolutely unnecessary), get some inspo from Kelly Osbourne and rock a brand-new color. This ammonia-free, intense-color hair dye gives you an amazingly vivid color you'll be proud to show off to all the gray-hair haters. Users say its 20- to 40-minute application results in months of silvery-blue style. Mix in with your conditioner and massage in for all-over coverage.
Bustle may receive a portion of sales from products purchased from this article, which was created independently from Bustle's editorial and sales departments.
Images: Fotolia (1); Amazon (11)